Postgame Recap: 4th Quarter Turnovers Doom Bears in 30-20 Loss to USC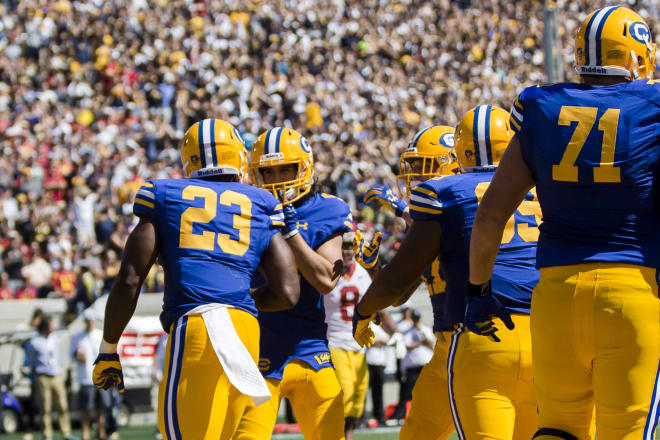 Cal came out looking good and playing even better to start the Joe Roth Memorial Game against USC. The defense got an early stop, getting to quarterback Sam Darnold on three man rush. Cal marched down the field and took an early lead with a Matt Anderson field goal.
The teams traded scores, Cal running some great 4th and 1 plays with Vic Enwere, one going for 23 yards and the other scoring. USC answered with a TD pass to Tyler Petite on a rollout. The teams traded field goals before the end of the half, as Cal went in the half tied at 13 with the 5th ranked Trojans, the best chance the Bears had to take down USC in a while.
There were cracks in the 1st half though. Cal's two field goal drives could have easily been touchdown drives. Sam Darnold had been showing his escapability that has scouts drooling. The wide receivers hadn't completed plays, and Ross Bowers had been intercepted and had fumbled once. It wasn't pretty, but the Cal defense had forced two turnovers as well, along with not getting a single point off turnovers.
Those mistakes would come back to haunt the Bears, and one at the beginning of the second half would do the same.
Cal opened the half with a march down the field, driving 15 plays, highlighted by a 4th and 1 conversion by Patrick Laird, along with a big 17 yard catch and run by Vic Wharton.
Then the mistakes struck. Pat Laird dropped a wheel route laid onto him. Gavin Reinwald couldn't get free on a pass his way on 3rd and 8. Then a 29 yard chip shot from Matt Anderson went wide left. Anderson had missed 6 field goals coming into the season over his two years as Cal kicker. He has now missed four on the season.
While the defense pulled a fantastic effort on a fourth and 1, stonewalling Aca'Cedric Ware, the offense continued to not finish, as they couldn't convert a fourth down pass to Melquise Stovall (who's back by the way).
USC kicked a field goal to open the 4th quarter. That's when everything broke.
Cal started at the 9 due to a holding penalty on the kickoff, then Ross Bowers got hit, ball popped up to Uchenna Nwosu, and the Trojans had it on the four. They scored almost immediately.
Bowers came back, and nearly immediately threw an interception. USC marched back down and hit Deontay Burnett on a nice rollout play. So it goes.
For five straight possessions, Cal ended drives like this:
On downs
Fumble
INT
INT
INT
With six turnovers for the game, four coming in the final frame, the Bears made mistake against a team that makes you pay for mistakes. 17 points on turnovers allowed is not going to win games, and it put the defense into an unwinnable position, especially since the Bears actually outgained USC on the day. Four interceptions from your starting quarterback, along with six total turnover, does not make QB coach Marques Tuiasosopo happy.
Cal got a garbage time TD to cover the spread, one from Bowers to Veasy after Kanawai Noa converted a 3 and 25 play.
It's a work in progress for the Bears, but it's closer than a lot of people would expect.
Quick Hits:
Bowers finished 22-50 for 303 yards passing, a touchdown and 4 INTs.
Kanawai Noa and Wharton each had 6 receptions, Noa for 110 and Wharton for 86.
Devante Downs had 14 tackles
Alex Funches had a sack
Mike Saffell and Jeremiah Hawkins both had their first appearances as true freshmen. Saffell laid a big block on Enwere's long run on 4th and 1, Hawkins made a 23 yard catch in the fourth quarter.
Kam Bennett went down in the 3rd quarter, coming back later in the game.
Defense played Sam Darnold relatively well. Darnold didn't beat them, going 26-38 for 223 yards and 2 TDs with Josh Drayden picking him off. Stephen Carr had 20 carries for 82 yards.
Turnovers did the Bears in. And USC capitalized, making great plays to force the turnovers. This team is still not there yet as the streak continues.
Wilcox Quotes from Post-Game:
Opening Statement:
"First and foremost, we need to give USC a lot of credit. They're a very talented team, well coached, good schemes and they made good plays when it counted. So we give them a lot of credit. We were disappointed. We came into the game expecting to win and we just didn't make enough plays at the critical times. Our guys, they fought and played extremely hard, and we knew it would be a battle against a team like that, and it was. We were tight there until the fourth quarter and then there were a series of plays that we went from 16-13 down 3 getting the ball, and within a matter of minutes it was 30-13 and the end of the game. We have so much to learn from and so much room to grow. Everybody in that locker room is disappointed, but we can't be discouraged. We have some really good guys who are doing good things. We just didn't do what it took today to get the win. So you have to give them credit, but we need to learn and grow from this. No one win or loss will define our season, so we will get back to work on Monday."
On The Turnovers:
"They all come up for different reasons, and we will see why on the tape. You can't turnover the ball six times and expect to beat a team like that, so it's not all on the quarterback. Everyone is involved in that. We need to do a better job on defense. If we turn the ball over on offense, it's an opportunity to make a stop, and we didn't do that enough. There are going to be a lot of plays, but obviously you can't turn the ball over six times against a team like that."
On No Moral Victories:
"Nobody in there came into the game hoping to keep it close. We came in there to play to win and we took that attitude going in and did some good things. We put together some really good drives on offense, did some good things in the return game on kickoff returns. Defensively, we were getting some stops and had some takeaways there, some fourth-down stops. We take plays like that. We just didn't make enough of them. There were some missed opportunities in every phase, offense, defense, special teams and some chances we had to make some plays and didn't make them. When you play a team like that, that's what you need to do to win."
On Bowers:
"It was a tough second half for him. Ross will bounce back. Ross is a tough guy. He plays with guts. He is going to have a lot to learn like a lot of the other players on the team. He'll learn from that and grow from it. I am not worried about Ross. Obviously, we have to clean up the mistakes, but Ross will be okay."
On Defense:
"We had our opportunities to get off the field a couple times on third downs, but we didn't. We did some good things, made some plays, we just didn't make enough of them. Our tackling could've been better. When you're tackling really good athletes, it's different. You need to run at the ball, and you're probably not going to be a 100 percent on tackles against that team, even though you want to be. No matter what drills you do, they have really talented guys. We had some opportunities for some of those one-on-one finishes we didn't quite make. Every player in every phase has a lot to learn from the tape, and that's what we are going to do."
Ross Bowers, QB
On assessment of the game:
"I think we came out pretty good today, but we just can't turn the ball over. It's hard to win when you keep giving the other team the ball. We were trying to make too much happen and trying to manufacture something that wasn't there. We weren't executing and they were. A couple of the fumbles hit my arm and were tipped. The first interception was tipped. I have to get the ball out quicker and find ways to get it past them. Credit to them on making plays and they capitalized on our mistakes. We just have to be better in the future."
On what Cal can take away from game:
"This is going to be our motivation. When you're not wanting to work or you want to take a break, we're going to remember this one for a long, long time. This is going to be one that sticks with you. It's going to be hard to get over, but I'm going to use it as fuel to my fire. It hurts right now. I'm really disappointed in how I played, but I'm going to go back and watch the game. We'll figure out what we did well and what we did poorly."
Josh Drayden, CB
On his interception:
"On the play, I saw the USC quarterback look at Deontay Burnett; I think that was his favorite receiver. I pretty much knew the ball was coming my way. They tried to test my leverage and I turned around and saw it. I was like 'let's go get it.'"
On positive aspects of game:
"Coach Jerry (Azzinaro) always tells us that it's never as good as it seems and it's never as bad as it seems. We lost this game, we did. There's a lot of stuff we can correct to prepare for Oregon. At the same time, we did do some good things in the game and I think we can't just let that fact blow over our heads. We have to keep adding onto that."
Patrick Laird, RB
On Cal's expectations:
"I don't know if there is any good team that doesn't have high expectations for itself. I would never go into a season, game or practice thinking, 'I hope we only lose by 20' or something like that. We're confident in ourselves. We don't really care whether people think we're going to win or lose. We go into each game expecting to win."
Raymond Davison III, ILB
On Cal's feelings after game:
"There's disappointment right now. We can't hang our heads, but we know that was a game we let slip through the cracks. When it boils down to it, we didn't make enough plays. We need to look at the film, correct the mistakes and prepare for next week."