Paris Austin: Scouting Report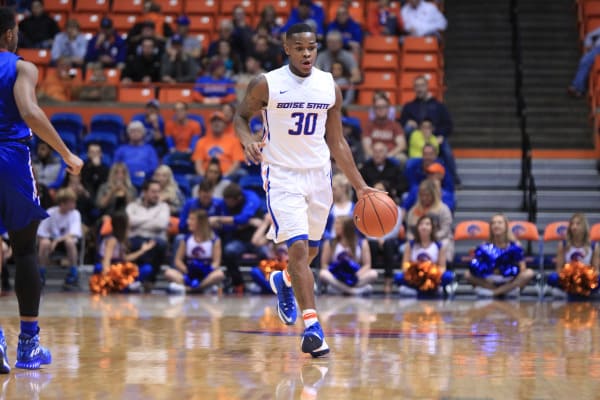 Last week, Cal landed a commitment from Boise State transfer point guard Paris Austin, who will sit one year and play two.
Austin has developed into a more complete point guard during his two years at Boise State. He has a good presence on the floor and has the confidence to run an offense. Listed at 5'11", 180 pounds, Austin is quick in the open floor, using this to his advantage by probing defenses and mixing things up, sometimes attacking the hole, other times finding the open man out on the wing or the big man inside for the dump off.
Austin's feel for the game is evident when watching him play. He's honed his decision making skills, to the point where he's unafraid to take it in himself on a drive, but will only do so if it's the right play. He's a pass first point guard who reads the defenses well and does a good job reacting to them.
As an extension of this, Austin has developed creativity in his ball-handling. He's shifty, knowing how to create separation from defenders to take a quick shot off the dribble. He does a good job using his crossover and behind the back dribble to attack the rim.
Austin is at his best when he is in transition and attacking the basket. He does a great job finishing around the basket, and he isn't afraid to draw contact and go for and-1 opportunities.
The biggest concern with Austin is his size and the fact that he comes from a mid-major conference. Will he able to excel at the Pac-12 level like he did in the Mountain West? The good news is that he was able to adjust from high school to the Mountain West and do a lot of the same things well that he did in high school. Odds are good he'll make the adjustment to the Pac-12 just fine, especially since he has one year to get ready.
The two major areas of Austin's game that need the most work during this upcoming year are his ball security and outside shooting. He averaged 3.9 assists and 3.2 turnovers per game last season, which will need cleaning. He'll have to continue developing his patience and decision making, finding ways to get more assists while also turning the ball over less. As far as the outside shooting is concerned, he shot 26.2% from three-point range in his freshman year and 21.2% in his sophomore year on fewer attempts. As a 5'11" guard in the Pac-12, Austin will have to be able to be much more of a threat from beyond the arc if he wants the other parts of his game to flourish.
Austin should be a great addition to the Cal program. He is a relatively complete point guard who plays with a lot of fire. He made a big leap from his freshman to sophomore year, and the Bears are hoping he can make another one when he's eligible in 2018. If he is able to take better care of the ball and improve his three-point shooting, he could be just what the doctor ordered for a Cal team that needs help at the point guard position.