Zach Maynard continues to improve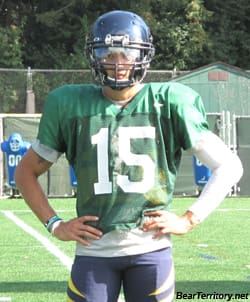 BERKELEY
-- After the
California
football team's first of two Monday practices,
Jeff Tedford
wouldn't divulge the names of the young players that came out of Sunday's personnel meeting with a chance at early playing time, nor would he specify exactly what junior defensive back
Josh Hill
's role would be, beyond backup corner behind
Marc Anthony
and
Steve Williams
.
"Just kind of an idea on which guys are going to play as young guys, not that it's set in stone, but mainly to try to get them involved in special teams so we get the fundamentals and techniques of special teams and things like that," Tedford said. "There's a lot of them, and it's not, I don't want to give any names because I don't want to make anyone else think that they're not, so there's a lot of them. Like I've always said, this group, there's a lot of guys who have the ability to contribute early."
Regarding Hill, Tedford said that the 5-foot-10, 202-pounder would be a kind of 'secret weapon' for the defense.
"I don't want to tell you where he plays, because I don't want people to know what he's playing," Tedford said.

Tedford did, however, praise starting quarterback
Zach MaynardClick Here to view this Link.
, who continues to improve on the field. On Monday, his arm strength looked to have improved, as he was putting more spin and velocity on the ball.
"He's always been real crisp throwing the football, but his decisions are quicker. When your decisions are quicker, your timing's better and so, he's getting the ball out really quick, he's done a real nice job," Tedford said. "He's very accurate throwing the ball. He throws all the balls really well. He can throw the deep ball, he can throw the comebacks on a line, he's got touch for the intermediate stuff, so he's got all the balls. Now it's a matter of just keeping him protected and making sure that everybody else around him does their job."
After a bit of a slow start to his first fall camp, Maynard has looked progressively more comfortable in the pocket.
"Zach's having a very good camp. Every day we're out here, the more he gets comfortable with the offense and what we're doing and repetition," Tedford said. "It's something he hasn't had. He only had 15 practices in the spring, and that was his first look at [the offense]. Now, you can tell, it's just getting easier and easier for him.
"He's got ice water in his veins. He doesn't get riled up about too much. He's a calm customer, and he's got good focus on what he's doing and I think he'll take that same mentality into the game."
Another signal caller who has looked good so far has been sophomore
Allan Bridgford
, who is probably one of the more well-muscled quarterbacks in camp. Tedford said that he was "very comfortable" with his depth under center.
"I think Bridgford's having a great camp, Brock [Mansion]'s been solid, so I think the two behind Zach are really good," Tedford said. "Brock went from No. 3, so he wasn't getting any reps last year, to the starter all of the sudden, so behind Zach, Allan's doing a great job, Brock's experience from last year is really carrying over, so he's doing a good job. I feel good that we have three quality guys that can go in and play."
After a few early injuries, coach
Jim Michalczik
's offensive line protecting those quarterbacks has begun to take shape, especially with senior left tackle
Mitchell Schwartz
back among the living, as it were, after missing the first several days of camp with a tight hamstring.
"I think coach Michalczik has made a big difference there," Tedford said. "I think coach Michalczik's communication, teaching and things, I think have really helped the offensive line. The offensive line's playing well."
Tedford has been particularly impressed by new starting center
Dominic Galas
.
"He's doing well. He's like the quarterback. Every day he gets reps and things, and he's getting better each day," Tedford said. "He's physical enough to play and does a good job there. He's doing a great job with his assignments, so he's having a solid camp."
"Gibson, we're still trying to bring him along, as far as quickness and things. Crosthwaite's missed a lot with the stinger, but he was back today," Tedford said. "We have to get him some more reps, and he still needs a lot of evaluation, as does Gibson. I think some of it is paralysis by analysis with Gibson. If he can just cut it loose and play fast, then I think he'll be fine. That's the goal: enough repetitions where everyone can play fast."
After light duty so far through camp, linebacker
Nick Forbes
may get the go-ahead to start playing relatively soon, and is still in the mix for a second-string spot.
"Forbes is back in a limited role. He has a doctor's appointment I think Wednesday, and if he's cleared, he'll go full again," Tedford said. "He's doing enough. He's doing drill work and all that type of thing. He's taken some seven-on-seven, he's doing that type of thing, but he just doesn't get in the mix with team stuff."
Despite the abundance of outside linebackers, Tedford is not considering moving any of them to the inside, but he did say that
Cecil Whiteside
is still in the mix for significant playing time.
Stay tuned for an in-depth look at the running backs with coach Ron Gould before the second practice begins at Evans Diamond early this evening.