Who's Benefited the Most from New Coaching? A Look at the Cal Standouts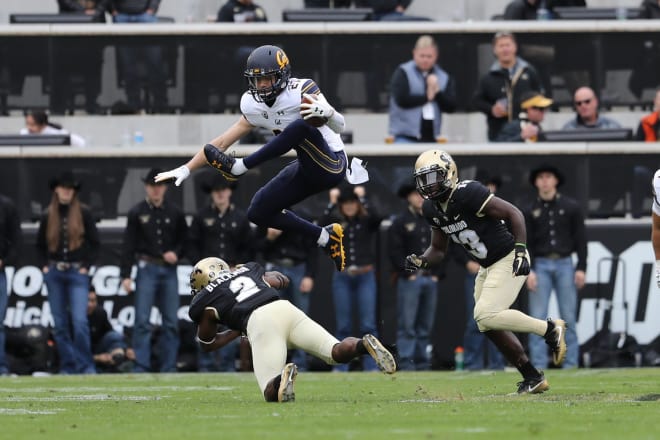 With there being no Novel this week, I wanted to bring along an interesting discussion I found on Twitter, which states that the measure of the coach is at least partially due to what he can create from existing talent. Thought of another way, it's the same principle around chefs and kitchens -- what can you do with the existing ingredients?
Well, so far, the answer appears to be a whole lot -- not a Michelin star level lot, but a respectable Yelp review lot. Below, Trace and I brainstormed the guys who have benefitted the most under the new staff, just as evidence of their efficacy.
1) Devante Downs - Obviously any discussion of players who have benefited under the new staff has to begin here. Downs was the star at the center of this new Cal universe and performing at an All-Pac 12 level -- he won the award for player of the week twice in less than seven games -- only to have his season tragically cut short. Still, Wilcox and Deruyter combined to turn him into the rangy, athletic, physical force and pass rusher we always hoped he would be when he traveled south from Washington.
Trace's Commentary: I thought when I heard that Wilcox wanted to bring in the 3-4, that Downs would be a good pass rushing OLB, have him specialize a bit as an explosive player off the edge, but a funny thing happened. Some people, in all walks of life, paradoxically aren't at their best or don't get better unless they're given more responsibility. Downs was that guy, as DeRuyter gave him the responsibility of lining up the defense and being the quarterback of the group. He excelled, and it's a shame his year was cut short, but his skills in this defense will translate to the NFL, where he's almost certainly headed.
2) Ross Bowers - Is it an odd pick, considering many of us -- myself among them -- don't consider him a lock for starting quarterback in 2018? Maybe. But insofar as the staff getting the most out of existing talent, they should get a fair share of the credit for this year's starter under center -- when many of us last saw Bowers at a spring game, pre-Wilcox/Baldwin, he was arguably the worst of the guys trying to take after Jared Goff, and stood clearly head and shoulders in front of Chase Forrest the same time later. That speaks to his own work ethic too, but in an offense that gets him lots of easy man-reads and creative throws into space and at every weapon, you can consider his talent maximized at the moment. They are asking him to do exactly all he is capable of, and no more, which is a coaching thing. That counts for me.
Trace's Commentary: Maybe not maximized, because I've seen him do some stuff in practice that he hasn't done in-game, but they've done a great job of playing to his strengths. He's gotten a ton better in the RPO game, where they used him against Oregon State. He's understanding the flow of the game a lot more.
3) The Walk-Ons and Transfers (former and otherwise) - This is for the crew of Ashtyn Davis, Patrick Laird, Malik McMorris, and Jordan Kunaszyk who might have been overlooked by previous staffs or underutilized. Certainly McMorris and Kunaszyk played -- but Kuna is now the full time starter, and McMorris might as well be one himself -- but the degree to which we've used them and the performances they've turned in were way beyond what we used to see. Without Malik, we lose one of our top blockers and occasional pass threats -- having him be as effective as he has been really helped offset losing Ray Hudson. And as for Davis and Laird, well...neither of those guys were set to play under Dykes, because if they had been, they would have already -- this is essentially the same team as last year, and they've taken on major roles because no one else managed to fill them effectively.
Trace's commentary: Davis actually started the UCLA game last year at corner due to the depth issues, but putting him at safety has been an example of the idea of putting players in a position to succeed, and he's been a much better tackler than you'd expect. Malik is fantastic as a lead blocker and they're using him a lot more often to supplement a line that does need the help at times. Kunaszyk is one of the smartest players on the team, as is Laird, and like Downs, with more responsibility they excel.
4) Cam Bynum - Cam might have become a star corner regardless, but it's hard to say that he'd be this good under the previous staff, who had John Lovett and Greg Burns -- both guys did serviceably -- instead of Gerald Alexander, who has blown away my every expectation. When one DB plays well, that can be pegged to individual improvement. A unit improving this dramatically across the board? That's due to coaching, and the crazier thing is that Alexander didn't have this level of statistical jump at Montana State, where he used to coach. Instead, we get him and Bynum for the foreseeable future, and the redshirt freshman corner is already using all of his tremendous physical talents to be our next All Pac-12 talent.
Trace's Commentary: Not much more to add, Bynum is going to be a big time player over his next three years at Cal. He is very technically proficient, and a lot of that comes from Alexander's influence.
Debatable, but ultimately not listed: Kanawai Noa - I believe he would have thrived on offense under the previous staff regardless -- they demonstrated a knack for polishing up receivers from out of nowhere (Chad Hansen, Trevor Davis, Stephen Anderson) just as much as they did working with highly regarded talent (Bryce Treggs, Kenny Lawler). (Identifying some of their own, well...there are some notable misses from the Dykes regime there, but I have always felt like Noa was closer to the first group than the third.)
Trace's Commentary: I think Kanawai is a better fit in this offense, finding holes in zones and sitting in them is a strong suit, but he would've done well either way.
Victor Wharton III - His jump in production is dramatic due to several factors, including the need for anyone healthy to catch passes, the graduation of Chad Hansen, and some improvement of his own, but I do not attribute his breakout directly to the presence of Baldwin, really.
Trace's Commentary: Yep, he had a big game against Oregon last year when Hansen was out, he would've done well either way as well.