Video: DAmato seizes starting PK job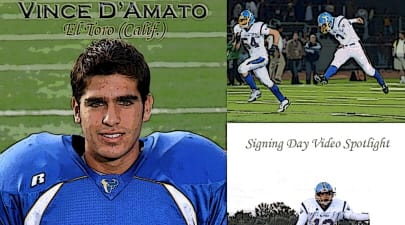 Vince D'Amato can forget about easing into college life now.
The true freshman kicker from Lake Forest (Calif.) was officially named the starter Wednesday evening by head coach Jeff Tedford, marking the second year in a row that the Bears will begin the season with a fresh-faced athlete at that position.
D'Amato earned a scholarship from Tedford straight out of high school and a strong Fall Camp performance vaulted him up to the top spot ahead of two other competitors - sophomore David Seawright and fellow Italian Giorgio Tavecchio.
Last year at this time, it was the then-freshman Seawright who earned the starting nod over veteran incumbent Jordan Kay. Similarly, D'Amato took the top spot away from the sophomore Tavecchio this season.
"I approached (the competition) as a job to win," D'Amato said. "I got good competition so it only brings out the best."
Tedford said the race between D'Amato and Tavecchio was neck-and-neck, but in the end, the true freshman won out.
"Vince has been a little more consistent," Tedford said. "I feel like he has great range. (It was) a very close competition. We feel very confident in both of them."
Tavecchio, who hit 9-of-13 field goals last season, will still see the field this season. The 5-foot-8, 173 pound kicker will handle kick-off duties.
"(Giorgio has been getting it) anywhere from in the end zone to 5-yard line," Tedford said. "Giorgio has done a really nice job of improving on his kick-offs."
While Tavecchio, who has greatly improved his leg strength, will be a solid weapon for the Bears this season, the main focus was on D'Amato Wednesday evening.
While Tedford said the competition was evaluated from Day 1 of Fall Camp until Tuesday's practice, the one moment that really stuck out about D'Amato was a specific kick he had to make at the end of a practice session.
"(D'Amato) is solid," Tedford said. "That day we had out here where (Vince) had to make a kick because the whole team had (sprints) riding on it, he passed that test. If he can pass that test, he can do pretty well."
D'Amato recalled that moment as well.
"In those kind of pressure situations, you kind of zone everything out and think about your kick," D'Amato said. "It went in so I felt pretty good after that."
While they were in a heated battle for the starting role, D'Amato and Tavecchio have developed a solid friendship on and off the field. Vince's family hails from Sicily and Tavecchio was born in Milan.
"We are always talking," D'Amato said. "When we start talking Italian (our teammates) try to change it to English. He doesn't like the south. I go along with it. It's all in good humor."
QUICK BITS
Junior cornerback Darian Hagan sat out practice. Tedford said it was just to rest some bumps and bruises and that he expects Hagan to be ready by game-time Saturday.
Tedford said the crowd atmosphere between day and night games at Memorial Stadium haven't been noticeable. However, the one thing that is noticeable is the March to Victory. Tedford said he notices there is more people at night for the march.
Chris Nguon is the lead football writer for BearTerritory. He's well known for his recruiting and game coverage in the star-studded Oakland Athletic League, plus his numerous contributions with The Daily Californian, UC Berkeley's only independent, student-run newspaper. Nguon is also a correspondent with the Oakland Tribune, and will cover Cal football and men's and women's basketball in 2009.