Treggs, Silver join the Bear Republic Podcast for Big Game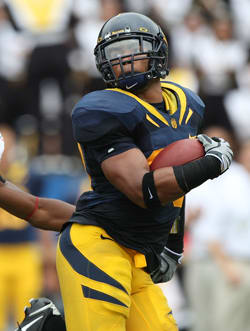 MORE PODCASTS
Treggs starred as a wide receiver for the Bears from 1988 to 1991. He ranks fourth on the Cal all-time career receptions list with 167, fourth all-time with 2,335 receiving yards and seventh in career receiving touchdowns with 15.
"I dislike the Tree. The Tree is definitely, I've seen some really good mascots, and I just don't understand -- the Cardinal, the Tree -- I don't understand it. I mean, hey, that's what they do over there, so they're the Tree."
"We're not a team that can be taken lightly. I think Stanford knows that," Holt said.
"It's tough to get a handle on them, because they move them around in so many different positions," Pendergast said of the Cardinal tight ends. "One time a guy's out at X and the next time, he's in the slot, the next time he's in a wing and the next time he's in the normal tight end position, so they do a lot of different things. It's hard to get a bead on playing one certain technique on a particular tight end, because of the nature of how they move them around.
"They're going to do what they do and having the tight ends involved in their offense is big. They've got five or six tight ends, so they've got guys ready and they've got talented guys behind him that I'm sure they'll just plug in and keep on doing what they're doing."
Cal has the No. 1 passing defense in the Pac-12, with opposing quarterbacks completing 54.7 percent of passes (the lowest mark in the conference) for 1,988 yards (also lowest). Opposing teams average a conference-low 6.5 yards per passing attempt for 198.8 yards per game.
"I've told the defense that I spent 15 years in the NFL, and when you're looking to get evaluated, when I'm looking at a player, I'm going to pull out the 'SC game, the Stanford game, the bigger opponents against the better people, so you're going against one of the better players that everybody's going to dissect every play that he plays, so whether you're a defensive lineman, a linebacker or a secondary guy, you've got a chance to make an impact," Pendergast said.
The Bears have only allowed 12 touchdowns through the air on the season, a figure tied for the best in the league with -- you guessed it -- Stanford.
Beyond just throwing the ball, Luck is adept at changing the play at the line of scrimmage.
"They do a good job of getting in and out of certain plays, and you just have to be aware of that. That's just part of their offense," Pendergast said. "They're similar that way to some of the teams we've faced this year. That isn't something that is really new to our guys. It's just something that we need to be aware of."
"You've got to just see how the game unfolds a little bit. Just like every other team, they're going to have their game plan that they want to do against you," Pendergast said. "Whether it's coming out throwing or coming out running, you've got to be prepared for either one. They're very physical up front. They're very physical running the ball, in terms of their backs, and they're very physical in blocking on the perimeter, so we'll have our hands full trying to stop the run. They're a dynamic offense. They can hurt you in a lot of different ways."
"They do a really good job in protection up front," Pendergast said. "They mix up their passing game between three-step, five-step and seven-step drops, so in the three-step drop, obviously, he gets the ball out of his hands quick, and then in the five- and seven-step drop, they do a lot of seven- and eight-man protection to make it hard to get in there and pressure him, so you've really got to win your one-on-one match-ups when you have the opportunity, when it is a pass, to get a chance to get your hands on it. Then, you've got to deal with him moving in the pocket and scrambling, as well, which I think he's very good at."
What in particular does Guyton dislike about the Cardinal?
"Everything," he said. "Nothing in particular. Whatever they represent, I don't like."
The Bears feature the conference's third-most prolific sacking squad (29 total) and the Pac-12's fourth-best rushing defense -- allowing 120.3 yards per game on the ground, and holding their last two opponents to under 100 combined rushing yards.
"That was a game plan deal, and it worked out pretty well," said Guyton, who had two tackles for loss and a sack last week. "That was the first time that I've played [outside linebacker]. Basically, it was just a 4-3 defense that game, and it worked out pretty well. It wasn't too much or anything too crazy. It was fun. I got used to it during practice, so it's a little awkward initially, but once you realize what you're doing, it's just a part of the game. It definitely adds another dimension to how you see the game. When you're standing up, you kind of see everybody, but it's not too bad."
Kendricks is third in the Pac-12 in total tackles with 75, and is fifth in tackles per game, averaging 7.5 stops per contest. Holt is right behind him with 71 tackles and 7.1 per game, good for fifth and seventh, respectively.
"Winning the Big Game makes a successful season," Guyton said. "That's the biggest game of ours. "We could have an undefeated season, but if we win that game, that's the bright spot, regardless. I don't care if they had zero wins. It's still going to feel good to beat them. It doesn't matter to me."
As of Thursday, the Bears stood as 18-point underdogs to the No. 9-ranked Cardinal (9-1, 7-1), but that doesn't matter much to Cal's veteran defenders.
"We like that," Holt said. "It's tough to say that we're an underdog, because in my first few years here, we were usually on top, so being the underdog is kind of good that these guys take us lightly, because we are still a great team, although we've had a couple bad games here and there and we were pretty inconsistent. The day that we show up, when we all want to play, we play well.
"It's probably the toughest challenge we'll have this year. They have a great quarterback, probably the best in the country. They have a great O-line, a great team, they work well together. And, it's the Big Game, so it's going to be a tough challenge. They're coming off a loss, as well, and we still have a little bit of the bad taste from last year when we played them, so, it's going to be a great game. We're looking forward to playing these guys and redeeming ourselves, but we can't go in and take them lightly, because they'll come back and fight even harder, because they lost last week."
Not even the fact that the Bears are now bowl-eligible takes any of the vitriol out of the annual contest.
"That comes secondary to just beating Stanford," Guyton said. "I don't really care. Whatever happens, happens. Whatever bowl game we go to, that's not really for us to decide. The biggest thing is just to beat Stanford. Everything else will follow. We have a chance to bring back The Axe. That's what we're trying to do."