Tidbits from the Tiny Bates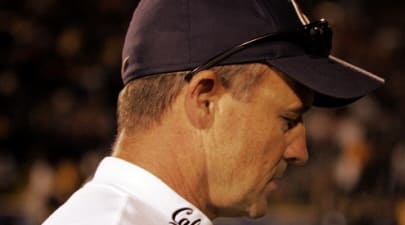 On Tuesday February 24th, a near secret meeting of Old Blues took place in Sacramento. The meeting was in reality an awards banquet held by the Sacramento Grid Club to present the Tiny Bates Award. It is nevertheless near secret in that outside of the Old Blues who are members of the Sacramento Grid Club, very few people are aware that it is one of the best opportunities to hear head coach Jeff Tedford speak in the off-season.
Tiny Bates played for the Bears in 1917 but sustained a neck injury in the Washington game. He played out the last three games of the season in great pain. Sadly, his football career ended after the season due to the injury. However, his love for Cal Football and his loyalty to then head coach Andy Smith endured. He eventually established the Sacramento Grid Club in the 1950's to assist with football recruiting. The Tiny Bates Award was established in 1968, the year after Tiny's death, for the best Sacramento player on the team.
This year's winner was linebacker Worrell Williams for his strong play in 2008. Williams is a graduate of Grant High School in Sacramento. When presenting the award Tedford spoke fondly of William's development as a player. He spoke of Williams early days as a freshman where Tedford had to call Williams' mother to encourage him and then compared that to his leadership that was instrumental to the team's success in 2008.
Williams said just a few words before handing the podium back over to Tedford who held a wide-ranging question and answer session with the members of the Grid Club. Here is a sampling of some of what Tedford said:
● Tedford spoke of how happy he was with rebuilding the team chemistry after the collapse in 2007. He said this was his primary goal in 2008 and felt the team accomplished the goal.
● Tedford spoke of how fast the team has become, that the team was able to beat Miami, one of the fastest teams in the country. He was confident that with his earlier teams they could not have kept up with Miami like the 2008 team did.
● Tedford spent a fair amount of time talking about the 2009 recruiting class. He mentioned how
Dasarte Yarnway
can provide some balance as a bruising power back. He mentioned the JC recruits in
Markish Jones
and the 3 linebackers.
-- "Obviously we wouldn't recruit them if we didn't feel they could come in and compete right away."
● He compared
Isi Sofele
to former wide receiver
Vinny Strang
except for being a lot faster. He mentioned getting the best player out of Washington in
Deandre Coleman
and the best player out of Oregon in
Charles Siddoway
. Finally, he mentioned kicker
Vince D'Amato
.
--"Hopefully he can keep the ball in bounds and they won't start on the 40 yard line."
● Tedford talked about former offensive coordinator Frank Cignetti leaving Cal for Pittsburg and how it was a perfect opportunity for him. He spoke of how with success more and more assistant coaches are going to get hired away. He wished him well and thanked him for his contribution in 2008.
● He talked about hiring Andy Ludwig to replace Cignetti and how he led Utah's offense to score 37 points a game including a big win over Alabama in the Sugar Bowl. Tedford was very excited about hiring Ludwig. His only concern was how close the hire came to spring practice, leaving little time to plan.
● Tedford briefly mentioned Jahvid Best's surgery and being in a wheel chair. "He's going to be just fine." He's confident that he'll be ready to play come fall practice.
● Tedford discussed how Cameron Morrah came out early. He mentioned being disappointed that he came out but that he did really well at the combine and everyone hopes the best for him. To replace Morrah, he mentioned how key Tad Smith will be. He also mentioned how excited he was about the two young freshmen, Anthony Miller, who caught the winning TD in the Emerald Bowl and Spencer Ladner.
● He talked about how there is a great replacement crew for the lost linebackers. He specifically mentioned how much playing time both Mike Mohamed and Eddie Young had. He also mentioned that Mychal Kendricks and D.J. Holt got their share of backup time and reiterated the importance of the JC transfers.
● When asked about the intangible that needed to be worked on in 2009, Tedford quickly pointed to managing expectations. It was clear he realized how the team has under performed when expectations were high.
● Tedford spent a lot of time talking about how his role as coach has matured from being about the X's and O's to more about mentoring these players so that they can be the best people they can be.
● In regards to a Heisman campaign for Best, Tedford emphasized that his on the field performance would determine the size of the campaign. He also was quick mention how humble Best was.
-- "The great thing about that is that Jahvid could care less about it. Jahvid is a guy who is so team oriented and could care less about individual awards."
● When asked about putting both Best and Vereen in the backfield, Tedford reminded the crowd that neither is well suited to be lead blocker. While he would entertain more plays like that, it wouldn't be plays where they were expecting them to take on someone like Williams, the man of the evening.
● Addressing the issue of forward progress on the High Performance Athletic Center, he talked about how important it was for recruits. He mentioned the difficulty of recruiting while the court case was going on. "When I have a recruit in my office and they're banging their drums outside… [all you can say is] What drums?"
● Going further, he felt that the SAHPC won't bear its full fruit until recruits can actually walk inside and see it.
● In regards to the fullback position, he referred to it as the most open position going into 2009. It may even be a "committee" position. He spoke of John Tyndall as the leading candidate. He also mentioned Eric Stevens, Craig Stevens' younger brother, as having a lot of potential.
● Tedford spoke of the benefit of having USC early, even though it was going to be an uphill battle with two tough non-conference games and Oregon on the road just before the USC game.
● Finally, Tedford talked about how many great rushers Cal has had over the years and specifically how important Ron Gould is to that success.
Overall it was one of the most candid appearances of Tedford's career. He was willing to admit the struggles but also to talk about the hope for the future. He talked about the areas of weakness on the team but also how there was overall much strength.
To cap the evening off, Worrell Williams' mother came forward to thank him for taking care of his son over the last five years and how much comfort it gave her to know that Tedford was looking after his son.
There's no doubt the Tiny Bates Award Banquet is definitely an event to attend if you ever get the chance.