The Novel: Colorado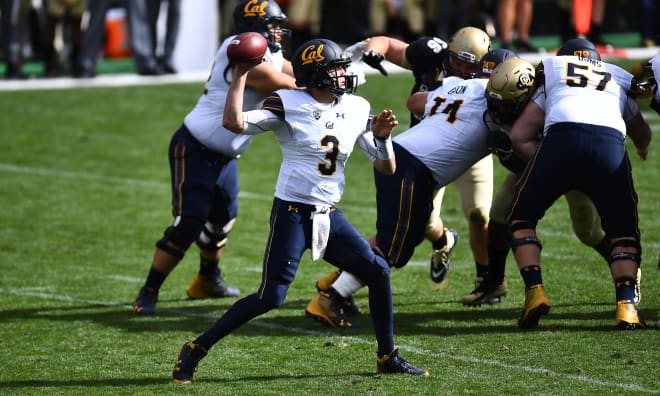 Recap of the Bears loss in Colorado | Postgame Video | Takeaways from the Cal Loss
I. Intro
It took all of my willpower not to turn this lede into something Halloween related, and I am happy to tell you I've succeeded on that front.
So instead of joking about how we dressed up as a Sonny Dykes team (we did) or that we packed a few tricks (we did) and left the treats at home (we did), let's just say it cleanly and plainly – we got our asses kicked. We looked caught off-guard from the jump, and even the matchups that were worth feeling good about coming into the game ended up as decisive, complete defeats on our end.
Needless to say, this is a rarity under the new staff.
In each loss so far, the culprit has generally been against teams with superior talent advantage that we weren't expected to compete against, teams that were poor matchups to an injured Bears team, or team showing heart, playing hard and falling just a shade short – all of which underscored a budding belief in Justin Wilcox's stewardship.
Losing to Colorado doesn't erase very much of that, but it is an immensely disappointing development at this point in the season. The team looked uncharacteristically sleepy, and by the time they woke up – playing somewhat better in the second half – the two touchdown deficit already in place was too much to overcome for an offense with this little talent still available. The comeback last week was an anomaly in that regard, not the mark of a growing trend, because we rank in the bottom third of the country by YPP.
After we beat Ole Miss, the trajectory of the team pointed toward bowl, and flickered that way again after we pulled one out against Washington State. Because of this loss – never even as close as it appeared, really -- we may not actually end up achieving one, and at least for me, that doesn't change the bigger picture, although I understand that everyone else may feel very differently. Losing the practices hurts the most, really, but it does little to shake my confidence in the larger sense.
I will say this, though – if we're going to win any one of the last three games and not make a bowl, or find ourselves waiting on a 5-7 bid at best, let's hope it comes against one of the rivals. A road win against a conference rival and a win against an in-state school are probably the last two things we'd reasonably like to get done in 2017, when postseason play has always been icing on a cake that's already been baked.
You can only last for so long as a play-hard team in this conference. We've shown we can do that.
That's good enough for this year.
Emphasis on this year.
II. Offense (Dreadful)
I'm just gonna say it – I'm really tired of it being so hard on offense, and I'm ignoring the production created in a comeback that was never close to occurring. The scores are so, so rarely easy for this team, always requiring trickery, misdirection, and long marches, and I know there's not a lot we're going to be able to do about it at this point in the year, but I just wanted to say I miss when it was easier. Still gotta go out there with whoever we've got, though, and at this point, it's not much left. Patrick Mekari was out again, which meant the Bears were missing their top TE, their top WR, their slot WR, their top running back, and their left tackle, not to mention the backup right guard went down late in the fourth too. Half the offense is gone, and that's before mentioning that the first choice at right guard was kicked off the team.
That obviously explains the struggles, but it doesn't make them fun, or more tolerable.
Let's talk Ross Bowers, who, dimes and flashes of brilliance aside, has serious, serious limitations. He started the game coolly, decisively in the run-pass option game, and started to spiral into inaccuracy as it continued, for yet another prolonged drought moving the ball. The four punt stretch in between 15:00 in the third to 9:31 in the fourth effectively killed any shot at getting back into it (2 of 6, 20 yards with two sacks), and most of those possessions were three and outs, including one after a Colorado turnover.
If he's the starter next year, the emphasis has got to be on:
Red zone execution, since we had yet another interception there this week
Mechanical issues or otherwise, figure out how to complete 60% of passes, not 50. Sometimes it legitimately feels like a coinflip with him.
Running the ball more. You have legs. Use them.
If he's not the starter, well, I'm guessing that's because McIlwain improved tremendously, Garbers stepped up, or JT Shrout is way better than expected. I'm not sold on any of those candidates at the moment…and while it's rare for an incumbent QB to be beat out and Ross has played decently at times, I'm not sure he has this thing locked down, either. In other words, pencil him in. Don't tattoo it down.
Baffling to see us get so far away from the run after we went down by two scores – Laird had 6 carries in the first quarter and 7 the rest of the way, and Vic barely touched the ball either. I don't care what the numbers say. Putting the ball in his hands 50 times is not the way to go right now.
The line gave up only three sacks on 52 dropbacks, which is fine, but there were numerous pressures too, plus 6 of the running back carries (33%) ended up as 2 yards or less. Really struggled to pick up or generate something against their extra men, and a few times, they hit Bowers after the play, or he got rid of the ball early because it was producing residual effects on him. There should be at least one new starter here next year among the freshmen. Or at least, that's the hope.
Couple of touches for some of the younger guys, but Zion Echols is all gone from the gameplans again, as is Clark. Nothing alarming there, just noting. Next year for those guys.
A seven for seven day from Veasy was really cool. They had struggled to connect consistently early in the year, and of course, Kanawai was his usual self with two clean touchdowns – one of which was of the outstanding, ridiculous grab variety. The weird thing is, Ross had some success through the air based on the stats. You have to get a little closer before you realize he had a stretch of 0-6 which killed two drives. An 0-4 early. An 0-2 to start the game.
By quarter, it was:
6 of 10, 53
6 of 12, 72
4 of 10, 45
14 of 21, 204
III. Defense (Dreadful)
It was…uncharacteristic, to say the least, and by the time they tightened it up as expected, it was already too late. This isn't a come from behind team – at least, not yet. To get gashed for small gains by Lindsay, again and again, is fine. That's to be expected. He's done that to and against everyone. But it was always going to be about getting off the field whenever possible, and we didn't do that.
The biggest disappointment is on the pass defense, where we lost a large amount of early matchups.
Four conversions on third and long of 9, 11, 17, and 17, each of which ended up being a game changer. You get a few of those back – as you would hope to – and suddenly it's a different game. That's entirely on us not being able to get there or hem in Montez, but also strange coverage breakdowns mostly in the slot. Neither one of Drayden or Beck played particularly impactfully, but how much blame falls on them can't really be told without access to the All-22 tape, so all we can confidently say is that Colorado's slot guys were shredding us in the intermediate. Perhaps some of the blame falls on the safeties too. We really haven't looked this bad back there since Ole Miss, and in that one, we were chasing around top tier athletes like Dekaylin Metcalf. I felt really good about winning the matchup against Bobo, Fields, and Ross, and we just didn't get it done. They also blocked the hell out of our guys too, winning not just in the pass game but in sealing the edges.
As Nick put it on Twitter, it's taken an outstanding pass defense most weeks to keep teams bottled up and the games close, and with that not operant, well…
Again, front seven depth was an issue stopping Colorado, who used no huddle to expose some of the more problematic areas, particularly in pass coverage. Outside of Brown, Kuna, and Goode, none of the other linebackers are playing really impactfully at first glance, and several of the guys who got snaps probably were more pressed into them than anything.
Devante Downs would have really helped. I know that's obvious, but Cal felt early on that they could take advantage of blitzing up the middle or sending extra men – something that got less effective as the game continued as Colorado proved capable of protecting and Montez, of escaping – and he's a lot stronger and faster up that middle. Would have also allowed us to try to grab Lindsay before he got too far downhill.
Starter at nose was Palmer, and I don't remember seeing Mekari at all and he's not on the stat sheet, so I have to think we were missing him.
Shout out to James Looney, who continues to produce quietly or loudly – Davison's sack was made on his behalf – in what I think isn't really his natural position anyway.
IV. Unofficial advanced stats
Advanced Stats: Cal-Colorado
Cal
Colorado

Basics

Possessions

12

13

Yards Per Play

5.6

6.9

Explosiveness

Explosiveness % (% or runs 10+ yards; passes 20+ yards)

7 (4 pass, 3 run) on 78 - 8.9%

13 (6 pass, 7 run) on 80 - 16.25%

3rd Downs

Conversions

8 of 17

11 of 17




Avg. Yards to go on 3rd down


6.8

6.6

Short Yardage

Power success rate (% of runs with 2 or fewer yards on 3rd and 4th down that were successful)

6 of 6 - Laird 4, McMorris 1, Enwere

4 of 7 – Montez 2 of 4; Lindsay 2 of 3

Field Position

Avg. Starting F.P. | Plays in opponent territory

Own 22

1Q : 6
2Q: 8
3Q: 5
4Q: 11

30 of 78 (38.4%)

Own 31

1Q: 4
2Q: 12
3Q: 5
4Q: 10

31 of 80 (38.75%)

Points per trip inside 40

9:20 1Q – 7
1:00 2Q – 7
15:00 3Q – 0 (loss of 5 from 37 yard line, inc, punt)
9:31 4Q – 7

5:15 4Q - 0
:56 4Q – 7

28 on 6 trips – 4.6

12:59 1Q – 7
4:33 1Q – 7
7:10 2Q – 3
:06 2Q – 3
4:12 3Q – 7
5:22 4Q – 3

30 on 6 trips – 5.0

Defense

Havoc (percentage of disruptive plays – TFL, picks, PDs, FFs, sacks – divided by total plays. 2015 Cal's was 13.8%, and ranked 100th in the country; TCU was 15.4% and 64th among the 128 FBS teams )

7 TFL, 2 PD on 80 - 11.25%

6 TFL, 1 INT, 9 PD, 1 FF on 78 - 21.7%
Yards per play:
Colorado: 9, 8.6, 4.2, 5.9 – 4.9 in second half; 8.8 in first half
Cal: 5.3, 4.1, 3.2, 8.4 – 4.7 in first half; 6.5 in second half
So, the good thing is that we slowed them. The bad thing is that it was already too late, and some of that average was due to them being content to sit on their lead and ride Lindsay into triple zeroes, and I refuse to be misled into thinking our offense was on its way to generating a comeback, either, seeing as we still were outscored in the second half, 17-14. The second half was more indicative of the talent gap between these two teams though, rather than the yawning chasm of the first half, I feel like.
Explosiveness: Here's where we lost the game, basically. Colorado rescued themselves from multiple third and super-longs with their explosives, they pulled a long touchdown off of one, and succeeded against this Cal secondary in a way no team besides Ole Miss really has been able to. The difference there was Ole Miss couldn't really run the ball well enough to keep the clock draining, and we would eventually tip the balance of the game on the back of our own Havoc. Here, we found Montez far trickier, plus were largely unable to stop Lindsay from grinding out yardage.
Power: Gotta be happy with Cal's aggressiveness to go for it in short yardage. Nothing to be upset here whatsoever, and we did enough to slow Colorado on the third and shorts, too.
Plays in Opponent Territory: For all the control that the Buffalo seemed to have on this game, I'm surprised as you are that the number is this low. I guess that's what happens on the backs of your explosive plays – you end up close enough to not really need anymore plays. At least when we got into opponent territory, we were fairly efficient at converting it into points, save for that extra interception.
Havoc: Got production up front but probably not enough of it considering how many times Montez wriggled into daylight, and the secondary was awful for the first time in quite awhile. Colorado's defense had a field day with our receivers, and when there was any space at all, Ross either missed the throws or forced them to be more difficult than usual.
V. Special Teams (Acceptable)
A couple great punts by Klumph to save field position – 5 of 7 went for 50+, which is thanks in part to the altitude.
All kicks made, although no field goals. Which, probably a good thing.
One decent return by Davis, one plus return given up on punts.
VI. Wrap
This is a must win game, obviously. If we're up at 5-7 and sneak into a bowl on the back of some luck, no longer controlling our destiny? Fine. But we'd always rather just handle it ourselves, if we can, so let's just take the next two. Period.