The Novel: BYU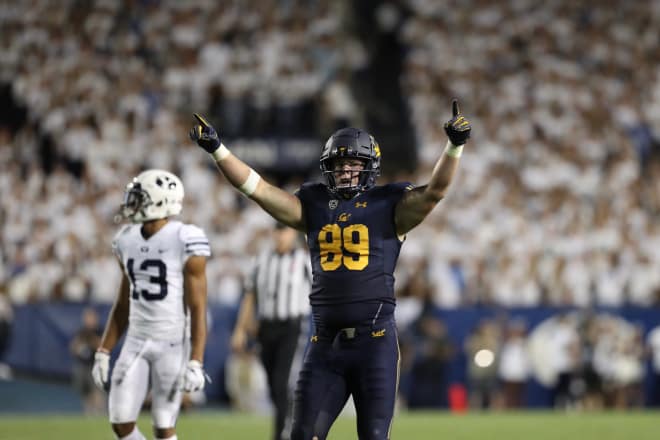 I. Intro
If you needed any more evidence that the Cal Bears are no longer Sonny Dykes' team, you need only to…look in basically any direction.
There are the new uniforms. There are the new faces on the sidelines, and the players that never got to break through under the previous staff, too.
And as you, like many have this week, shuffle your way through almost any metric – yards per play, scoring average, S&P+ -- you'll notice that up is now down, offense is now defense, and losing is now winning.
Well, kind of.
How much winning under Justin Wilcox there is still remains to be seen, but it is clear the very nature of those victories is not at all like things once were. The games of a regime past were marked for their wild, chaotic nature, fun score-fests that ended up in defeat more often than not.
Saturday's 21-18 win against BYU was another example of how the victories themselves are tremendous – but the paths to get there so far are rarely as glamorous as we had become accustomed to, usually involving some measure of grit, can do attitude, and generally suffocating offense; even if it's both offenses that are suffocating.
Hey, it doesn't say anywhere that they have to do it pretty. And winning ugly feels a lot better than being without a win at all.
Isn't that right, UCLA?
II. Offense (Acceptable-, or C-)
In which we have to talk about the quarterbacks…again
So the Bears didn't start Ross Bowers, as I thought they might. And while I was wrong – I am often very bad at reading the QB situations, by the way; I didn't think Goff would be the starter in 2013 either – this was my thought process behind that: why would you give a guy a whole season as your starter just to pull him immediately in the first quarter? And even if you did do that, his built up good will would appear to be worth at least one more opportunity, no?
(Evidently, the answer was indeed, no – but I still hold my suspicions, floated first by other Cal writers, that Bowers is hurt in some way.)
In any case, the desire to go to Garbers was understandable – game one alone showed that he runs better, and BYU showed he's wildly inconsistent as a passer but not markedly more so than Bowers. Combine that with the fact that he's younger and the bearer of the great unknown, while Bowers' blown chance to impress after an offseason of reported improvement left many thinking that they've already seen his ceiling, and you have all the ingredients for a quarterback controversy.
Garbers played largely terribly in the first half, going 5 of 13 for 52 yards, with his target distribution in that first half:
Laird – 5 (most of which came on those checkdowns and swing passes, one of which was the deeper route he took for the TD)
Wharton – 3
Hudson – 2
Duncan – 1
Whatever adjustments they made at halftime for Garbers definitely involved spreading the ball around more, when you look at the distributions in second half:
Laird – 4
Wharton – 3
Noa – 2
Duncan – 2
Hawkins – 1
Clark – 1
McMorris – 1
Still, only 8 of his 28 passes traveled more than 10 yards through the air in total, so while Garbers hit two deep passes to the left corner of the field (the TD to Noa and the corner route to Duncan that they quicksnapped after), the passing attack is very much a work in progress, and not all that different from what we saw with Bowers in terms of depth and frequency.
McIlwain found Noa a bunch, but Kanawai's production can't, and shouldn't hide the unpleasant truth thus far that Cal's tight end play and Vic Wharton have both been largely non-existent through two games:
Wharton: 7 catches on 10 targets for 42 yards (6.0 yards per reception) with 6 of those catches occurring within 10 yards of LOS. Current indication is that he's having trouble getting free deep, because he has nearly as many yards in penalties drawn as he does receiving.
TEs (Bunting, Hudson): 1 catch on 7 targets for 9 yards.
You'll notice that thus far I haven't mentioned Brandon McIlwain thus far, who probably had the offense humming along the best on a per play basis:
Garbers/McIlwain YPP Basis
Garbers
McIlwain

1Q

12 plays, 72 yards, 6 YPP

(Median: 2.5)

3 plays, 5 yards, 1.6 YPP (Median: 2)

2Q

13 plays, 30 yards, 2.3 YPP

(Median: 2)

2 plays, 10 yards, 5 YPP (Median: 5)

3Q

16 Plays, 122 yards 7.6 YPP (Median: 3.5)

9 plays, 60 yards, 6.6 YPP

(Median: 5)

4Q

6 plays, 21 yards, 3.5 YPP

(Median: 4)

11 plays, 46 yards, 4.18 YPP

(Median: 4)

Total

49 plays, 245 yards (5.21 average; 3 median)

25 plays, 121 yards (4.84 average, 4 median)
Neither number is particularly sexy, but Garbers hit on all three of Cal's passing explosives, and was also on the field for most of the rushing ones. He's just also more prone than McIlwain to having drives stall out at this point.
Conclusion: we'll probably continue to play both guys in some capacity. Even if Garbers is the starter going forward, I don't think we'll see any less of McIlwain, especially as a short yardage option. I have no idea who should actually take the majority of the snaps, but I did find myself intrigued with McIlwain as a passer after a couple of those tight rifles in to Noa. Still a small sample size though. We'll see both guys going forward.
Poking around some of the numbers from: Patrick Laird, you realize that 1) he isn't springing anything or breaking tackles like last year – through two games, he's averaging 1.61 yards after contact, down from 3.28 a season ago and 2) he's not getting as much space as last year from a veteran line. Regardless of gap, he's down from last year's averages in every direction.
The line as a whole was fantastic in pass protection, though. Zero sacks given up – some of which is a function of the short passing offense – but zero pressures per PFF from any of the linemen, also:
0 sacks allowed on 35 dropbacks
1 QB hit allowed
0 pressures allowed by linemen (PFF tracked 2; one that was Garbers' responsibility and the other was McMorris')
Couple last things on the offense:
If we can get to 28 points a game, we'll be able to win most weeks.
I don't have an issue with not kicking the field goal late, because the kickers have been kind of iffy and the offense is struggling to feel good about themselves as it is. Getting that touchdown would have put the thing on ice and likely been big in figuring out which guy they want to give the keys to going forward.
III. Defense (Exceeds Expectations)
Complete domination of a BYU group that should have never truly threatened, and didn't, holding them to without a first down most of the second half. Still, those signs are nice, but with an FCS team in Idaho State coming up, I don't think we'll get a true look at how good this defense is until the rematch with Oregon three weeks from now. We can comfortably say they're good enough to strangle below average teams to death, which is far more than we ever even got with Sonny Dykes. Both BYU and UNC will likely rank toward the bottom of the country in offense when it's all said and done.
For what it's worth, Idaho State is coming off of a 45-10 win (against a D2 team) and a bye to prepare for this game.
BYU tried to tempo and pick us apart that way, but they seemed pretty well conditioned to deal with the pace and were extremely fast against their athletes in the back end.
With Goode out, I suggested that the team might adjust from their 3-4 with some different looks to protect exposing 'Banjo or Moos too much. This is what they ended up doing with Tevin Paul, who took the OLB spot vacated by Goode for most of the game, but played essentially as the fourth lineman and picked up two key TFLs.
Two more interceptions for the DBs, who now lead the country in interceptions, and have just been terrific tackling in the open field – Elijah Hicks in particular.
BYU really, really loved the matchup against Jordan Kunaszyk and completed all 7 of 8 targets against him for 78 yards, including 5 of 5 for 56 from the tight end Laulu-Pututau. This will be an issue going forward against more athletic teams than BYU, who will see him as attackable. Cal might try to compensate some by playing with safety set ups, or maybe by removing him from the field when the teams try to spread out.
In doing the same versus Weaver, they also had some success, but Weaver's athletic edge put him in position to break up a few of those attempts too, and the catches allowed only went for an average of 5.6 yards. I wouldn't worry about him nearly as much.
Some signs of life from the pass rush with Funches getting his first sack and Zeandae Johnson joining in on the fun as well, but they really need Goode back soon to get more from this area. One interesting note here: Lone Toailoa got his first snaps of the year and graded out well as a pass rusher per PFF, recording 2 hurries among his 9 plays.
IV. Unofficial Advanced Stats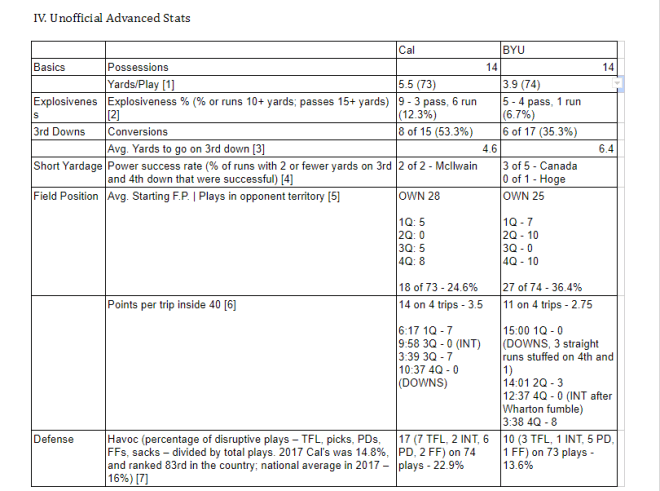 [1] – 5.5 yards per play is perfectly adequate, but through two weeks, you start to get a sense that perfectly adequate – if it's not accompanied by any crippling mental errors – will be enough to give us a good shot at winning most weeks. I wrote something to this effect last year, too, but for the 2018 team, this will be even more valuable because a) the offense's ceiling is so much more limited at this point and b) the Pac-12 is open for the taking with UCLA and Arizona down unexpectedly.
[2] – Explosives – While it appeared or felt that McIlwain produced more explosive plays, Garbers actually ended up with the majority of them. On the BYU side, the script went about as expected – I felt very good about the game because I didn't think they'd be able to generate chunk yardage against us, which has been a problem of their for a little over a season now thanks to a lack of true differencemakers. Cal also closed extremely well on the Cougars in the back seven.
[3] – Average Yards To Go On 3rd Down – The full value of playing McIlwain is felt here. Because he consistently gained positive yardage through the ground and made few mistakes in the air, the third downs got far more manageable and less predictable than they were against UNC, when we had nearly 9 yards left to go most of the time. (The South Carolina transfer specifically was 4 of 6.)
Derrick Clark botched his first opportunity to play and Dancy didn't do anything in his one snap, so as long as the running game is the Patrick Laird show, we'll continue to have to expose McIlwain and Garbers in this role (and in turn, that gives them the advantage over Bowers, should he return from whatever's afflecting him.)
[4] – Power Situations – In the second half, BYU was absolutely demolished in short yardage situations, compared to a nearly perfect performance the first two quarters. Cal, as predicted, used McIlwain on third and short a lot. Patrick Laird took no third down carries the entire game, which is an odd thing we'll dig into this week.
[5] – Plays in Opponent Territory – We went a full quarter without getting into plus territory, and late in the third quarter, in finally reaching such sacred ground, the very first play resulted in an interception from Garbers.
[6] – Points Per Trip Inside the 40 – Many people believe that Cal should have taken the points and gone up by 14, but for an offense that's consistently been struggling to move the ball and a kicking game that can't always be trusted, I agree with the decision, if not the call late. I also was very confident it would not come back to haunt us. Which it did not. Thankfully.
[7] – Havoc – Huge improvement in preventing Havoc this week by the Bears, who struggled to block a strong, athletic, NFL-caliber UNC front, but rebounded as a unit to keep the quarterbacks clean all game.
Meanwhile, much more productive effort from the front seven to actually create losses, especially from Tevin Paul and Zeandae Johnson at end.
V. Special Teams (Poor)
Still no confidence in the kicking game. A couple of weird misplays on returns, a couple of penalties, and the fumble by Wharton that didn't quite end up hurting the team, but was still less than ideal.
VI. Win Matrix