Tedfords 100th: Taken for granted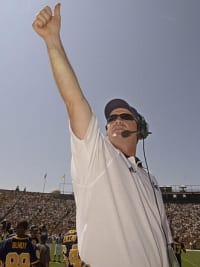 On Sunday, November 4th, 2001, a day after losing 38-24 to an Arizona team that was until that day winless in Pac-10 play, just like the Bears, the Cal football program hit rock bottom. On that Sunday, it was clear that Cal would finish the season last place in the conference and perhaps winless overall.
That was also the day that head coach Tom Holmoe resigned. Holmoe had been given 5 seasons to turn the team around and Cal fans had patiently waited for him to do so. It was well known that the recruiting cupboard had been left bare by the previous head coach, minus a one-year diversion where Steve Mariucci used the program as a resume builder.
The previous coach, Keith Gilbertson, had been an unmitigated disaster after high hopes that he would continue the successes that Bruce Snyder had started before being lured away by more money and better facilities for his players. Instead Gilbertson led the team to worse performances every year after the last of Snyder's recruits graduated and were not replaced with recruits of similar quality.
As a result of that poor recruiting, Holmoe was given more time than most to turn the team around. There was hope that he would succeed at the rebuilding effort because of highly publicized recruiting wins like Kyle Boller at quarterback that Holmoe had delivered. However, Holmoe turned out to be a better recruiter than coach, and those coaching failures culminating in a disastrous 1-10 campaign in 2001 on a talent rich team that was winless in conference play as well as overall until the final game against similarly struggling Rutgers.
It's hard for younger Bear fans to understand just how dire the situation was the day Holmoe resigned, a clear admission that he had failed and didn't need to wait to be fired to admit it, but it was every bit as bad as the above description conveys and likely far worse than can be put into words. Minus the brief resurgences under Snyder and Mike White in the mid 70's, the performances of Gilbertson and Holmoe were closer to the norm than anyone would like to admit.
The result was that on December 12th, 2001, Jeff Tedford was announced as the new head coach of the Cal program and any optimism that might have been felt about grabbing such a successful offensive coordinator for head coach was tempered by the knowledge of how recent head coaching hires had worked out despite similar optimism.
It didn't much matter that Tedford's offense at Oregon was prolific, leading the Ducks to winning the Pac-10 in 2001 as well as placing 3 quarterbacks as first round picks in the NFL draft. Bear fans were going to take a "wait and see" attitude.
The program has reached a level of success that no one dared dream on November 4th, 2001. Now, on the eve of his 100th game as head coach in Berkeley, Tedford has accomplished so much that it's taken for granted.
- Ken Crawford
All of that changed at around 12:37 p.m. on August 31st, 2002 when a halfback pass from Terrell Williams to then-freshman wide out David Gray went for a 71-yard touchdown pass on the first play of the 2002 season. Tedford had been head coach for less than 1 minute of game time and it was already immediately clear to the 27,185 in attendance - a large crowd considering the Bears were on an 8-game home losing streak - that Tedford was something special.
It's easy to take for granted Tedford's successes in the last eight years now that the program is expected to produce a winner each and every year. It's easy to remember that the Bears won those first few games in 2002, surprising everyone, including the 15th ranked Michigan State team on their home turf in the third game of the season. Everyone seems to forget that the Bears lost the next two contests, including a troubling 23-21 loss to Air Force.
People also forget that Cal was 5-4 late that season with a road game to ASU staring them in the face before coming home to play Arizona, the same team that forced the Bears to rock bottom the year before, and Stanford who was on a seven-game win streak over the Bears. Cal had been 5-3 not four years earlier in Holmoe's second year with the exact same three games waiting. Don't think that Old Blues didn't remember that Holmoe had lost all 3 of those games for yet another year of futility in Berkeley.
As history played out, Tedford didn't lose those games. The team finished the season 7-5, losing only to Arizona and destroying Stanford in one of the more memorable Big Games in history, a 30-7 romp in which the refs let the clock expire after Cal fans rushed the field when one more play should have been required.
Since then, Tedford has shown a resolve that few other coaches in college football history could claim to match. His work ethic is legendary to the degree that it wouldn't be outrageous to suggest that the cot in his office will someday be bronzed by the California Hall of Fame.
There is also Tedford's humble beginning. Unlike many Pac-10 coaches who have legendary pedigrees, Tedford started as a volunteer assistant coach at Fresno State. During that time he lived off of his savings from his stint as a quarterback in the CFL, subjecting his wife and child to near poverty while he proved himself.
Prove himself he did and he was picked up as a fulltime assistant back in the CFL before returning two years later to Fresno State as a paid assistant coach, where he was quickly promoted to offensive coordinator. During that stretch he groomed future NFL quarterback Trent Dilfer. After that he continued on to Oregon, grooming two more first round NFL draft picks.
But what is without a doubt the most impressive stretch of Tedford's career is his stretch as head coach of the Golden Bears. His 65 wins in 7 ½ seasons took his immediate predecessors over 13 years to accumulate going all the way back to Bruce Synder and 17 years if you skip over Synder's brief but successful tenure.
While that phrase "brief but successful" has plagued Cal ever since its last sustained period of success in the early 50's, Tedford has defied it every season. Whether it was Mike White's tenure or Bruce Synder's stint, those runs were always upended when coaching turnover sunk the Bears.
Instead, Tedford's humble yet determined, play by the book attitude has been a perfect fit for Cal. Eschewing interest from NFL programs curious in finding out if Tedford's coaching skills would produce a winner at the highest level, Tedford insisted he was happy in Berkeley and wanted to make it a career-long home.
He's proven his commitment to that promise time and time again. When his first contract expired without the promised training facilities, instead of packing up and leaving town, he redoubled his efforts to get construction started. He waited patiently for 2 1/2 years while tree-sitters pounded on their drums outside his office window scaring away recruits.
Now, on the eve of his 100th game as head coach in Berkeley, Tedford has accomplished so much that it's taken for granted. The training facility that is in the midst of being built is thought of as an inconvenience to fans who have a more difficult time navigating the narrow walkways into the stadium where Cal's fans of 10 years ago would marvel at the sight. A team that reaches bowl eligibility in the 7th game of the season would have been a dream come true in 1999, but in 2009 there is grumbling about a lack of execution.
The 54,738 fans who witnessed the supposedly distressing 49-17 victory over Washington State were considered a troublingly small crowd. However, before Tedford's arrival one would have to go back to the early '90s, to find the last time Memorial Stadium had that many fans in attendance outside of a Big Game.
All of this was Tedford's doing. The athletic director who had hired him is long gone and his replacement, Sandy Barbour, has gained as much from Tedford's guidance and determination as he's gained from her tact and experience in handling the University, the donors and the community at large. No matter which aspect of the Cal Football program one looks at, be it the facilities, the donor base, the alumni support, the national recognition, the coaching staff, the players, the recruiting classes and most importantly the success on the field, Tedford's mark on the program is evident.
The program has reached a level of success that no one dared dream on November 4th, 2001 and we have Tedford to thank for it. As we look forward to another Big Game, Tedford's 100th game, it's the right time to take a step back and remember; to remember where we were, how far we've come and most importantly, who we have to thank for it.
Thank you Coach Tedford. It's been truly an honor to witness.
Ken Crawford is a staff writer for BearTerritory. A lifelong Cal football observer, Crawford has covered the Bears since the 2006 season, which included an up close and personal view of the memorable 31-24 victory over Oregon at Autzen Stadium in '07. Crawford will continue to handle various Cal football assignments during the 2009 season.