Tedford names Riley the starter at Media Day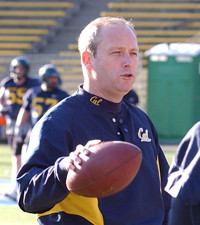 SAN FRANCISCO-If there was one thing to take from today's Bay Area College Football Media Day, it was that Cal head coach
Jeff Tedford
is tired of not answering the quarterback question.
"Kevin is the starter. Kevin's the starter, unless he gets beat out. Kevin is the starter, you can write that down," Tedford said. "I didn't say 'until,' I said 'unless.' The top three will get, in the beginning (of camp), very equal reps. And then, as camp moves on, it will be whittled down where the ones will get more."
Tedford expressed in no uncertain terms the most confidence that he has had this offseason in senior quarterback
Kevin Riley
, while leaving just enough wiggle room should the unforeseen unseat the veteran signal-caller.
"Here's the deal: competition is very good. There's still going to be competition," Tedford said. "Kevin is our starter, and he will be our starter, but there will still be strong competition with the other people. He will be our starter unless something happens, or unless someone plays better than him."
Of those two QBs behind Riley, as of now, is sophomore
Beau Sweeney
, who currently sits second on the depth chart.
"Beau has an escape dimension, he's very competitive and he's very smart," Tedford said. "He has arm-strength and can make all the throws on the field. He's very solid. But, what he doesn't have is the experience."
Riley has put in more work this offseason than he ever has in his tenure at Cal, and Tedford continually touched on the fact that Riley is the conference's active leader in starts, wins and touchdown passes, building up quite a mountain for Sweeney or junior
Brock Mansion
to climb in order to seize the starting role.
"I think you're going to see a confident Kevin come out and play, I think he feels like it's his team, and he's ready for that," Tedford said. "This is his senior year. Kevin's not stupid. He sees what's been out there, so, even though I'm sure he feels like he has a lot to prove, I don't want him thinking that he has a lot to prove. I want him just to play his game and do his best and have a little bit of fun with it and not put so much pressure on himself.
"I think Kevin's doing a fine job. That experience should pay dividends going into his senior season. I think he understands the game, he understands the ups and downs of the emotional roller coaster at the quarterback position and I think he understands our offense very, very well. I'm hoping that that pays dividends in his senior year, and I think the way he's worked on his mechanics, his fundamentals, his feet, I think he'll be better for it."
Apart from the ever-present quarterback question, Tedford opened up on the nigh-unprecedented change that has transformed the program this offseason.
"It is challenging to coach at the same place for nine years and try to keep everybody happy and try to stay at a level of success," Tedford said. "Going to a place and coaching for three or four years, being successful and moving on and then trying it somewhere else, to continue it over eight or nine years, until you're in that position, you don't really understand how challenging that is."
For the majority of those nine years, aside from Tedford, there have been few other constants on the coaching staff. Two of those constants were special teams coordinator
Pete Alamar
and defensive coordinator
Bob Gregory
, both of whom departed the program this offseason while offensive coordinator
Andy Ludwig
and offensive line coach
Steve Marshall
will return for their second seasons in Strawberry Canyon.
"Any change that had been made in years past had been offensive, and that philosophy has pretty much stayed the same because I surround myself with offense, mainly, and this is a new defensive coordinator for the first time in nine years, and our special teams coach was here for seven years, so that's a change as well," Tedford said. "To have two new coaches after two coaches who have left who have been here for so long, then that makes sense. It is a breath of fresh air to me, too. Any time there's a change, you really try to draw out a lot of information from people, not just defense or conditioning or recruiting or motivation, leadership-everything. I think the two guys we brought in are very good fits for that."
Another change is that the Bears have been picked by the Pac-10 media to finish seventh in the conference, far from where they had been predicted to finish in years past. There is no Heismann hype, no national ranking. This year, the only pressure, the only expectations heaped upon Cal's shoulders will have to come from within.
"We're the second-winningest Pac-10 program over the last eight years, and I'm not sure many people know that," Tedford said. "It's a challenge to play who we play, week-in and week-out in our conference, and we've played a pretty decent non-conference schedule over the years, so it does take a toll on you. For me to sit here and say that it doesn't take a toll on you would be very naive for me to say, because it has. I have to re-evaluate who I am and why I'm doing this, and what are the goals and how do I handle all the things that come along with the high expectations."
While this season, the national expectations are all but nonexistent, the expectations of Cal's fan base are-as they have been for much of Tedford's tenure-incredibly high. Ever since the Bears won 10 games twice in three years between 2004 and 2006, Tedford has not met with the level of success for which Cal fans have been yearning.
"I welcome it, and I understand it," Tedford said. "But, I can't be consumed with it. I understand where they're coming from; there's no one that wants to get to the Rose Bowl worse than the coaching staff, myself and the players. I understand where they're coming from. It's kind of funny, when I first got here, it was 'aw, these fans are great, they're so easy-going,' and I said, 'Yeah, right. Just wait until they get a taste of success.' It's everywhere. It's not just here; it's everywhere, so I get where they're coming from. It's natural."
The fans' ire was raised even higher after the end of last season, when the Bears followed a dramatic Big Game win over Stanford with a loss to Washington and a defeat in the Poinsettia Bowl to Utah.
"This year, going into this thing, I think we all understand that we didn't finish the season well enough last year," Tedford said. "We were 8-3 and had the chance to end with a 10-win season. We didn't do it. We need to go back and not really focus on the big picture. We got caught up on that a lot last year, and that's the lesson that I learned last year. We're not going to get caught up in the big picture. I'm not going to talk about the big picture every week; we're going to talk about what we do, day-to-day, and that's it. Then, when it unfolds, then we'll find out where we are."
This offseason, Tedford has rocked the boat more than he has in his entire tenure, dismissing two longtime assistants and bringing new perspectives into the program in the persons of special teams coordinator and tight ends coach
Jeff Genyk
and defensive coordinator
Clancy Pendergast
. Genyk and Pendergast replace the embattled pair of Alamar and Bob Gregory, who were brought into question late in their tenures by fans and critics of the program alike.
"With the whole fan mindset, I have to separate myself from the fans' mindset. While I respect their opinions, I expect where they want to go and what they want to do, I can't get caught-up on thinking about that," Tedford said. "I want to make sure that we're reaching our full potential, that we can put a product on the field that plays with discipline, plays an exciting brand of football, those types of things. I still understand that putting the butts in the seats is a big deal, too. I'm not naive to that. That's important. But, in order for us to do our job efficiently, we can't have the external things beating on us. I can't have the external things beating on me, and I don't think we can have the external things beating on the players. While I understand it's there, and I understand where they're coming from, we cannot let it consume us to where it starts to affect our mental capacity to think about what we should be thinking about."
The change that has surrounded the program of late is not limited to just the new faces on the coaching staff, or the new 2010 recruits in the locker room. Tedford himself has had to take a look at what part he plays in the team's psyche, as well as the results on the field.
"I need to change my attitude a little bit, here, too, making sure that we're having fun and we're not stressing out every day of the year," Tedford said. "I have a tendency to be a little stressed out, from time to time. I need to loosen up, for this team's sake. I'm going to make it a priority to make sure that I keep that in my mind.
"I've changed to try to improve as a head coach over the years. If I feel that something we did last year wasn't good enough, then I'm going to try and address that, to address everything that we did. Was something good enough, or wasn't it? What do we need to do? Then, each team is different, as well. The chemistry of each team is different. Nothing stays the same. Our competition is different. The recruiting is different. We're all in constant evaluation as to what's going on."
Recruiting has indeed changed a great deal, with the Bears netting the No. 11 class in the country, a class which features some tremendous speed on offense and a potential franchise player in five-star
Keenan Allen
.
"As far as looking at him, he's about as ready-made as anybody we've ever had here at that position," Tedford said. "He's a great-looking guy. He's much bigger than Lavelle (Hawkins). His legs, he's put-together. I'm not sure we've had anybody like him. It would have to be one of the taller receivers because he's 6-foot-3, has great range and leaping ability. Him and Marvin (Jones) are really becoming close. They're highly-competitive, both those guys."
Though Allen will be busy enough between learning the offensive playbook and working in at nickel back on defense, the other wideouts in the 2010 class will likely be battling it out for the chance to return kicks and punts in addition to catching passes. In fact, one of the questions that Tedford and his staff asked themselves internally after National Signing Day was who would fill the return role in 2010. Even after spring ball and summer practice, that question is still up in the air.
"There's a lot of new guys on our team right now, a lot of young guys who have a lot of ability to do that," Tedford said. "If you look at the recruiting class of our skill guys this year, there's a lot of speed on the field. We have to see how those guys fit into that. We already have some guys there that can do it, but we're going to evaluate that part of our game.
"One thing you need to do is take a look at what they're going to be doing. Is
Steve Williams
our starting corner? Is one of these new guys going to be a starting receiver? And then, you have to feel it out from there as to who can do different things in the return game. But, we feel like there's a lot of speed when you look at
Kaelin Clay
and
Terrance Montgomery
,
Tevin Carter
,
Coleman Edmond
, those guys are burners, and they're all brand-new, not to mention some of the defensive backs that we brought in. So, that has to be evaluated still."
The primary evaluator in that regard will be Genyk, who has helped to change the outlook of the special teams unit-and, in fact, the entire team-with his boundless energy and enthusiasm.
"There's a different philosophy in special teams and a lot of enthusiasm there, and that's a place where we need to improve," Tedford said. "We need to improve our kicking game, because field position is such a major part of the game, and we didn't play well enough on our kicking teams last year, especially our kickoff team. That's something that we've tried to address over the spring, both with our kickers and with our coverage teams. I think Coach Genyk and Coach Pendergast have brought a new feeling of enthusiasm to the kids, where they're really excited about what we're doing."
Part of that excitement may be due to something as simple as having a different voice barking out instructions during practice, or having a second chance to make a first impression.
"One of the things that brings that fresh air is that Clancy doesn't know any of those kids," Tedford said. "He doesn't know their background, doesn't know where they were recruited from, doesn't know their story; he's just out there to see what they're doing right now, today. I think the players enjoy that. It's a little bit of newness, I think, that has brought a little bit of energy.
"I think the change has been good. I think it's been positive. Not just schematically, or anything with philosophy, but I think the kids, really, feel a breath of fresh air; a newness to them, to be re-evaluated and to sense some excitement, and maybe a different voice in there for them. I really felt that in the spring time, there was a little bit of pop in their step because of it."
Most of that pop has been evident on defense in the spring and summer. The presence of Pendergast has ensured that the Bears will feature more blitz packages and mid-series changes from a 3-4 base to a 4-3 alignment, a complexity that many felt the unit lacked last year.
"I think football has really changed over the last nine years, with all the zone pressures and things like that," Tedford said. "That's not taking anything away from Coach Gregory. He did a fine job while he was here, but what we're doing right now on defense is a little bit more multiple, and it's what I want to see, and that's why, in my conversations with Clancy, that's why we hired him."
In particular, many critics of the program cited lax pass defense and the dependence on an ineffective three-man rush as one of the major reasons for Cal's downfall last season. Tedford intimated that the team's inner workings were as much to blame for the back-to-back midseason losses to Oregon and USC and the season-ending losses to Washington and Utah as any inadequacy on the field.
"I think our guys understand that we want to play at a high level," Tedford said. "Last year, I felt like it got carried away for the first time. When you look at it these days, with blogging and the way technology is, everybody's opinions are out there no matter how you try to shelter yourself from it. When we were 8-3 last year, it felt like we were 3-8 at one point. There was a lot of negativity out there, and we need to do our best to make sure that we're not thinking about that, that we're focused on what our purpose is, every day, to play every game to the fullest of our ability and then let it go from there. That's really the message: it's about the process. It's not about the outcome on any given play or any given anything. If I lose a play, then it's about the process. It's about the next play."
That next play will come on Saturday, as the Bears begin fall camp with a new outlook: that of the underdog.
"The chemistry of our team right now, and the hunger of our team right now, is where we want it to be. I think there's a sense on our team that we need to get better," Tedford said. "Going into seasons where you're ranked really high, you know, we don't rank ourselves. Everyone else ranks us.
"Last year, when we lost to USC and Oregon, it took a lot of air out of the balloon. We bounced back to beat Arizona and Stanford and things like that, but our values weren't solid enough to overcome some of the air that had gone out of that balloon, because of all the high expectations. Really, this year is about focusing on one day at a time."
Those values Tedford spoke of are things that he will actively try to re-instill in this team: a getting-back-to-basics approach, if you will.
"Values are something you live by every day. They're who you are and they don't change. We can't go up and down if we win a game or if we lose a game, or if we win three and lose two. We can't ride that roller coaster," Tedford said. "It's about who we are, and what is our purpose every day, for being here, for doing what we're doing and to play our best, and to only think about the things and the situations that we can control. Everything else, we have got to put out of our mind. That's what's key: to, in my opinion, going into this year, that we don't get caught up on everyone else's opinions. Everything's internal. We want to stay focused on our day-to-day preparation, attending to that day, that play."