Takeaways: Explosive Plays Given Up, Line Woes Apparent in Cal's 44-28 Loss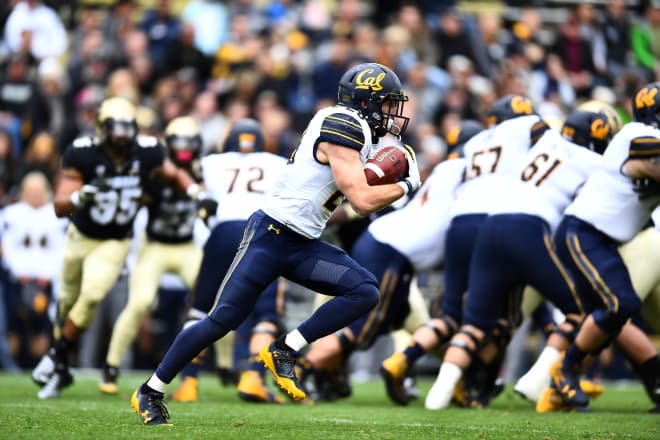 BOULDER, CO - While the interception return for a touchdown was emblematic of how this game ended, there were deeper schisms that showed for the Bears early in the 44-28 loss to Colorado.
The Bears struggled in the secondary, where they hadn't all season, and on the line, where they had in a good portion of the season. They struggled to get off the field on 3rd and long. They couldn't get anything going offensively after they got stops in the third quarter. What could go wrong, did for the most part. Justin Wilcox reiterated this in his postgame press conference:
"I don't know if there's any one phase of the game where we played well."
Postgame Recap | Postgame Press Conferences
Line Woes
After two strong weeks in the run game, the Bears struggled to a 61 yard outing on the ground (87 yards without sacks). Part of this comes from being down by two scores during the second half. The other part comes from being ineffective. The Bears struggled to get a push on the interior, and they may be even more hampered next week, as Valentino Daltoso was carted out after the final extra point attempt.
Rollouts didn't work, Colorado scouted those out, and they sent new pressures at Bowers. Mike Saffell will likely get the start next week if Daltoso can't go and Patrick Mekari remains out.
That also bled into the pass game, where Bowers was pressured with different rush packages from Colorado, with delayed blitzers coming and receivers not coming open. The interior struggled again in that regard.
3rd and Long
On 3rd and 9+, Colorado converted three times out of four attempts. A lot of the trouble came out of the slot, where the Bears had trouble in coverage, trying to accomplish dual goals of putting enough in the box to stymie Lindsay and do enough in coverage. They did poorly in both, especially with Devin Ross and Jay MacIntyre. That's also on the defensive pressure, where while the Bears sacked Montez three times, the line and rush fronts struggled to be consistent against a team that'd given up pressure at a league high rate.
Explosive Plays
The two stats that Cal focuses on are explosive plays and turnovers. The Bears allowed seven explosive plays, and only came up with five, many coming in their final attempts to claw toward a comeback. The issues in the secondary, which for all but one appear to be communication based (Shay Fields just outran Darius Allensworth on the 65 yard touchdown pass), are fixable, but they reared their ugly head in a game the Bears really needed.
Noa
Probably the biggest positive, if only positive, was Kanawai Noa. The Hawaiian wideout again had a 100 yard performance, with one of the best catches of the year on 3rd and 14 to get the Bears to being down 24-14. Noa now has 16 catches to convert third downs this year, consistently making difficult grabs in tight windows. There's a reason why he was voted team captain by his teammates, as his toughness and tenacity was on full display.
Playcalling Quirks and Other Notes
A few notes:
- Lots of motion by Noa behind the QB and RB that wasn't used for a pass, something they'll set up for later
- Didn't run a screen against Colorado pressure until Wharton's touchdown in the fourth quarter.
- Started Chris Palmer at nose in the base 3-4, mostly used Tevin Paul and James Looney as the nickel guys
- Tried Beck and Drayden at nickel, Beck looked relatively more effective
- Ashtyn Davis had a return called back where he hurdled a guy, also looking like one of the more solid tacklers on the defense, capable of filling the alley.
- Even turnover differential, Bears couldn't take advantage of Sam Noyer's fumble in the third quarter
- One sack came from the interior of Cal's line (Saffell whiffed on a block), two came off the edge, one came off Bowers trying to scramble forward
- They'd tried the Wharton pass against USC, but it didn't work. It worked this time.
Final Take
This was a struggle where a lot of the crack busted at the wrong time. The secondary had issues with the deep ball. The linebackers couldn't finish a couple of plays, including Lindsay's long run and a Montez scramble for 15. The rush couldn't get consistent pressure. The offensive front didn't hold up enough. The run game was anemic and the passing game didn't do enough when everything mattered.
This is still a team that needs rebuilding, especially on the line in experience and athletes. The fact that they've won a bunch this year, despite the injuries and oftentimes lack of explosiveness is a testament to the group heading in the right direction with their coaching. It's on the coaching to get better, that's for sure, and the players will improve from that with time.
The hope is that that time comes sooner than later, and now they've put themselves in an untenable situation, needing to win two out of three to be bowl eligible. They have a great chance to get halfway there next week on senior day against Oregon State. They have to come out a lot better than this on all fronts.