State of the Cal Football Program from Pac-12 Media Day
HOLLYWOOD, CA - Right down the street from where other Pac-12 Media Days have been in the past, the 2021 edition of the event was a bit more subdued from the previous versions. Maybe it was the masks required of all media participants. Maybe it's a somewhat smaller room that didn't have the same high ceilings of the Dolby Theater where the event was previously held. It is possible that, with the past year being filled with relative despair and a lack of a lot of the things that make college football fun, that that rubbed off in the first big public gathering that a lot of media members have been to since early 2020 or even the end of 2019.
Subdued may be the word to describe the reaction toward Cal Football right now. The Bears were picked 3rd in the North by the media. They have only one player on either the Pac-12 preseason first or second team, that being the now medically reitred center Mike Saffell. (The Bears did have multiple honorable mentions). Those expectations aren't the ones that Justin Wilcox and company have for themselves. Wilcox used the phrase 'high expectations' multiple times during his time at the podium, as the Bears look to have a year similar to the one they envisioned for 2020.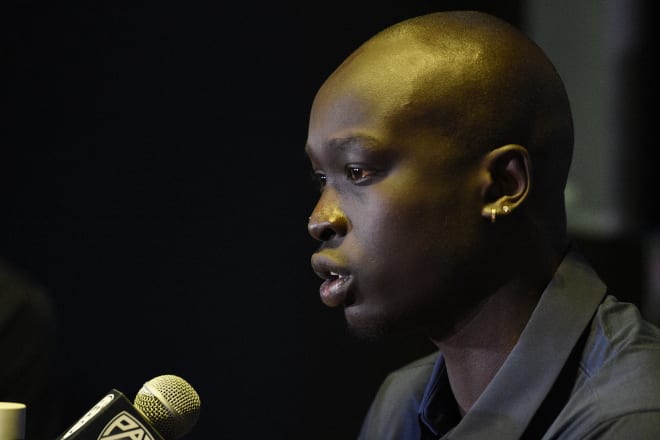 State of the Program Notebook
- Per Wilcox, Cal will start camp next Friday, reporting next Thursday
- Cal is 'nearly fully vaccinated,' in accordance with a UC mandate for all students and staff to be vaccinated prior to August 4th and returning to campus (with religious and medical exemptions)
- With Saffell medically retiring last week, it was worth asking Chase Garbers whether Saffell was tired of the Cal quarterback having his hands up his butt.
"Either that or me beating him in ping pong all the time," Garbers joked.
Garbers and Saffell have been linked since serving as defacto closers for the hastily thrown together 2017 class that they were a part of, along with being freshman roommates, and losing a center and captain isn't an easy blow to deal with. The Bears have a handful of guys who have taken reps at the spot with Matt Cindric, Brian Driscollm and Ben Coleman being the three names to come up every time.
"Cindric played center in high school," Garbers said, "so he has that background, Brian is also a true center for us, and Ben Coleman, who's a guard has worked into that center position. Brian and Ben, they're some of the biggest centers I've played with, 320+ guys as opposed to Cindric, who is close but not quite there, and the speed they've built on this year has been awesome."
"Losing Mike is a blow, no doubt," Wilcox noted"He's a heck of a football player and a damn good center, but also the leadership and presence that he provides (is lost), that's tough. We're really optimistic about Brian Driscoll and Ben Coleman, and some of those other guys who have taken a step forward, who played a little last fall but a lot in spring."
- ILB is a position where the Bears don't have the same level of experience, with Kuony Deng moving to the outside, but Evan Tattersall has made an impression with his work during the offseason.
"Evan Tattersall has taken the next step in his progression," Wilcox said, "He's always had the tools, but this offseason, it has seemed like there's some urgency on his part in how he's approached workouts and spring practice. Mo Iosefa is a very talented guy, he's got great instincts and is learning a lot about football, college and all of it. I expect Mo to continue to grow, and there's some other guys in there where it will be a telling time, Blake Antzoulatos comes to mind."
- In front of them is a young defensive line group that does return Luc Bequette (per Wilcox, Bequette does have NCAA red tape in front of him, but they're anticipating good news from that area shortly). There's a handful of young names that should play into the mix.
"You look at Stanley (McKenzie), Stanley would've played for us last year," Wilcox said,"but he had some things last year that kept him out, Ricky Correia, Ethan Saunders, Aaron Maldonado is coming back, Akili Calhoun, there's a number of guys and you add the freshmen in the mix, I think that's going to be a lot of fun to watch sort out in the coming weeks and months."
Cal also added Darius Long to the defensive line, as Wilcox noted they'd gotten to see him up close before bringing him in.
"Darius, we knew about him," Wilcox noted, "local guy and we watched some tape. We were able to work with him in camp. With some of the injury issues that have come up at that position, we felt that he could come up and help us. We spent a really good day with him working out, and we did our homework with his JC coach who we know really well and we were able to bring him aboard."
- A big thing Kuony Deng talked about at media day was his involvement in the community. Deng has partnered with a handful of organizations in Oakland and Berkeley (People's Programs of Oakland being a big one), and he's far from the only one on the team to do so, as he mentioned Marcel Dancy and Elijah Hicks as guys who are doing similar work. He sees Justin Baker as another in that lineage of community service, and taking advantage of what Cal has to offer.
"They get it," Deng said of some of the younger players "and I think those are the kind of things that draw guys to a place like Cal, with the opportunities that will be made available to you if you're able to make them happen, Elijah Hicks has been the spitting image of that, Marcel Dancy, and working with Intercept Poverty, Elijah's foundation and I think it creates a culture of 'these are our leaders of our team, this is what they do,' and when guys come in 'this is what I do, when I have free time, I help out in the community.'"
"There's a number of them," Wilcox added, "there's a number of guys taking advantage of the opportun"ity like Kuony, but what a great example of a guy, that came to Cal as a junior college transfer and just dove into football, school, community, and taking advantage of every opportunity that he has. Kuony's a very talented guy physically. He's an incredibly smart and thoughtful person, he's going to be able to play football for a while and also create opportunities for himself outside of football because of who he is. He is an example of a guy, and there are others, of a guy taking and making the most of his opportunities."
- At OLB, Deng and Cam Goode give the Bears two seasoned players, along with Braxton Croteau and Orin Patu. Even though he missed most of the spring, Deng feels comfortable at the new position.
"I've always prided myself on being the most versatile football player on the field every time I get on the field," Deng said, "and I'll do whatever's asked of me at any time."
Garbers, sitting next to Deng, had a bit to add.
"I will say it's intimidating seeing Kuony and Cam Goode on the edges trying to get after you," Garbers noted, "long arms trying to bat down passes."
- Garbers, one of four quarterbacks at the event, noted that the Bears have spent the offseason expanding the playbook. That includes doing film study and lifting other bits from the pro or college level that may fit their scheme.
"A lot more stuff. We had a pretty vanilla playbook last year," Garbers said, "we took off last year what we were successful at and what we weren't too good at, we're fine tuning it, fixing it, maybe just throwing it out the window. We did a bunch of film study, not just on us but on past teams coach Musgrave and coach Chryst have been a part of or even successful college teams, just picking and choosing. We're really excited for this offense under coach Musgrave and to get in front of the fans again"
That comes with a need to push the ball downfield. Garbers acknowledged that it's a point of emphasis for the group.
"We talked about that we've got to stress the defense more downfield," Garbers said. "We talked about the first play against Oregon State, a deep ball to Kekoa, there were a bunch of deep balls thrown there. It depends on who we play and what their strengths and weaknesses are, we're looking to have a lot more explosive plays than last year."
- The remainder of the offensive line, namely at left tackle (Will Craig), left guard (Cindric), right guard (McKade Mettauer) and right tackle (Valentino Daltoso) has returning experience, but Wilcox did note that they'd create more competition at that right tackle situation.
"I think we've got to find out where the rest of the guys are," Wilcox noted. "Val's played a lot of football for us, really glad he's back with us, but we're going to create some competitive environments so those other guys can get those chances."
With that, Gentle Williams looks to figure into the OL picture, despite not having played since 2018. Williams should add depth at guard.
"Gentle is really impressive with his level of commitment and perseverance," Wilcox said, "most people would have waved the white flag by now, he hasn't. He cares about the team, he loves playing, he's a leader and guys listen to him, Gentle's really that mature presence for that room and the rest of the team."
- The tight end position will play a big role in Cal's offense, as Garbers discussed the roles the two true freshman tight ends could have this fall.
"Jermaine (Terry) is a big body," Garbers said, "probably the biggest tight end I've seen coming out of high school at 17 or 18. I'm very glad he was there with us in spring. We've got a very veteran group with Gavin, Jake and Collin, even Nick Alftin is a veteran, they'll help those young guys along. I'm excited about Keleki Latu, who just came in, he's a big frame. It'll be interesting for him and Jermaine in fall camp, they'll get a lot of the reps, being an older tight end takes a toll on their body, we're really excited about them."
- Wideouts were another piece of the conversation, and Garbers highlighted what the sophomore group of wideouts could do for the Bears offense as they look to be more explosive in 2021
"The guys that are going to be sophomores now," Garbers said, "Aidan Lee, Jeremiah Hunter, Justin Baker, Tommy Christakos had a really good spring, Mason Mangum, those guys have been working their tail off, whether it's with me, in the weight room, or in general. Justin Baker in particular has gotten faster, something that pops your eyes a little bit. All those guys are getting more familiar with our playing style as a unit, I think all those guys are going to have a very big role this year. With the older guys like Tre(von Clark), Koa (Kekoa Crawford), and Nikko, I think they've got a lot to learn from those guys and it's going to be a very special run this year."
On Baker, Deng had some high praise, not only for his performance, but his off-field work.
"He's gonna be a lot of people's favorite player," Deng said.