Spring Review: Cal RBs With More Varied Skillsets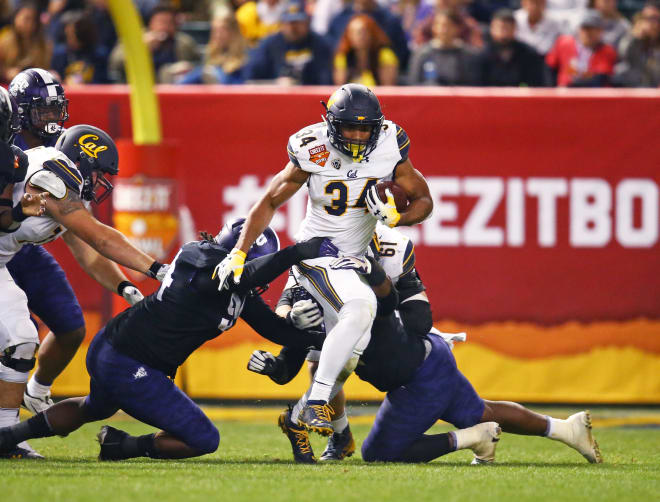 The running back group came into the spring of 2019 with plenty of questions in the aftermath of the 2018 season. Pat Laird took the lion's share of the reps. Both Biaggio Ali-Walsh and Derrick Clark transferred. Chris Brown had the most carries for the Bears coming back. Yet the running back room is one of the offensive units that produced well during the spring, and part of that is because of Brown.
Brown, a true sophomore from Oceanside, CA, impressed a number of people with his ability to not only run through and away from people, but also his approach.
"He can just go play football, bump into people, he's like a Tonka Truck," strength coach Torre Becton said, "he's like a fast Tonka Truck, bumping into people and things, knocking people over, it's fun to see, but primarily because of his approach, he comes ready to play every day, and that's cool. He is deliberate, he is intentional when it comes to practice and lifting weights and running and all those things. Not a lot of fluff with him, he doesn't spend a lot of time BSing around, he's not that guy."
Brown hurt his ankle during the spring game, missing the final week of spring ball, but one notable play where the sophomore broke away on a zone run, ran away from Cam Bynum, and flashed the peace sign at him stands out. Brown's becoming a more complete back, something Nick Edwards stresses.
It's very important that we're not just one back," dwards said"just a power back or an elusive back, but a total running back, that we can play 100 snaps if we need to play 100 snaps or if we need to divy it up, we can divy it up. Those guys, we like to work on their whole toolbelt to make sure that they're successful."
Each of Marcel Dancy, Deshawn Collins, and Alex Netherda had their moments throughout camp. Dancy impressed during the spring game, with his touchdown catch being the most memorable piece.
"Marcel has all the tools," Edwards said "you saw the first one that he scored, he pretty much ran the guy over and spun off him. He has the ability to run by you, he has the ability to put his foot in the ground, and where's at, he's made huge strides from last year to this year."
Collins got banged up part of the way through spring, but came back stronger per Justin Wilcox, and Netherda led the team in rushing in the spring game, including a nice run where he followed his blockers for a big gain.
What Depth Looks Like
1. Brown
The Cal staff doesn't say much toward depth charts, but they really like Brown, who's a physical specimen in the weight room and is developing lateral agility that should make him more successful in the future.
2. Dancy/Collins/Netherda
It's probably wrong to put these guys as a 2 on the depth chart, since there'll be more time in the fall to decide who plays more. Dancy brings the element of shiftiness to the RB group, he did well in avoiding tackles in limited action in 2018. His straight-line speed is improving, and he's good out of the backfield in making catches
Collins looked noticeably faster on the field this spring than he did on his JuCo tape. It probably helps that he's not playing with a broken collarbone, but his speed stood out to Justin Wilcox.
"He can run," Wilcox said, "he's got really nice speed, and I think as he gets comfortable with the offense, it'll allow him to show up more and more"
Netherda also had a bit of a jump, he's another guy who can do everything asked when put in. He's a bigger back than Collins or Dancy, but he's got some burst and cutback ability. He follows his blocks and knows where the guys in front of him are supposed to be.
Who's Next: DeCarlos Brooks
Cal's bringing in one running back, Chandler HS (AZ) standout DeCarlos Brooks. Cal landed Brooks last July, before he rushed for over 2200 yards and 37 touchdowns in leading Chandler to a 6A state title win. Burl Toler described him like so back in February:
"Last year, when I coached running backs, DeCarlos was somebody that coach Ragle was heavy in the recruiting process as well. He let me know that he saw this kid at Chandler High School that he thought extremely high of. I looked at his academics and his film, and said 'hey, this guy's a baller, he can take care of business in the classroom as well.' I went to see him in spring and immediately fell in love with the kid. His work ethic, I noted he was extremely detailed in his footwork, coaches raved about him, he had great grades, all the intangibles. I'm glad I jumped on him when I did, because he had some attention late in the recruiting process. He scored 37 touchdowns and had 17 just in the playoffs. Talking to him, you'd never even know that. He's extremely humble, he'll be a great addition to this program as well."
Brooks is a one cut and go type of guy, with a low center of gravity and an ability to shed tackles. His speed got better as a senior, as Brooks flourished in his first full year as a starter. He took a ton of reps, and turned up his game when the playoffs came around, with nearly half of his 37 TDs came in the playoffs. If he can handle his business early like Brown did a year ago, there's no reason why he couldn't see playing time as a true freshman.