Rivals sits down with new Cal OL coach Zach Yenser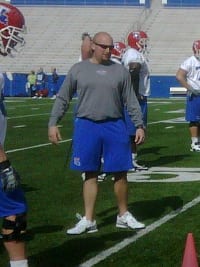 Zach Yenser is 29 years old.
He's the youngest assistant on
California
head coach
Sonny Dykes
' staff.
And the only one under 30.
"I've addressed it with every house I've been in," Yenser recently told GoldenBearReport. "I'll bring it up, or somehow it gets brought up -- it's the elephant in the room, that's just what it is. I knew it would be that way when I took this job.
"I'm not 40 like a lot of guys are, but I feel like I'm extremely qualified and confident in what I do and how I do it."
In just a month's time, Yenser has proven as much. A former four-year starter at Troy, Yenser has secured commitments from four 3-star offensive linemen, including highly covered Buhach tackle
Aaron Cochran
, who had both
Oklahoma
and
Nebraska
in his final three.
Cochran is the 45th ranked offensive tackle in the country.
J.D. Hinnant
, who was fully cleared by doctors this past week following a serious car accident in the Fall, is the 50th, and
Chris Borrayo
is the 62nd.
Even if the Bears lose 4-star OL
Cameron Hunt
(which, according to several sources, they will), Yenser will still bring in one of the most impressive offensive tackle classes in the country, with four in Rivals' Top-65.
And this, for a coach who had an extremely light recruiting resume.
"All I was allowed to do was call high school coaches, get info, set up trips -- the grunt work," Yenser said. "I wasn't allowed to go anywhere, or in-homes, but when it came to kids being on campus, I was able to get to know them, really do what any other coach was doing. I've done that since 2007."
Yenser's philosophy is simple.
"It's all about building relationships," he said. "Now I'm getting to know parents a lot more now, getting to see the kids more and more in their comfort zone, their home and their school, but other than that, it's just getting to know the kid, to feel comfortable with each other, to let him know you care. In my mind, it's not just about football.
"The main reason I'm in coaching is to help develop young men. It's not just as a football coach, and as a football player, it's as a human being. That's my ultimate goal."
According to Yenser, the staff is looking for kids they want to be around.
Especially because... "we're going to be around them a lot."
"We just want good football players, tough-nosed football players, but we don't have a 'you have to be 6-6, 300 pounds,' we just want good tough football players, guys who love to play ball, are smart, and like to be there.
"Athletically we don't have a mold. We just don't. We do want guys that can play in space more than a traditional offense, guys that can move and are atheletic, whether they're 6-1 or 6-6, we just want good football players."
While this will be Yenser's first go as a FBS assistant coach, it won't be his first collegiate. Yenser was an offensive line coach at Division II Henderson State straight out of college, where his line only allowed 13 sacks in 430 attempts and the offense racked up 12 school records.
Yenser then moved to Colquitt County High School, where he helped guide the Packers to an 11-3 record and an appearance in the Georgia 5-A state semifinals.
Yenser began his FBS coaching career at his alma mater, Troy, where he was the offensive graduate assistant for the 2007 season, working specifically with the offensive line and special teams and helping the Trojans claim the 2007 Sun Belt title.
In his first at
Louisiana Tech
, Yenser -- who secured his Masters at LaTech -- helped offensive line coach
Pete Perot
as the unit paved the way for
Lennon Creer
to rush for 1,181 yards. Tech's line helped Creer record 149 rushing yards at No. 2 Boise State, more than almost any single team was able to put on the board against the Broncos in 2010.
With Dykes bolting for Berkeley at the end of 2012, Yenser actually got three offensive line coaching offers in a matter of two weeks: from Troy (which he initially accepted), from Skip Holtz and Louisiana Tech, and from Dykes and Cal.
"With Coach (Tony) Franklin, I worked with him the last 6 years, so we talked on a weekly basis when he went to Cal... 'Who are you recruiting? Who are you talking to?', stuff like that. Once that day came when coach Dykes called, the next day I was on a flight. It's crazy, it really is. But I truly do think I'm the best guy for this job. There's not a doubt in my mind."