Remigio Breaks Down his Commitment to Cal and More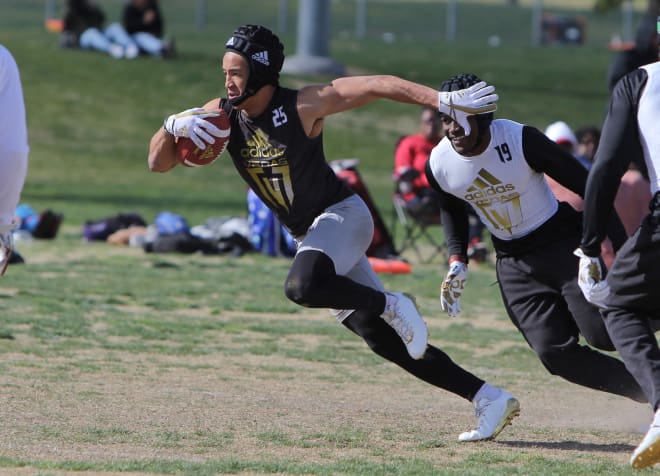 After head coach Justin Wilcox offered new Cal commit Nikko Remigio last Saturday, he told the Mater Dei WR that he didn't want him to feel pressured into making a decision any time soon. Apparently reverse-psychology worked, as not too long afterward, Remigio was on the phone with WR coach Nick Edwards.
"After we had talked, I ended up getting on the phone with coach Edwards later that day and we were just breaking down the whole thing and where we wanted to go with this and what I planned on doing," Remigio said, "It was just what I was going to end up doing with my recruiting process, and I pretty much let him know that if the decision wasn't the biggest decision I'd make in my entire life, that I'd commit right on the spot. I let him know that I wanted to talk with my parents and coaches. Just from there he was very understanding, and I got to talk to coach Wilcox after and he was just very supportive saying that they wanted me up there and the coaches were very active in making sure I was wanted over there at Cal."
After talking with his parents and coaches, everything became a bit clearer
"After I got off the phone with him I talked to my parents," Remigio said, "and then the next day I talked with my coach, and the opportunity was too good to even pass up, so I let them know that I was thinking about committing and it ended up turning into reality."
Remigio's announcement didn't come without a small hitch, the deluge of notifications on his phone causing some issues.
"If I don't check my phone every two or three minutes," Remigio noted, "there'll be too many notifications and my phone will start glitching, so that's where that's at. All my family and friends are very supportive and they're all giving me their congratulations and all that good stuff. It's really humbling to experience, and really, overwhelming."
Commitment isn't a word that Remigio takes lightly, and with the decision being of paramount importance to him, he's locked into coming to Cal.
"That was something that me and coach Edwards had talked about," Remigio said about his continued recruitment,"just from this point it's shut down. I'm a man of my word, my word is my bond. It's almost like having a girlfriend, but still going on dates with other girls and it's not too cool of a thing to do. My recruiting is shut down and I'm 100% a Golden Bear."
There's a couple of key targets that Remigio is looking to bring up with him in the 2018 class, a couple of his teammates on the offensive line. Cal currently has six former Mater Dei guys on the roster, and Remigio hopes to help add more.
"Man if I could get the whole offense at Mater Dei to come up with me," Remigio said, "that would be excellent, but I've been working on Tommy Brown and Chris Murray."
Remigio is also looking to try to get 2019 targets ATH Bru McCoy and QB JT Daniels up with him in the next cycle.
"He's been picking my brain, trying to find out what it's like up there and if he'd like it and all that stuff," Remigio said about McCoy looking at Cal, "He's actually one of my good buddies so I'm working on him as well. And of course, 'the' JT Daniels. It's funny, because I've known him since sixth grade, and I've been catching balls from him forever and it's crazy to see where we've come, it's very cool to see."
For now, Remigio also plans on making a few trips up during his senior year, at least taking in a few games at Memorial Stadium.
"I plan on taking multiple visits," Remigio said, "I'll be absolutely using my official at Cal, but I plan on going up there a few times then going up there for a few games."