Recap: Cal battles hard against top ranked UConn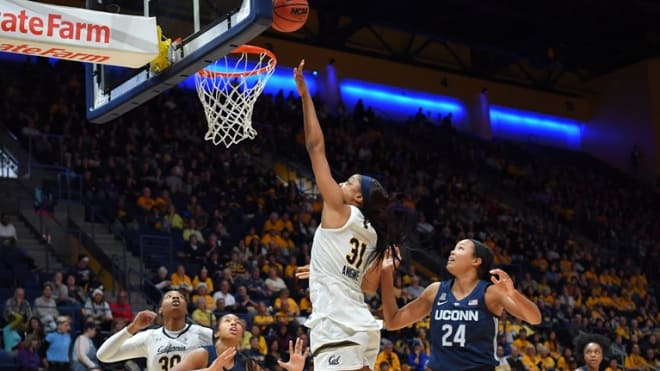 On Saturday, #14 Cal women's basketball fell to #1 ranked UConn by a final score of 76-66. Senior Asha Thomas was the top performer for Cal, finishing with 22 points and 5 rebounds on 7-15 shooting from the field and 6-12 shooting from 3-point range in 40 minutes of action. Senior Katie Lou Samuelson was the top performer for UConn with 20 points and 11 rebounds on 9-14 shooting from the field.
The total attendance for the game was 10, 818, a record number for a women's basketball game at Haas Pavilion. Kristine Anigwe, who finished with 10 points and 14 rebounds, eclipsed the 1,000 career rebounding mark, putting her in very elite company with 2,000+ career points and 1,000+ career rebounds. UConn improves to a perfect 11-0 on the season while Cal falls to 9-1.
"Thank you all for being here, I'm really proud of our team," Cal head coach Lindsay Gottlieb said after the game. "I'm proud of how they handled this week of preparation. I'm proud of how they handled the media and craziness and questions that come with playing UConn. I'm proud of how we performed on the court. We wanted to win the game. It's not a moral victory type of thing saying we kept it close. I'm more proud of what I saw and how good our team can be.
"I think we made UConn have to beat us. They had to beat us. [Katie] Lou's really good. She had to make plays. They needed contributions from all five starters. They don't get those contributions from Williams and Walker, they don't win. I love the fight of our team, the ability to comeback when we were down. To play inside outside basketball in front of a huge crowd that these young women deserve. I think we just only raise our expectations from here of what we want the rest of the season to be.
"But really fun to share this with these two, whom I scheduled UConn knowing they would be coming back here in their senior year. For Kristine to join the 2,000-1,000 club against UConn, I'm just happy to be on the journey with these two and I think it's nowhere near done."
While many teams are rightfully intimidated by a team of UConn's status, Cal played like a team that believed they could win, getting out to a 6-4 lead that expanded to a 15-11 lead with 4:13 to go in the 1st quarter. Asha Thomas had 9 points in that stretch while Receé Caldwell had 6 points, doing a really good job of knocking down shots from beyond the arc. UConn was able to regain control a bit and take a 23-20 lead at the end of the quarter, but Cal had sent the message that they weren't going to go down without a fight.
During the 2nd quarter, Cal continued to battle hard. UConn took a 30-20 lead with 7:59 to go in the half, but Cal quickly responded thanks to a 3-pointer from McKenzie Forbes and another 3-pointer from Asha Thomas. Down 30-26 with 5:55 to go in the half, Cal found themselves right back in this game, giving UConn all that they could handle.
"I would say it's just like me shooting in a gym by myself," Thomas said of her ability to hit shots on such a big stage. "Just getting reps. I mean yes, we're playing UConn, a big game, but I don't necessarily think that this shot is better than the one I've had in another game. I just have to knock down shots. I have to come alive for my team and just do the things that we need to do to get the job done."
After getting themselves back in the game, Cal was able to keep the game close during the rest of the first half, trailing 38-32 at halftime. Asha Thomas had 14 points on 4-7 shooting from 3-point range, while Katie Lou Samuelson had a very efficient 12 points on 5-6 shooting from the field. Cal shot 8-19 from 3-point range in the first half, making UConn's first half strategy backfire a bit. Kristine Anigwe had just 2 points in the first half and that was in part due to UConn's strategy of daring Cal to take as many threes as they want, provided they don't get Anigwe rolling.
"In the first half, the tradeoff was they got a lot of open threes, because we were spending a lot of time trying to help in the lane," UConn head coach Geno Auriemma said. "That was the decision we made going in. How do we want to lose? Do we want their leading scorer to get 40 tonight or do we want to hope that they shoot their regular percentage from the 3-point line? It backfired in the first half, but I don't think when you play a really good team you're going to come in and go we're going to hold their leading scorer 13 points under their average and they're not going to make any threes. I don't know if we're good enough to do that. I don't think we are. So, we had to give up something and we gave up some perimeter shots.
"But we played the percentages. I think they made two in the second half. So, if they had kept making them, if they had made eight more in the second half, then you just gotta like where we going to dinner? That's the best you can do. They're a good team. I mean, they're a good team. They're bigger than they look on film, they're longer than they look on film, they play hard, they compete, their guards are good, they're a good team. Really good team and I thought Kristine passed the ball better tonight than I've seen her pass it in a long time and that really changes their team when she's passing the ball like that."
During the 2nd half, Cal missed some easy baskets that they should have made. Jaelyn Brown missed a layup and a wide open mid-range jumper that could have kept Cal on UConn's heel. Instead, UConn went up 48-38 with 4:56 to go in the 3rd quarter and had a little more breathing room.
"I don't think we were perfect," Lindsay Gottlieb admitted. "We missed some shots that we oftentimes make or we certainly didn't play above ourselves."
UConn continued to extend their lead during the rest of the quarter, leading 61-46 at its end. A major reason for why UConn continued to extend their lead was the stellar play of Katie Lou Samuelson, who was not only knocking down shots, but was also controlling the paint and grabbing much needed rebounds. Without her production inside, UConn would have lost the battle on the glass.
"I don't think Katie Lou got 11 rebounds her freshman year," Geno Auriemma said of Samuelson's play. "I'll bet you. You go back and check her stats. I don't think she got 11 rebounds her freshman year. I don't mean in one game, I mean for the season. And for her to get double doubles now a lot, that kid has grown up and changed.
"Her reputation was she makes shots and that kid has changed. That's what I'm talking about, that kinda you have certain standards. You hold kids to standards and kids will change and she's changed and she's a basketball player, not a kid who shoots. She still makes every shot almost, it seems like when she misses you wanna go how did that happen? But now she's handling the ball, she's playing defense, she's rebounding it, she's communicating, she's yelling at me because I got the T.
"But that kid has become a hell of a basketball player and there's not a time ever when I think she's ever going to miss a shot. She scores in the lane now, she's just become a really really fun basketball player to watch. I'm really happy for her…I've enjoyed coaching Lou about as much as I've enjoyed any kid I've ever had and Napheesa [Collier]. The two of them combined. I've enjoyed coaching them about as much as any kids I've ever coached in all my years at Connecticut. For sure."
Early on in the 4th quarter, it looked like the game was going to end in another 20+ victory for UConn as they went up 67-50 with 6:32 to go after a basket inside from Napheesa Collier, who finished with 16 points and 6 rebounds. Instead, Cal found a way to slowly chip away at UConn's lead, cutting it to 12 points (67-55) after another 3-pointer from Asha Thomas with 4:55 to go. CJ West did a good job during this stretch of scoring a couple of points and not allowing UConn to grow their lead. Still, it looked like UConn was going to walk away with the win easily and that this run from Cal would only serve as stat sheet window dressing.
However, things suddenly got interesting when Asha Thomas hit a 3-pointer to cut it to 10 points and then Geno Auriemma got called for a technical foul, giving Cal two foul shots. Thomas made both foul shots and suddenly Cal found themselves down 72-64 with 1:57 to go. After Katie Lou Samuelson missed a jumper, Asha Thomas got the defensive rebound and pushed the ball ahead to Kianna Smith, who made a huge layup.
"What was happening down on our end that was being overlooked, I thought," Auriemma said of what frustrated him. "We have a reputation around the country year in and year out, we just don't foul. We don't smack people. We don't commit fouls. By the end of the game, Cal had shot more free throws and they still had four fouls to give. I mean we're almost never ever in that situation and there were some things that happened down at our end that I just, I was ok with it up to a point and then I wasn't.
"And if my players would have done what I did, I would have been really pissed and taken them out and taken their scholarship away. But I did and I just went into the locker room, I said, I acted like them. My bad, I won't do it again."
Down by only 6 points (72-66), Kristine Anigwe was able to get a clutch block, setting up Asha Thomas with a wide open transition 3-pointer. Unfortunately for Cal, Thomas wasn't able to make the shot, which would have cut UConn's lead to only 3 points. After Thomas missed the 3-point attempt, Christyn Williams was able to secure the rebound and from there UConn was able to make their fouls shots and walk away with a 76-66 victory.
"But I kept saying to them, chip away," Lindsay Gottlieb said. "Let's get it under 12, then let's get it under 10, and all of a sudden I said ok, we're down six now. Let's get a stop and score. And you know what, we get the stop and AT gets a wide open three in transition. You can't ask for more than that. A kid who is just a gamer, who has put so much into the program along with their teammates. I'll take that shot. If she had made that shot, he'd probably call time out or we'd call time out and here we go. So, you want to be in that situation. I was just really proud of our ability to get to that situation and be where we need to be."
Kristine Anigwe showed a lot of emotion after the game. When asked how she felt about the game, she admitted her feelings were mixed. She isn't out to get moral victories. She's out to win.
"I'm like indifferent," Anigwe admitted. "I feel like I really wanted to win this game. Again, I'm happy it's not March because that would be disappointing. But I'm really proud of my teammates, I'm proud of Asha stepping up and playing really really well. I think she was 6-13, it's incredible. I'm really proud of her. Receé for starting us off with those threes. We wouldn't have been close if we didn't make the plays that we needed to make and I think that we're just a different team than we've ever been. I feel like we're going to do damage in Pac-12 really well and March and it's disappointing to again lose. Because I really really believed that we were going to win this game."
As far as UConn is concerned, this game was not just another day in the office. Cal made them work for the victory and Geno Auriemma said he feels it's good for his team to see a little adversity.
"Our margin for error obviously has changed over the years," Auriemma said. "This is one of those years where we have to be prepared to grind it out every night and some nights we make a lot of shots and the other team misses a lot of shots and it turns out to be an easier game than I anticipated, but that's our thing this year. We hope for the best and we prepare for the worst and in some parts of the game tonight we got the worst. I think the more of those situations that we're in, I think the better team that we're going to become."
For Cal, even though they lost the game, they showed they are a different team than years past. They have their sights set on a deep run in March and are feeling very confident as they head into Pac-12 play.
"Everything, everything is different," Asha Thomas said. "Maturity, like I said. We've grown. As far as leaders right now and including Receé. We know what it feels like. We know what we want to do to change it and I think it's just everybody individually growing, understanding the game more, and being hungry. We really wanted this win. We wanted to battle, we knew it was a battle and I don't think we went away from that. I think we embraced it."
Up next for Cal is a home game on Sunday, December 30th against Harvard. That game will tipoff at 2:00 PM PST.