Pick Me Up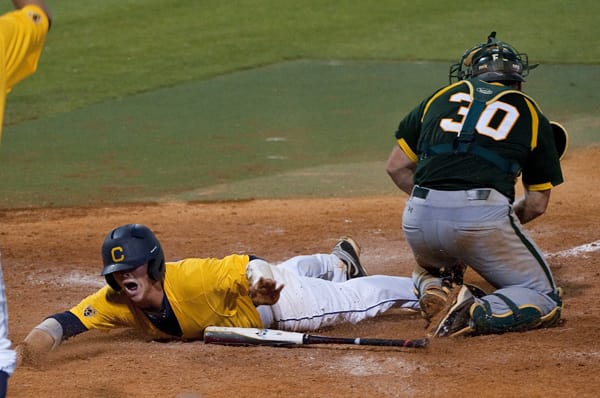 HOUSTON -- Pick me up…
Those were the last words 19-year old
California
first basemen
Devon Rodriguez
heard before he stepped to the plate in the biggest at-bat of his young career.
With the Bears baseball team trailing 8-7 in the bottom of the ninth inning, the bases were loaded with two outs and Rodriguez was coming up.
Baylor
pitcher
Logan Verrett
was one strike away from sending his team to the Super Regional round for the first time since 2005.
"I've been waiting for this moment," Rodriguez said. "I've had a couple of chances earlier in the season when I didn't get the big hit. When I saw it was my chance, I had no doubt in my mind I was going to come through.
Come through he did.
Rodriguez (3-for-4) lined a 1-2 fastball into right field, scoring senior left fielder Austin Booker and sophomore second baseman Tony Renda on a dramatic head first slide home, as California completed the improbable comeback, winning the game by a final score of 9-8.
"He's hard as a rock," junior catcher Chadd Krist said of Rodriguez. "Situations like that don't get him down. He's always been that kind of guy to come up in the clutch, which is exactly what he did."
After losing to Baylor in Game 1 of the Houston Regional, the Golden Bears knew deep down that it was going to be an uphill battle from there on out.
Despite the unfavorable odds, they seemed destined to step up to the challenge.
Cal knocked off fourth seeded Alcorn State 10-6 after trailing 4-0 on Saturday.
In their second elimination game, the Golden Bears upset top-seeded
Rice
with a three-run eighth inning en route to a 6-3 victory.
Later that night, California made a statement, taking down the Baylor Bears 8-0 and setting up a classic championship final on Monday night.
In a game that will stand the test of time, California jumped out to a rare early lead in the first inning, when junior shortstop Marcus Semien sliced a first-pitch fastball down the right field line, scoring Renda after he had singled off Baylor starter Jon Ringenberg.
Semien ended the inning when he tried to stretch the double into a triple and was tagged out at third base by Jake Miller.
The score remained 1-0 in favor of California until things began to unravel in fourth inning.
Starter Erik Johnson, who had never won a postseason start, was absolutely dealing through the first three frames. He had picked up the loss in the game against Baylor on Friday, when he walked six batters, allowing five earned runs in just two and one-third innings of work.
Johnson appeared to be a different creature on Monday, striking out four of the first 10 Baylor hitters he faced.
He also had help from teammate Krist, who threw out two of the three Baylor runners that reached base in those three innings.
The fourth inning, however, was a different story. Johnson -- who has been the Golden Bears' ace and leader on the mound all year -- walked the first three hitters he faced.
Despite temporarily losing his command, Johnson quickly got ahead of Baylor designated hitter Joey Hainsfurther, no balls and two strikes. But an 0-2 mistake was scorched deep into right field. The only question was whether or not it had enough to squeak over the fence.
California right fielder Chad Bunting leaped and stole the ball back from beyond the fence, as he crashed into the wall just to the right of the 375-foot mark. The ball, though, popped out of his glove and two runs came in to score, giving Baylor its first lead over Cal in over three days.
Third baseman Miller did not wait around as he lined the very next pitch into centerfield for a two-run single, extending the lead to three runs.
While the night was over for Johnson, the inning was still very much alive for Baylor.
With four runs already in, reliever Logan Scott served up a line drive single off the bat of Logan Vick that dropped just in front of Bunting. Miller, who had to hold up on the line drive, was stuck in no man's land.
That gave Bunting ideas of trying to do something special on defense. Thinking aggressively, he charged the ball and tried to throw a seed to Semien at second to force out Miller. Unfortunately for the Golden Bears, the ball never found Buntings glove and continued to role fifty feet or so behind him.
The error allowed Miller to score from first and Vick to get all the way to third with still nobody out in the inning and already five runs in. Scott got second baseman Steve DalPorto to fly out to shallow right field, keeping Vick at third, a wise move for Vick, as he would eventually score on a one-out double from shortstop Landis Ware.
"I thought we were really grabbing tight just to try and hold that one run lead," Esquer said. "I thought we made some mistakes just trying to hold on too tightly.
"We ran past a ball in right field because we were really trying to make a great play. We didn't keep our head up because I thought we were a little panicked. Close games will do that to even the best teams."
That would be it for Scott, who only recorded one out before he was pulled for freshman lefty Louie Lechich.
Lechich was the Golden Bears' starting center fielder on Friday, but on Monday was asked to pitch for the first time since appearing in a game on April 21st against the
Arizona State
Sun Devils.
In the fourth, Lechich struck out leadoff hitter Cal Towey and speed-machine Brooks Pinckard in back-to-back at-bats.
Despite the Ks, six runs were already in for Baylor, wich had completely taken the wind out of the California sails.
Baylor would add another run in the sixth, when the sure-handed Renda watched a ball take a tough hop and kick off the heel of his glove.
With the bases loaded and still only one out, Lechich got the next batter, Pinckard, to ground a ball back to Renda, who this time stepped on the bag at second and fired a seed to first for the inning-ending double play.
The score was 7-1 in favor of Baylor, when the Golden Bears began to mount their unthinkable comeback.
In the bottom of the sixth inning, Renda -- the 2011 Pac-10 Player of the Year -- led things off with a solid double into the left-center field gap. Krist followed with a single and Semien brought Renda home with a solid ground ball into left field, his third hit in as many at-bats.
After Rodriguez hit into a 3-6 fielders choice, sophomore third baseman Mitch Delfino hit a deep enough fly ball to score Krist from third.
Having cut the deficit down to four runs, the Bears still had a long road ahead of them.
Both teams came up empty in the seventh, but in the bottom of the eighth, Rodriguez had his second biggest hit of the night; a two-run moon shot home run over the right field fence and into the night.
That narrowed the score to 7-5.
Watching their lead and season slip away, the Baylor Bears made a push back on Cal with a huge two-out two-strike single from center fielder Vick, which scored Max Muncy from second base. Muncy had reached on a two-base, two-error play on behalf of Semien for Cal's fourth and fifth errors of the night.
The score stood at 8-5 and the Golden Bears' dream season looked to be winding down. With the 7-8-9 hitters coming up, no one at Reckling Park thought Cal had any chance of coming back after Baylor got their much needed insurance run.
That seemed even more evident with Baylor's ace -- Verrett -- in the game as a reliever. Verrett had dominated California in a win on Friday, going seven and one-third innings in a start and giving up three runs while striking out four Cal hitters.
But the Golden Bears had other things in mind. Bunting starting the inning off on a good note, picking up his first hit of the game, which was a seeing-eye single off the glove of shortstop Ware and into left field.
Then maybe the biggest play of the night came when sophomore centerfielder Darrel Matthews grounded a 1-1 breaking ball in the direction of second baseman DalPorto. The crowd went silent as the ball rolled directly on a line toward Dalporto, who was expecting a bad hop, having seen so many of them throughout the weekend.
The bad hop never came and the ball squeaked right between the wickets and into right field, giving the Bears hope.
Now, with runners on first and third and still nobody out, freshman designated hitter Michael Theofanopolous -- who had replaced injured Vince Bruno in the seventh inning -- fisted a soft liner that dropped in front of the third baseman Miller. Miller got the force out at second, but DalPorto could not double up Theofanopolous, who had far too much speed coming down the first base line.
That brought Booker to the plate, representing the tying run. Booker quickly fell behind 1-2, but was hit on the hand by the next pitch and awarded first base.
Next was Renda, already 2-for-4 with a double. The plucky second baseman hit a shot into right field, scoring Theofanopolous and moving Booker -- the tying run -- into scoring position.
Down by just a run, Krist drew a four-pitch walk to load the bases for Semien.
"I had the green light on 3-0, but I was taking all the way," Krist said. "I knew I just had to get on base."
Semien, who was 4-for-4 at that point, battled with Verrett, forcing a 2-2 count, only to strike out swinging on a breaking ball outside of the zone.
As Semien made his way toward the California dugout, he kept his head high and looked to the man waiting on deck.
It was Devon Rodriguez.
"Pick me up," Semien said.
Rodriguez's reply?
"I got you."
Rodriguez not only picked up Semien, but he picked up the entire Cal team and all those supporters who donated their money and time to save the program a few months back.
Rodriguez clutch single was possibly the biggest hit in California baseball's 119 year history.
"I wanted to be up in that moment," Rodriguez said with a smile after the team celebrated on the field. "When Marcus didn't do it, I said I'm picking you up. I'm just glad I could do this for my team. It was solely for the team."
Devon's two-out, two-strike, two-RBI single sent California to their first ever Super Regional since the reconstruction of the 64-team field in 1999.
The Bears hope to ride the momentum as they take on Dallas Baptist, from the Ft. Worth Region, next Saturday.
The time and location are still to be determined.
"I feel bad for any team that has to play us," pitcher Justin Jones said as he stared into the Houston sky, recalling just how improbable the 2011 season has been so far.