No late-game miracles for Bears in Seattle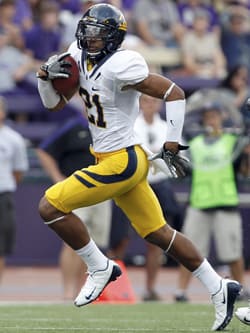 Maynard -- who threw for a career-high 349 yards on 23-of-43 passing with no interceptions -- could not finish off a drive on which he led the Bears (3-1, 0-1 in Pac-12) on a 15-play, 85-yard march.
Maynard looked to Allen on the next three passing attempts, hitting him for 12 yards and a first down, missing on third-and-three and finding Allen again for 17 yards on fourth-and-three.
Allen then rushed for a yard, Maynard hit his brother again for 12 to midfield and the roll was on. Sofele gained seven to the Huskies' 43, Maynard hit Allen for seven to the Washington 36 and the Huskies were flagged for pass interference on Jones.
"They were just the plays that coach called, the defense, the offensive line made some big gaps for us and Keenan broke open a couple times," Maynard said. "I was making my reads off the backers, and when he opened up in the hole, I was able to get him some good balls."
With less than a minute remaining, the Bears found themselves on Washington's doorstep.
A 19-yard pass to Allen put Cal at the two, but on two successive attempts, Sofele could not blast through the stout Washington defensive line, which held the Bears to just 108 yards rushing on the day.
"We got down to the two there and tried to punch it in a couple times, actually tried to throw a pass and punch it in a couple times, and they stiffened up," Tedford said. "We tried to put it on the last play to Keenan, and [Maynard] just overthrew him and didn't give him a chance to catch it."
"I guess you could look at it again. Not the fullback, but yeah, that could have been something, I guess, that CJ would have scored, I don't know," Tedford said. "That's a thought."
"When we had to settle for field goals, there's no doubt about it: you get in the end zone and you'd like to come away with touchdowns," Tedford said. "We had some opportunities down there to come out and make some plays, and a tight game, a good opponent, we've got to come away with touchdowns more than field goals, and we didn't today."
Cal went 7-for-17 on third-down conversions, while the Huskies seemed to find the sticks on every third-and-long situation, going 6-of-11 overall and 5-for-6 in third-down situations of 10 yards or longer, scoring three touchdowns and a field goal on four of the five drives on which they made out in such a situation.
"Cecil knocked the ball loose on the one, but they're a progressing, young group that's a work-in-progress," Pendergast said of his outside linebackers. "You're talking about three and four guys that really haven't played at all, and they're having their growing pains week-in and week-out, and we need to have them come on in a hurry."
"There were a couple big plays today that we gave up, and there were really a couple of them where the quarterback stepped up in the pocket and threw the ball off the scramble and we have to just stay in better coverage down the field once the quarterback does break the pocket," said Pendergast. "That's one thing we talked about this week, because he was that kind of guy. We've just got to keep working at the things that we're doing and try to get better at those balls down the field."
Price didn't use his legs so much to straight-up run, but he did use them to great effect in escaping pressure, finishing the day 19-of-25 for 292 yards and three touchdowns.
Though Price took two sacks, he avoided at least three more.
"We've just got to keep working at it," Pendergast said. "We preach all the time about finishing, and today's no different. We've got to continue to work and finish and work on finishing our pass rush, because the coverage at times was good down field and they protected a lot. They kept seven and eight guys in, because of the pressure, so then, we've got to be able to cover them. We've got to win some one-on-one match-ups when we're gaming up front, so when you go out there during the course of the game, it ends up becoming a guessing game, whether they're protecting or not. You're calling pressures, you're calling coverage, you're calling pressure, you're mixing it up in there, and you win your fair share and they're going to make some plays, as well."
"It didn't look like a bust. I don't know what call we had on there, but it looked like we were in two deep and one-on-one inside with the backer and they ran right by him up the middle," Tedford said.
"They were in an empty-type formation with the back getting free release out of the backfield," Pendergast said. "He was one-on-one with D.J. and he hurt us. We would have liked to have gotten to him more. Obviously we didn't, he held the ball and made a nice throw over the middle and that was a good job on their part. D.J. had that back up the seam there, and we didn't get enough pressure on the quarterback at that time, and they did a good job executing. Their back got behind him, [Price] lobbed it over D.J.'s head and the guy made a play."
Polk ran 20 times for 60 yards and a touchdown, but was a bigger threat in the passing game, catching four balls for 85 yards and that touchdown.
Cal opened up the scoring with a 90-yard pass from Maynard to Allen with 10 minutes left in the first quarter -- the longest pass in school history - as Allen streaked up the right side of the field.
"It was just a seam route, really a middle read," Allen said. "I just stay up top, run a post and bust to the middle, I hit the seam and they didn't cover me."
"I was just playing with him," Allen laughed. "I set him up, didn't know I was going to go back outside, but I saw him close at the end, so I cut off of him, trying to beat him to the corner."
Allen saw a good blend of coverages throughout the day, sometimes getting double-covered, sometimes seeing no coverage at all, en route to setting a career high with 197 receiving yards on 10 catches.
"I just run my routes, just like in practice," Allen said. "I try to get open and that's what I was doing, trying to find a hole in the zone a little bit, and then they switched it up a little bit in man, double coverage, I'm just trying to get open."
The one that eluded him, though, was the final toss, which will now have to sit in his and the team's craw for two weeks until they next see action, on the road, in Eugene, Ore.
"I just know I didn't have a chance to get the ball. I knew it was out of bounds. He came up to me and I told him that we mess up some times; nobody's perfect. They played man-up, he was head-up on me, and he wasn't outside, so I knew I was going to be open. I felt like I got separation," Allen said. "I thought I could help the team like I did in Colorado, but I guess it just wasn't enough. We'll come back the week after next."