Nick Alftin: On Visiting Cal, Receiving an Offer, and Building a Culture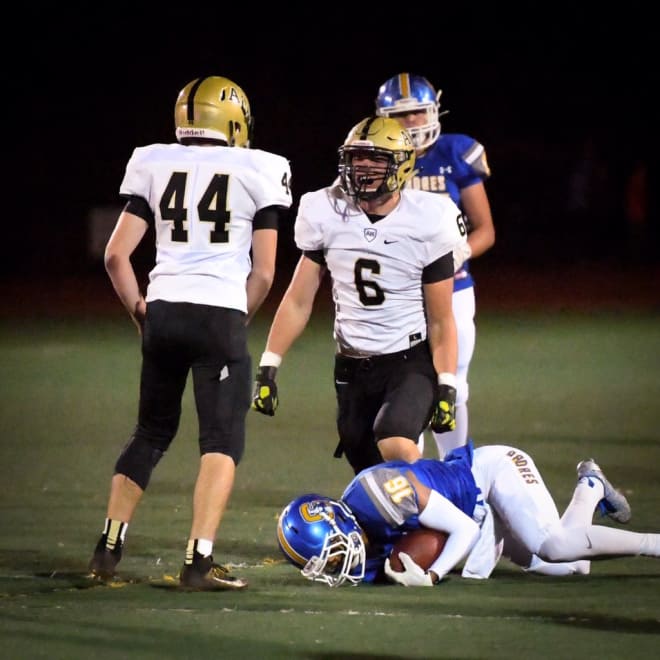 Cal's local recruiting focus is a notable point for Justin Wilcox and his staff. That focus has extended to Archbishop Mitty defensive end Nick Alftin. Alftin, a three star defensive end, measuring in at 6'5" and 240 lbs, came onto the previous staff's radar, and has caught the attention of the current staff.
Alftin visited the Cal campus on St. Patrick's Day, taking in a Friday practice, though he'd been to Memorial Stadium before that, with his family having season tickets for the 2016 season, along with the unofficial visit he made to the Cal campus for the victory over Texas last fall.
"Walking through the tunnel," Aftin reminisced,"I think it was against the Texas Longhorns, I went to that game, I took the visit, and I went on the field and walked through the tunnel when the whole band was playing. It gave me the chills and something I've never felt before. It was something that, not inspried me, but walking onto the field, I love the stadium, when the fans are there, it's something else because all the students get it. I could really picture myself playing at the school."
Alftin wouldn't be alone at Cal, as his sister Christine is an outside hitter and captain on Cal's volleyball team. He's familiar with the campus because of it, taking monthly trips up to the campus to visit her, but he hadn't had the opportunity to meet the new coaches. That part's been checked off the list.
Meeting the coaches was a big thing for me," Alftin said,"obviously because it's a new coaching staff, people that I've never really met before, but I knew they had lots of experience. Most coaches 20 years plus of different places, Wilcox had all these different schools, from DC to linebackers, so it really gave me something to look forward to."
During the visit, Alftin talked with the Cal coaching staff about an offer
"When we talked about an offer," Alftin noted, "they said they really wanted me, but they just want to get to know me more as a person, which I totally understand, because football teaches you how to be a man. It shows you your worst moments and your best moments as a person. I can understand where they want to see me as a true person, not just another football player. So they want meet me an my family through junior day. They invited me to junior day when I arrived. They want to see me one day at camp, see how I move."
At the time, that process was still in motion. The Bears would have him at junior day, a few more spring practices, invite him to one of their camps over the summer and take a closer look before extending an offer. But Alftin released a new highlight tape on Hudl, and that process sped up.
It's not hard to see why it did. Alftin looks every bit of his 6'5" and 240 lbs, a "true 6'5" and 240" as he puts it, boasting a 36" vertical leap in his volleyball highights, and coming off the edge in a ruthless fashion. If there's one play that puts it all together, it's one starting at 2:26 into the film. Alftin gets off a chip from the tight end, speeds by a running back in pass protection, and throws himself at the quarterback with a crossbody reminiscent of Ricky Steamboat, getting a sack as the quarterback recoils in fear.
"That play was the funniest, it was one of the coolest but funniest plays I've ever had," Alftin recalled, "it looked like he was going to throw the ball, so I put my hands up in the air, and then I saw him following through, so I was like 'oh I gotta jump on this one."
The Hudl film Alftin put together started with a highlight of his volleyball vertical, which he put in there to open the eyes of coaches to his athleticism at his size.
"Yeah, I realized that for a lot of these coaches when they see a 6'5" 240 pound kid jump 36 inches in the air, it might be eye opening," Alftin said in somewhat of an understatement, "I talked to my coach (about putting that highlight in) and he said 'holy smokes, that really shows athleticism and you should really try to put that in your film and let these college coaches see what else you do outside of football that shows your athleticism and your power.'"
And the coaching staff that he had just visited saw that, as outside linebackers coach Tony Tuoti gave him a call Thursday.
"Well, I had just gotten done with a volleyball game at that time," Aftin said, "and coach Tony (Tuioti) told me to give coach Wilcox a call. I mean, that could really only mean so many things, but I was just staying hopeful and I was thinking it's an offer, so I was excited to go home and give him a call. When I got home, I called him, we talked for fifteen to twenty minutes about what he saw me as and what he likes about my film, my athleticism, how I play volleyball, a good family. He made me feel really wanted and I love that, and I love that they saw a lot more than just my football and my athleticism."
During this call, Wilcox extended the offer, and Alftin was stunned.
"I was speechless," Alftin noted"I was so happy. I had the biggest smile on my face. It was something else honestly."
Right now, Alftin is playing volleyball, a two-sport athlete combination that you don't see often, especially with a defensive lineman.
"My whole team, if you look at me," Alftin said,"I am 6'5", my whole team is taller than me. They're all 6'6", 190 to 200 pounds."
Size disparity aside, Alftin feels that there's plenty of crossover between the two sports, at least in the mental aspect of it.
"It's so competitive, it's another competitive sport," Alftin said. "It might not have a lot of physical contact, but you're getting up in the air, you're 'piking' out over the net each time they're hitting or blocking, or you're diving. So it's a lot of athleticism and a lot of competition. The competition then goes onto the football field. It's also, when you're down 23-18 (in volleyball), you have to come back, it's the mentality, it's a mental game too. So maybe in football, when you're down 21-7 going into halftime, you have to come out and put in some work on defense, or do something, change something. You've got to be mentally strong in volleyball, but it relates back over to football, you've got to be mentally strong in football."
The volleyball connection is strong for Alftin as sisters Christine and Angela have played at the division 1 level (Angela at Sacramento State). However, Christine is a little closer to home, with the Cal connection, and she was one of the most excited about her brother receiving the offer.
"She is stoked," Alftin said. "she's one of my biggest fans, obviously my family is my biggest fanbase, but she was so psyched for me, posting on all the social media about how I got an offer."
The versatility of being a two-sport athlete is something that Alftin has embraced on the football field. As a sophomore transferring into Mitty from Woodside High School, Alftin realized that he wouldn't be starting at quarterback, the position he played at Woodside.
"It teaches you a lot when you're not the starting quarterback because it shows you you're not the man, you're not going to be the starter.," Alftin said. "That taught me a lot, knowing I wasn't always going to be the guy when I was on the sideline, and then I talked to my coach and said 'hey, I don't know if I'm going to be able to play quarterback this year, if I'll start, but I want to contribute to this team wherever I can. I played defensive end freshman year, can you throw me in there and see what happens?' At that moment, just playing on the field, my testosterone was like nothing felt before. Quarterback was calm and all mental, but I truly found that defensive end brings out the best in me. I get all of myself out, and it's something else I can't explain."
As a versatile piece to Mitty's puzzle, Alftin plans on playing a multitude of positions this year, working on the offensive side of the ball as a tight end, as well as continuing his play on defense from the defensive end, defensive tackle, and middle linebacker spots. He's even gone as far to get going at 5:30 in the morning to arrange throwing sessions with quarterbacks and receivers.
"Every week I'm waking up at 5:30," Alftin said, "throwing with my freshman quarterback, going to be a sophomore next year, my junior quarterback that's going to be a senior, they're coming out and bringing out receivers, bringing out corners. I'm starting group chats, I'm trying to get people out there to throw, that's the culture I'm trying to start, where that's normal, it's not weird to go out at 5:30 and go put in work."
This is all with one goal in mind.
"I want to change the culture of Archbishop Mitty high school football," Alftin stated. "I want to make it so every year we're hanging a banner from the WCAL, my league, and the CCS champion banner, and hopefully a state banner. That's my goal. I want to start a culture of discipline and hard-ass football."
And that's one of the things that drew him to Cal during his visit, the community of the team.
"Another thing that was big for me was the sense of community" Alftin said. "and I could really sense that out of the players. The players were so hyped up on another level just for practice which is a big deal for me because I get hyped up for practice. So watching all the guys get excited just to go against the offense."
Alftin still plans on coming to junior day, taking in a couple more spring practices when time allows, taking his time with a decision that is "once in a lifetime" according to him. He holds other offers from San Jose State, Wyoming, and Hawaii, and is planning to make a decision before his senior year starts.
He wants to decide by then, "So it's just me and football, there's no other people taking my mind off of what I love."