Nick Alftin on Committing Now and Plans Going Forward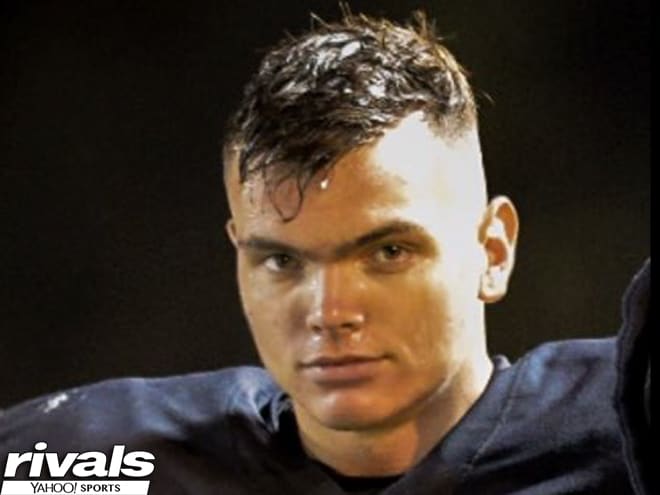 Cal has their fourth commit in Nick Alftin, defensive end from Archbishop Mitty in San Jose, as he committed Tuesday night and announced it officially on Wednesday. It was a quick moving process, moving from a visit on St. Patrick's Day, to an offer six days later, to a commitment five days later. Alftin spoke to GoldenBearReport.com about why he made this decision now.
"Honestly Cal was my number one decision for a school to go to," Alftin said about why he committed so quickly, "education wise and athletics. I love the new coaching staff in place. I love the commits they have so far, Adrian Martinez, Omari Harris, and JH Tevis. They're all really cool guys, they all look like athletes, and they play tough football, so I love that, and I want to put the Bears back on top."
Alftin reached out to his fellow commits in the aftermath of his decision as well.
"Yeah, I got in contact with them on the day of my announcement.," Alftin noted. "I talked to all of them, they're all really cool, really nice, and were really welcoming."
While being from the South Bay, Alftin has crossed paths with Tevis, though not on the football field.
"A lot of friends of mine have gone to Menlo," Alftin said on Tevis,"so I know him from acquaintances, and he's a really nice guy."
As has been noted, Alftin's sister Christine is at Cal, as a captain on the volleyball team. Alftin has been up on the Cal campus monthly to visit her as well, but this decision to be at Cal was his own.
"No, it was really more of my decision," Alftin said, laughing when asked if his sister pushed him to this direction, "It was personally me. I really wanted to be a Bear."
In the end, it was a family decision.
"I got my whole family on board," Alftin recounted, "had my mom give coach Tuiasosopo a call just to talk about everything, and how he felt and how the whole coaching staff felt. She loved it, she knew what I wanted to do and on that phone call I committed to coach Tuiasosopo and the next day, coach Wilcox wasn't available that night because I had a volleyball game, so I gave him a call the next day and told him. They were really really pumped. I was really happy to hear that, because it's nice to be wanted by somewhere you really want to go."
While Cal is and has been his number one option, Alftin is planning on enjoying the remainder of his recruiting experience, he just got an offer from Boise State, but at the end of the day, Cal is at the top.
"I don't really know as of now," when asked about how he plans on handling the rest of the process, "but the recruiting process is a once in a lifetime opportunity, so I'm gonna go see a lot of the other schools and just see what other college football is like before signing day, just to see what other colleges are like, but Cal is my number one option."