{{ timeAgo('2021-04-19 15:09:37 -0500') }}
football
Edit
New Staff Series: Chryst on Analytics
This is a continuing series from interviews with new staff members Brian Johnson, Keith Heyward, Tre Watson and Geep Chryst. Today brings a bit on analytics with Geep Chryst.
New Staff Series: Gratitude a Theme
While Chryst wasn't coaching during the 2019 season, coming off a staff change with the Denver Broncos, he was watching college football. Cal's new tight ends coach, while spending the vast majority of his coaching career in the NFL, has plenty of ties to college. One son, Keller, quarterbacked teams at Stanford and Tennessee, while another, Jackson, walked-on at Oregon State. His father George was the head coach, then athletic director, at Wisconsin-Platteville. One of his main focuses was on the University of Wisconsin, where his younger brother Paul coached.
When offensive coordinator Bill Musgrave talked about Chryst's analytics background, he noted Chryst's knowledge of the percentages of going for it on fourth down. During that 2019 season, Chryst got to see some of those percentages play out for his brother's team.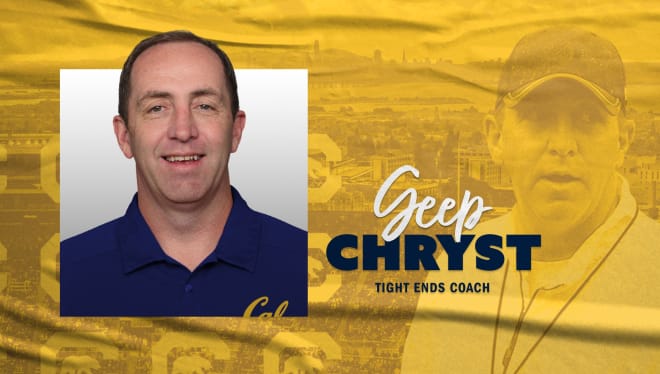 "My brother Paul is at Wisconsin (in 2019)," Chryst recalled, "they had an average punter, an average field goal kicker, and probably the best running back to ever play for the Wisconsin Badgers in Jonathan Taylor. I said to him 'you need to go for it more on fourth down, Jonathan's a really good back, you're blocking well and even the threat of Jonathan running opens up play action.' He was 13 of 13 when he went for it on 4th down and 6 or less, but it all started with the simple premise you can go for it more."
A specific example Chryst recalled was when Wisconsin faced Michigan in 2019, with an early choice of whether to go for it on 4th and short.
The very first drive, they were playing Michigan at home, it was September, first Big 10 game for each, so you don't really know how it's all going to play out. On that first drive, the Badgers have fourth and maybe the length of the football on their own thirty four and a half. He went for it, backed up, and you could really see that the team was energized by the decision, the offense clicked, and before you know it, it was 35-0 Wisconsin. It was a runaway, and it helped to define what their team was like and what their season is going to be like. I remember I said to him 'Paul, that was a pretty exciting decision that you made,' he said 'Chris Orr, our defensive captain came and said coach that was great,' and my brother deadpanned to him 'well it better have, because if we didn't make it, you and your defense have to go out there and stop them on a short field.'
(aforementioned run starts at :28 seconds in)
Wisconsin took the 35-0 lead behind the play of Taylor, the running of Jack Coan, and a defense that forced two key Michigan turnovers, including one forced fumble in a goal-to-go scenario. It stemmed in part from the one decision, as Chryst felt his brother had a handle on what his team could do and what they would get from the play.
"He felt with the culture they had at Wisconsin, the senior leadership they had on both sides of the ball, and the talent that they had, it really wasn't a risky play," Chryst said, "You want to be bold, you don't want to be reckless."
This is where Chryst's background in analytics comes into play. He brought up both the Bill James inspired sabermetrics movement in baseball, basketball embracing the three-pointer (with the note that "Downtown" Freddie Brown once led the NBA with 88 3 point attempts in a year, whereas the Houston Rockets shot 70 in an overtime game two years ago), and the general embrace of points per possession in college football as a measurement. Chryst has embraced, on the numbers side of things, the five factors put out by Bill Connelly.
"Guys have always tried to reslice the pie in a way that makes you see it differently. There has been some really good work by Bill Connelly, who was hired by ESPN but had Football Study Hall," Chryst said. "He was an outsider but he made sense to the insiders to what the perspectives were. He came up with his Five Factors to victory in college football (Explosiveness, Efficiency, Field Position, Finishing Drives, Turnovers), we always hear about the turnover difference, but field position is important, then explosive plays, then efficient plays, then finishing drives. So you have the thought out there, but as a coach, you want to make it so you can teach each of the players so that it makes sense to them."
That last line is the biggest key for Cal's new tight ends coach. It's unclear how much influence Chryst will have on Cal's analytics usage (the Bears have used some analytics on fourth down and two-point conversions, and they've been willing to go for it on fourth down more than you'd expect), but when he does, he knows it has to match up with what the team is.
"You have to tailor the algorithms to what your team can handle and to what your team's personality really is," Chryst said, "are you a running team, are you a throwing team, how risk-averse are you. Those are really good exercises to go through long before you get to the actual game situation on Saturday. You talk to some analysts who say on fourth down, go for it every time, you run 10,000 times in a simulator and you come out ahead in the long run, but if it's fourth and 1 on your own 12 yard line, the chance of getting it is 70%, but the risk of not getting it, emotionally it affects your team and it will affect the scoreboard as well."