New Cal staffer Burl Toler talks return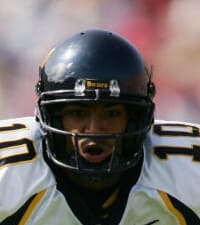 Burl Toler III is back where he belongs.
A second generation Cal Football player and grandson of the NFL's first African-American referee, the Tolers and Bay Area football have a long-standing union.
Their story is well documented. It's one of hard work and perseverance, and it's a narrative the 2005 Berkeley graduate is excited to share with players as
California
's newly appointed Special Teams Quality Control Coordinator.
"I felt fortunate to have the opportunity I had to come here as a walk-on," he told GoldenBearReport last Friday. "I wasn't expected to go too far but ended up starting as a true freshman and I was lucky enough to have earned a scholarship, so my message is really to go hard and take advantage of every situation without taking a moment for granted."
For the Bishop O'Dowd product, it's been a quick transition. After leading the Bears in receptions during his final season, Toler took his talents to the NFL, NFL Europe, Canada, and the Arena League, a sometimes-nomadic journey that he wouldn't trade for anything.
"It's wild. I was just playing a game a month ago and now I'm on the field in a different capacity," notes Toler. "I've always wanted to get involved on the coaching side but just didn't let it become a reality because I knew I wanted to play it all the way out."
Content that he'd done just that, the one-time wide receiver jumped at the opportunity to re-join his alma mater.
"I talked to Coach (Sonny) Dykes a couple times and there was a position where he wanted me to come in and have an immediate impact: help relate to the kids and also be one of the few that are from the bay area and also went to Cal…I couldn't ask for anything more."
Per NCAA guidelines, Toler's position can't include any actual coaching, but that doesn't mean he's not able to help the Bears win ball games.
"My role is really to work hand in hand with Coach Tommerdahl, help organize scout team, breaking down film, being in the meetings. Right now, it's just learning, a lot of learning."
Hopefully for Cal fans, it'll ultimately involve some recruiting, as well.
"When the time comes, I'm definitely excited to be involved with that. Especially being from the area and playing professionally, I think that will be good for helping to relate to the kids who want to do that with their future."
Until then, Toler is just happy to be a part of the newest chapter in Golden Bear Football.
"Coach Tedford's an amazing coach. He came in, got things turned around, got the program turned around, got the facilities built. Just like when he came in, he brought fresh life and that's what Coach Dykes has done, too."
Maybe so, but a bit of the old doesn't hurt, and it's hard to imagine a better bridge to the past than the historically minded Toler.
"It's definitely pretty cool," says Toler. "I was up there in the North Endzone as a kid, I was running out of the tunnel as a player, and now I'm on the field in a different role."