Michigan TE Ian Bunting Set to Grad Transfer to Cal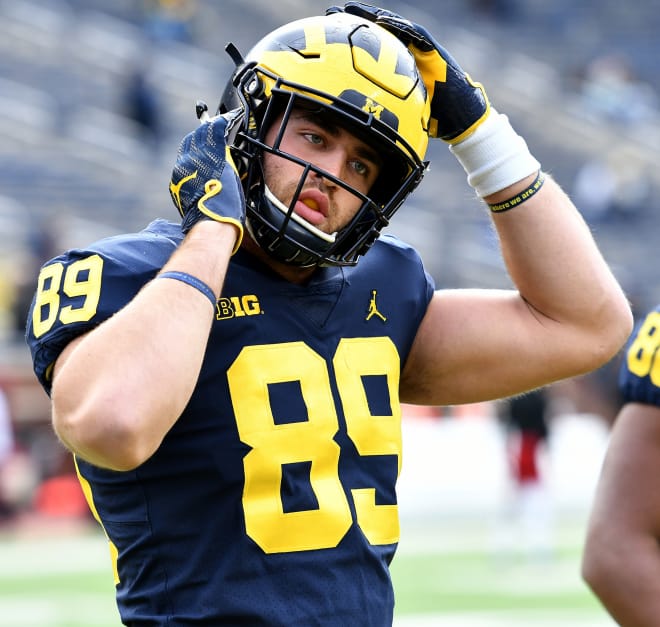 Apparently one Michigan man wasn't enough for Cal. So they are set to bring in another.
Ian Bunting, a tight end originally from Hinsdale, Illinois, is making the move from Ann Arbor to Berkeley, trading maize and blue for blue and gold, as sources have confirmed that he's set to grad transfer to Cal in the fall. He becomes the second player from Michigan to grad transfer to Cal, following WR Moe Ways last month.
"Ian has played college football at the highest level and on its biggest stages for the last three seasons, and he has the ability to make an impact on our football program immediately," Justin Wilcox said in a release. "He is a versatile athlete that we expect to contribute to both our running and passing games with his blocking and pass-catching skills
In Bunting, a 6'7", 252 lb tight end, the Bears are getting a massive target who played his past three years at the University of Michigan, albeit in a blocking/special teams role. From the Michigan roster listing, Bunting:
• Is a three-year letterman (2015-16-17)
• Has appeared in 34 games at tight end and made eight starting assignments while also contributing on special teams
• is a three-time Academic All-Big Ten honoree (2015-16-17)
• Caught 10 passes for 118 yards in his career
Bunting announced in late January that he planned to transfer for his final year, and he visited Cal in February.
Justin Wilcox noted before the beginning of spring ball that he wanted to develop a true Y who can attach to the line, and Bunting is that. He's the size of many of the Stanford tight ends who have given the Bears trouble over the past few years, and he's been a capable blocker for the Wolverines.