Kristine Anigwe makes history as Cal improves to 8-0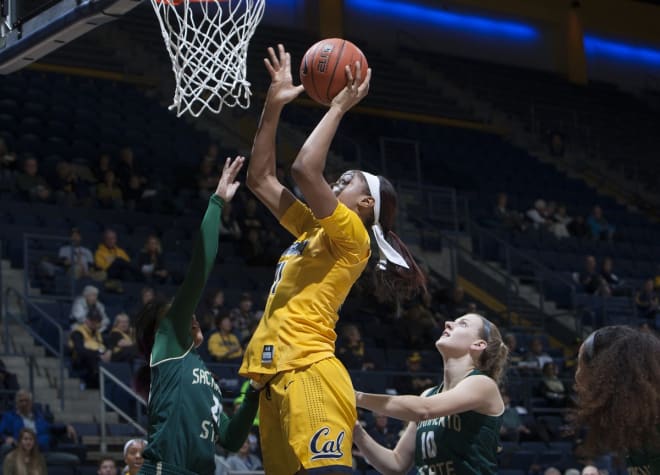 On Thursday night, Cal women's basketball improved to a program best 8-0 record with a 97-73 win over Sacramento State. Instead of listening to my advice by having everyone get involved and not relying too much on Kristine Anigwe, Cal instead decided to give Sacramento State a heavy dose of Kristine Anigwe and it paid off handsomely. Anigwe scored 50 points on 19-23 shooting from the field and 12-19 shooting from the foul line while also grabbing 14 rebounds. Anigwe's 50 points in a single game are the most points scored by any Cal men's or women's basketball player ever.
"I'm just blessed that I have such amazing teammates and an amazing coach," Kristine Anigwe said after her historic night. "They just believe in me so much."
Belief in Kristine Anigwe's abilities was crucial to tonight's victory. While perhaps a 50-point game wasn't expected, Lindsay Gottlieb did admit that getting Kristine Anigwe a lot of touches was part of the game plan going into the game.
"That was part of the game plan to be honest," she said. "Watching the film from last year it sort of happened, but this year we really practiced it. I thought the whole team did a great job of owning that game plan, like I say, feeding the beast inside, and that's important to us because Sac State can score so much that we have to shoot a high percentage and I don't think there's anyone in the country that does it better than she does."
Kristine Anigwe certainly shot a very high percentage from the field (82.3%) due to all of her easy looks inside and Sacramento State was never able to figure out a way to slow her down. Rather than going with a more balanced scoring approach to the game, Cal dared Sacramento State to stop Kristine Anigwe and it certainly ended up working out in their favor.
What was probably most remarkable about the game is how effortlessly and easy Kristine Anigwe got those baskets. It felt like every minute 6-7 points credited to Kristine Anigwe would magically appear on the scoreboard. It wasn't that her scoring was discreet so much as it was in such high volume that you just didn't expect it to all come so fast. What helped Cal is that Sacramento State shot 50 3-point shots and made just 11. Cal really made Sacramento State pay for taking those shots by turning those defensive rebounds into points.
Even though Cal won this one really easily, this was still a huge night for Cal women's basketball. Cal improved to their best start ever and Kristine Anigwe scored a school best 50 points. This strong start for both Cal and Kristine Anigwe bodes well for them as Pac-12 play is just around the corner.
Note: Penina Davidson (illness) did not play but is expected to play on Sunday.