Kianna Smith is excited to represent Cal in McDonald's All-American Game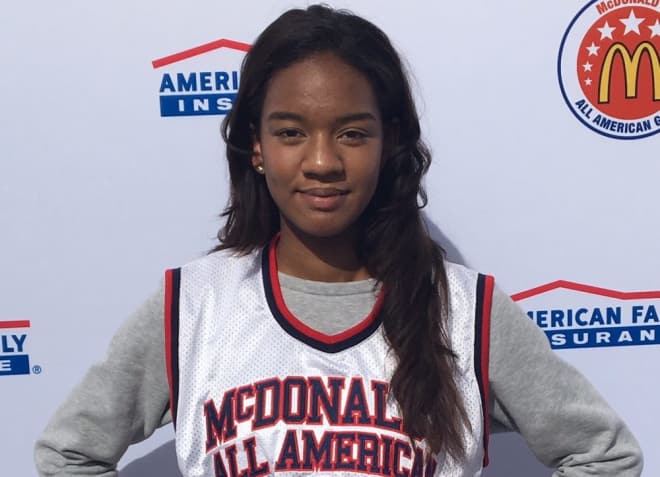 On March 29, the 2017 McDonald's All-American games will be played in Chicago and 2017 Cal women's basketball commit Kianna Smith will be one of the participants. Smith caught up with us to talk about this opportunity.
"I was relieved and excited," Smith says of getting selected. "My travel ball coach told me that I had a good chance because of my performance during the summer so I was hopeful to see my name, but still a bit nervous. So when I heard the news I was extremely excited."
It is the dream of every high school player to be a McDonald's All-American and with only 24 slots, it is truly a prestigious honor. It takes a lot of hard work and dedication to get to that level and for Smith it all paid off.
"My all around scoring ability," Smith says of what she's most worked on. "I've gotten my shot to be more consistent and finishing around the rim better. I think being more assertive and aggressive throughout the summer put me in a good position to get selected."
Smith is looking forward to this experience with a lot of excitement and anticipation. She fully plans to soak in the entire experience and represent Cal with pride.
"Everything!" Smith says of what she's most looking forward to. "The Ronald McDonald house, the game, meeting other people ... I'm looking forward to it all! They [Cal coaches] were all really excited and proud of me! I'm so glad I get to represent them and Cal in the game!"
The last time Cal had players in the McDonald's All-American Game was 2015 when Jaylen Brown, Ivan Rabb, and Kristine Anigwe all participated. At the time however, it was not yet known that all three players would be coming to Cal.
For Smith, she gets the unique opportunity to be the lone Golden Bear in the games, which makes it all the more special for her. Knowing the type of person that she is, she is one who will represent Cal well and be a positive representative of the university.
As far as what she looks forward to about Cal, Smith looks forward to competing in the Pac-12, growing under the coaching staff, and playing with her future teammates.
"Playing in the best conference in the country and having to compete every game," Smith says. "Being a part of the growing program coach Lindsay and the rest of the coaching staff built, and being able to play with everyone that's on the team now. So excited about it all."
If there is one thing that's certain it's that Kianna Smith will bring passion and dedication to the Cal program. She is a very talented player that will add even more depth to a backcourt that already consists of Asha Thomas, Mi'Cole Cayton, and Mikayla Cowling. She will also be joined by incoming freshman guard Alaysia Styles, another player that will give the backcourt more ammunition.