Jones returns to mound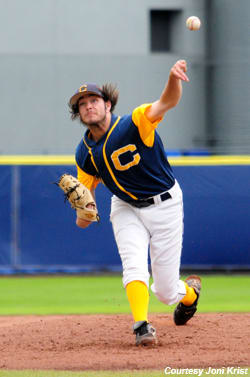 BERKELEY
-- It's been 237 days since
California
junior lefty
Justin Jones
last faced live hitters. On June 6, 2011 -- a game which would end with the Bears'
legendary comeback
against
Baylor
-- Jones took the hill for the third time in three days in the stifling heat and suffocating humidity of Houston, Tex. After he helped push Cal to the eventual Houston Regional win, Jones tossed six shutout innings in the Super Regional against Dallas Baptist to help lift the Bears to the College World Series. But, after those six innings of work against the Patriots, Jones had to be removed. Something was amiss in that golden left arm of his.
Structurally, it was fine. There was no muscular, skeletal or ligament damage. What was tweaked was a nerve in his left biceps. After 237 days of healing and resting, Jones - sans his trademark beard and with not-quite-Nazarene hair ("I'm trying to start it clean this year," he says) -- took the mound at Evans Diamond and faced live hitting for the first time.
Jones threw 2.2 innings against his teammates, throwing 29 pitches and allowing four hits and a run. Not eye-popping numbers, to be sure, considering his preseason All-American status, and his sparkling career so far. But, considering he hasn't thrown a competitive pitch in more than seven months, both he and the coaching staff will take it.
Jones hit 91 mph with his fastball and topped 90 several times, ranging between 88-91 throughout the outing.
"He's never thrown that hard this early," said Jones' father. "The real trick will be seeing if his arm is ready to fall of tomorrow, or if it feels fine."
Jones has described himself as having a noodle attached to his left shoulder, and while it may take just a few more intra-squad starts to get him rolling, he looks to be on track to start the season, though senior righty Matt Flemer -- Jones' roommate - might be pressed into service on Feb. 17 in the season-opener against Pacific.
Jones' off-speed pitches were a tad firm, hitting 78-82 with the curve, as he mixed in sliders, curves, fastballs and change-ups. His deuce didn't quite have its normal depth, but it did have a bit more giddy-up, more like a power curve than his usual ankle-breaking looper. That touch-and-feel, though, will come with time, and it is still very early.
One thing seems certain: Jones will arrive ahead of the team's new home white jerseys. Before the program was cancelled on Sept. 28, 2010, there were new home jerseys in the works from apparel supplier NIKE - which has now replaced The Game as the Bears' on-field hat supplier - but, when the axe fell, those jerseys were left un-ordered. So, Cal will have to wear their good-luck gold pull-overs - the same ones the Bears wore in the World Series - and their road greys for the first two weeks of the season, until the new duds arrive.
Jones' opponent on the bump for Friday's intra-squad was true freshman Chris Muse-Fisher.
"He's the nastiest pitcher I've seen here," Flemer said, as he charted pitches in the press box, along with side-arming sophomore righty Ryan Sandler.
"Everyone sees it, and wants to hit it," Sandler said, "but they just don't."
Muse-Fisher topped out at a dubious 90 mph, but his fastball rarely got above the low 80s. The freshman lefty surrendered one big blow to sophomore first baseman
Jacob Wark
, who - with a slow and none-too-pretty swing - absolutely annihilated a Muse-Fisher change into right-center field for a double. On Thursday, during Wark's last intra-squad at-bat, the Cal football tight end hit a longball to right-center on a similar swing, hitting two-thirds of the way up on the Edwards Track Stadium grandstand. Observers say that Wark has displayed uncanny pure power, but has to work a bit on pitch recognition. The ability, though, is there. Wark will split his spring between spring football and backing up starter
Devon Rodriguez
at first.
Speaking of Rodriguez, the Big Cat had a big day in the field, making a diving snag on a hard hopper up the first base line by freshman Brendan Farney. Both first baseman had good days with the leather, as Wark turned a nifty 3-6-1 double play towards the end of situational work.
Sophomore catcher Andrew Knapp had a rough day behind the plate, allowing two passed balls. With the over-full situation in the outfield, Knapp will likely start the season as the primary designated hitter, and will spell two-time All-Pac-10 catcher Chadd Krist behind the dish several times a week. Knapp did rip a single down the first base line in the bottom of the third off of Muse-Fisher, and gunned down junior preseason All-American and reigning conference player of the year Tony Renda at second.
It looks like Renda will hit in the leadoff spot this season because of his propensity to get on-base, while speedy Darrell Matthews has vastly improved his bunting game, and will likely hit in the two-hole. Matthews, Chad Bunting and Danny Oh are looking like the odds-on favorites for the starting outfield trio. Matthews showed good bat control on Friday and is becoming quite adept at dropping down the drag bunt up along the first base line.
Krist -- for his part -- smoked a 2-1 double off the center field wall off of Jones in the top of the first, and made a heady play on a short popped bunt by freshman Brian Celsi, letting it fall before firing to second for the force.
Friday was also
BearTerritory
's first look at former walk-on quarterback
Ryan Wertenberger
on the mound. Wertenberger showed good stuff and a plus fastball, topping out around 87-90 mph, and he even showed off a nice breaking ball. Wertenberger got tagged for the practice's only home run - to third baseman
Mitch Delfino
-- on a 1-1 hanger. Wertenberger did strike out the next hitter -- Renda -- spotting his fastball inside and outside and finally fanning the star second baseman with a big curve.
Seth Spivack and Joey Donofrio each saw time out of the pen, with Spivack hitting 86-92 with his fastball and Donofrio hitting 86-89. Donofrio showed a nice slider and a nifty little cutter with good location. When Donofrio is up in the zone, he shows in the mid-80s, but when he's able to stay down, his fastball is consistently 88-90. His change comes in regularly at 78-80. Donofrio worked well against Wark, getting him to miss on a change on a hit-and-run and then a firm 83 change before getting a swing-and-miss on a low change and finishing off the big first baseman with 89 at the letters.
The Cal Ticket Office has put a special season ticket package for Cal baseball on sale, with details HERE. On Saturday, Feb. 11, the Bears will be hosting their first ever Fan Fest at Evans Diamond, beginning at 11 AM, with admission free for fans of all ages and a special Blue-Gold intra-squad scrimmage.