Ingram named running backs coach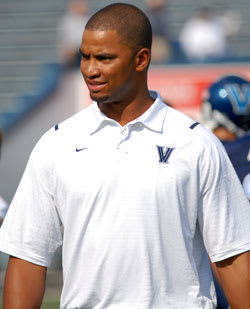 "Pierre Ingram is one of the best young coaches in the nation," Dykes said. "He is a talented person with a terrific future ahead of him and will be a tremendous asset to our football program. We're thrilled he's joining our staff at Cal."
Dixon ranked 32nd in the Football Bowl Subdivision for total rushing yards in 2012, pacing a rushing attack that ranked 18th in the nation with 2,726 total rushing yards.
Ingram joined Dykes in Ruston, La., after winning a national title at Villanova, where he coached tight ends as an offensive assistant, and was responsible for recruiting Alabama, Georgia and Tennessee. Before Villanova, Ingram served as the wide receivers coach and recruiting coordinator at Texas A&M-Commerce from January 2009 to June 2009, following a stint as the assistant wide receivers coach at Cortland State.
"This is a great opportunity for me," Ingram said. "I'm thankful that coach Dykes has hired me on his staff at Cal along with some of the other guys from our successful offense at Louisiana Tech. Cal is a program with great tradition, and the coaching staff he's bringing in is going to add to that as well as bring some spark and energy to move forward in the Pac-12."
Ingram graduated in 2006 from Middle Tennessee State, where he was a four-year letterman as a wide receiver.
Ingram and his wife Dani have a one-year-old daughter Berkley, who was born the night of Louisiana Tech's 38-28 win over the Spartans on Oct. 29, 2011, when Ingram's backs rushed for 260 yards. He was able to join Dani in Monroe, La., in time for Berkley's birth.