Harmon finds his perfect fit at Cal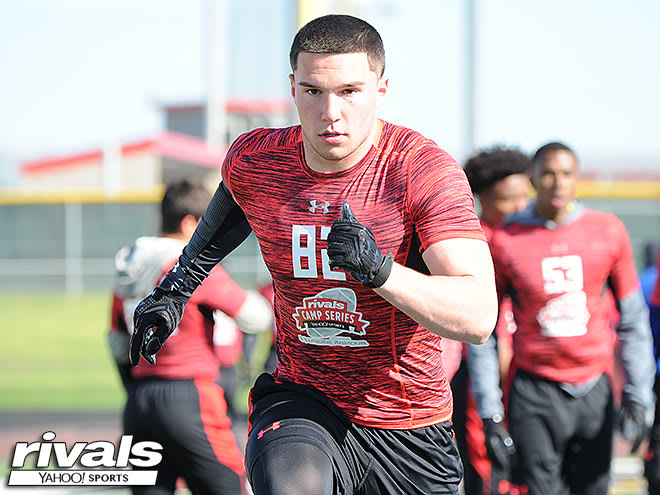 Kyle Harmon has been a Cal target for quite sometime. But back in December, the two-star linebacker from Freedom HS in Oakley, Calif. got tired of waiting for a scholarship offer from the Pac-12 school.
So Harmon, who was recruited by schools all over the Mountain West, spurned his opportunity to play FBS football and decided to focus on education. He committed to Cal Poly over scholarship offers from schools like Air Force, Colorado State, Fresno State, San Diego State, San Jose State, UNLV and Utah State.
But then Cal made a coaching change and new defensive minded head coach Justin Wilcox saw a need in his front seven. And that's what led to Harmon flipping his commitment from Cal Poly to the Cal Golden Bears over the weekend.
"Last Monday I got a call from one of the Cal assistant coaches saying that Coach (Justin) Wilcox was coming to see me on Monday," Harmon told GoldenBearReport.com. "So he came and saw me Monday and we talked and he wanted me to come out for an official visit. So I came out and visited and he offered me. And I just made my commitment to Cal.
The 6-foot-1 and 220-pound prospect saw an opportunity to play in the Pac-12 while getting the education that lives up to his high standards.
"Number one thing in my decision is education they're providing me," Harmon said. "Before Cal offered me, I was kind of thinking, what do I want? I want a great education and Cal offered both, a high level of football and a great education. So I had to take it."
The scholarship offer from Cal also gives Harmon a chance to prove that he can play football on the highest level. That's something he's always wanted badly and even thought about when he was planning to play for the Cal Poly Mustangs.
"I always said I was good enough to play in the Pac-12," Harmon said. "A lot people, a lot of coaches that I know, a lot of adults, a lot of guys my age, kind of gave me a lot of grief for going to a FCS school and not going to the Mountain West were I was heavily recruited. So when Cal offered, it was kind of the best of both worlds. I could go to a good institution, play in the Pac-12 and I'm excited to be close to home too. So it's a great fit.
And Harmon thinks that Cal's coaches will prepare him well for the challenge of playing at the Pac-12 level. Even after just getting to know the coaches briefly, he feels very confident in the staff Cal has put together.
"I was up there this weekend and they were all pretty new," Harmon said. "I know I'll have a great experience and I know Coach Wilcox had the seventh best defense in the country at Wisconsin. And Coach (Beau) Baldwin, the new offensive coordinator, he came from Eastern Washington and his offense averaged like 50-something points a game and they were in the top ten in the country in scoring, not only at the FCS level but at the FBS level as well. So I think they know what they're doing and they're building something great."
While Harmon is listed as an outside linebacker by Rivals.com, he says Cal is recruiting him to play on the inside.