Goff Watch: Breaking down the good and bad for Cals frosh QB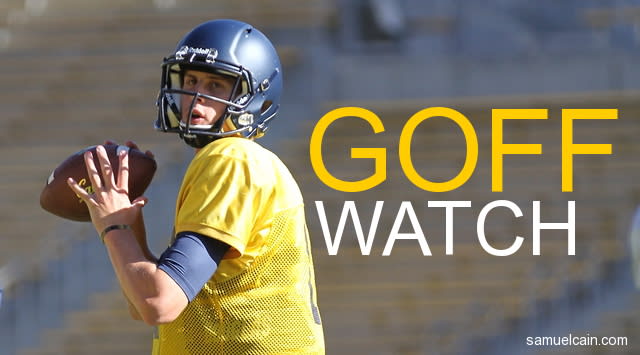 True freshman Jared Goff had one of the most memorable starts for a Bears freshman in the history of the program on Saturday.
He threw for more yards than any freshman, threw for the second highest single-game yardage total of any Cal quarterback -- freshman or otherwise -- and he set a new single-game record for passing attempts with 63.
But just how good (and not-so-good) was the 18-year-old on Saturday? Well, rather than just give you completion percentages, we'll grade every single Goff snap this season, assigning a +1 to positive plays (5+ yard completions, avoiding sacks with good pocket presence, third-down converstions, etc.) a -1 to negative plays (holding the ball too long, poorly thrown balls, bad decisions, etc.) and 0 to everything in between (balls that are dropped, run plays, etc.) to give you the realest assessment possible for Cal's first-ever true freshman to start the first game of the season.
First up, Saturday's 44-30 loss to Northwestern.
Goff finished with a +14 on Saturday, with a +6 first-half and +8 second. Here's how it broke down:
THE GOOD:
Goff had THIRTY positive plays on Saturday (we gave both his TDs +2s to give him +32 in the positive column overall).
- Seven were third-down conversions (and one was a fourth!). Three of Goff's biggest plays yardage-wise actually came on all-important third downs: a 24-yard screen pass to Treggs in stride during the first half, and both 19- and 20-yard bullets to Harper in the second half.
- Just one was a running play, an 11-yard scamper in the second half that helped Cal keep its final scoring drive alive. He only left the pocket with the intent to run twice, and only escaped Northwestern once, but he clearly has the wheels if he needs them.
- Two were those touchdown passes: a 52-yarder to a streaking-behind-the-defense Harper and the 7-yard jump ball fade to Harper that put Cal ahead for the final time on Saturday, 24-20.
- Only one was neither pass nor run. With five minutes to go in the first quarter, Goff avoided a would-be safety on 2nd-and-11 from the Cal five yard line, chucking the ball -- while being tackled -- in Jacob Wark's general direction.
- Of the rest? Nine were 10+ yard completions, four in the first, and five in the second.
THE BAD:
Goff had 17 negative plays (we assigned only one -2 to the throw into double coverage).
- Five were turnover related. Goff had two fumbles, one a bobbled snap he dropped after play-action-ing into Daniel Lasco and then recovered, the other scooted out of bounds very fortunately after Goff tried to do too much with two defenders in pursuit and the true frosh racing to the sideline. He had the one momentum-changing interception that negated a pick by Alex Logan the play prior. That one was all Goff, he threw a ball into double coverage to Harper who didn't have any separation at the time. That's a ball he just can't throw. The other two? Tipped balls that both fell right in the hands of a waiting linebacker who returned them for defensive TDs. One bounced right off of Darius Powe's chest (that can't happen) and the other was tipped in the air by a defensive lineman.
- Four were just plain bad balls. FOUR. One was skipped, one was low, one was to nobody. And one was behind a receiver.
- Two involved sacks -- one by Deonte Gibson and one by Tyler Scott. Both times Steven Moore looked like the guy who was beat, but both times Goff held the ball longer than he should. He needs to get the ball out quick to mitigate some of the inexperience on the offensive line (especially on a day when Matt Cochran was lost to an injury). He gets the ball out quick and those sacks don't happen.
- Only one of the passes was for negative yardage, a one-yard pass in the flats to Harper where he was immediately brought down.
- The other five? All of them were balls he shouldn't have thrown. Three were near picks on passes into the flats to wide receivers -- all jumped by corners or linebackers -- and in every case Goff was telegraphing the pass. One was into double coverage to Harper (yes, he did this twice on Saturday), and one was on a bad fade route in the corner of the end zone to Treggs.
THE VERDICT:

Goff was very good and on the verge of great, the only thing that probably kept him from it were the turnovers (in particular the one momentum-crushing INT into double coverage). To have had the amount of success he did starting his first-ever game, against a nationally ranked team, on national TV, Goff was as good as you could've hoped for from an 18-year-old who's last game was for Marin Catholic High School.