Former Bears tailback Jahvid Best to be part of Cal staff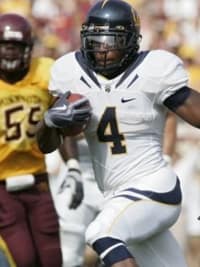 GoldenBearReport.com has learned that former Cal and Detroit Lions running back Jahvid Best will be added to Cal's 2014 coaching staff.
Two sources confirmed the addition on Saturday morning.
Best, who will return to Cal to finish his degree and likely be used in a student assistant role, had his NFL career with the Detroit Lions come to an abrupt end in January of 2013 when the Salesian speedster was told by doctors he would not be cleared to return after his last concussion in 2011.
The lightning quick tailback -- who had two concussions during his senior season in Berkeley -- finished his Cal career with 2,668 yards and 29 rushing touchdowns. He set a handful of records during his tenure with the Golden Bears, including most all-purpose yards in a single season (2,247) and most rushing yards in a single game (311). Best also led the Pac-10 in total rushing yards in 2008.
A first-round pick in 2010 (30th overall), Best had 945 yards and 6 TDs in his short two-year career with the Detroit Lions. He hasn't played in an NFL game since October 2011.