First Look: Stanford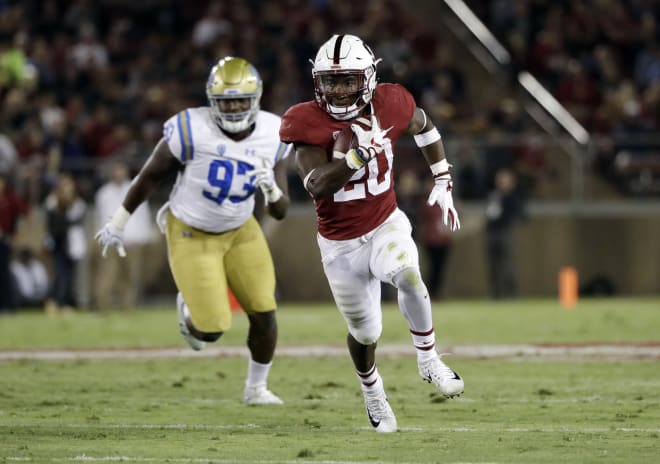 It's the 120th edition of the Big Game this week down at Stanford Stadium, Justin Wilcox's fourth as a coach at Cal, but his first as a head coach for the Bears, as he looks to get his team the Axe and to bowl eligibility.
"I've been a part of it before," Wilcox noted Monday after practice, "and I recognize it's one of the greatest rivalry games in college football. For all of the University, the alumni, the student body, it's a huge deal. Obviously it is to us too, but we prepare like we do every other week, and we've got a ton of respect for Stanford, what they've done."
That's been the mantra under Wilcox, never too high, never too low, and prepare extremely well. They'll need to do that to end a seven-game losing streak against the Cardinal and over the course of the previous 119 Big Games, neither school has held an eight game winning streak over the other, as the Bears famously ended a seven-game losing streak in 2002. That's not something the even-keel Cal coach has even stressed.
"We're not competing against streaks," Wilcox noted, "we've got to go prepare really well. It's gonna take a great game on our part, and we've got to prepare to do that."
Preparing to do that means stopping Bryce Love, or at least hindering him.
Love, a four letter word
Love, even while missing the Oregon State game and playing on a bum ankle the past two weeks, has rushed for 1622 yards and 15 touchdowns on a stunning 9 yards a carry, carrying Stanford by Washington and earning every bit of his Heisman candidacy.
"He's got great balance and vision, patience, and his top end speed is elite, you saw it again last week," Wilcox said, "and he's playing on a bit of a bum ankle, from all the reports, he sure doesn't look like it."
Love has busted a number of long runs this year, with 10 runs going for 50+ yards on the year. Tackling and rallying multiple players to the ball has been a consistent theme for the Bears during the week, as the Cardinal have the ability to get one on one matchups with the strength of their blocking schemes. Love has been able to exploit those into big plays
"You've got to tackle when you see Stanford," senior corner Darius Allensworth noted, "they've been doing the same thing since Toby Gerhart, they'll run five yards, they'll run two yards then all of a sudden they get you in that one on one matchup, and, gone."
The Bears are going to have to do what they haven't really done since 2008 (in 2009, Gerhart ran wild, but Cal forced Andrew Luck into a 10-30 performance with a mythical interception from Mike Mohamed sealing it), make fundamental tackles and stop the Stanford running game despite a size disadvantage.
"The emphasis this week is to wrap, tackle," Allensworth said, "when you get there make sure you take that extra step, wrap and tackle, and if you don't get that tackle you make sure you help out for your other guys coming along to make that tackle."
Wideouts, QB Situation, and TEs
While Love has been a massive part of the offense, Stanford runs 55% of the time, which seems like a relatively low number compared to the output. The Cardinal have had to pass, though it hasn't been as easy. There's been a quarterback change, KJ Costello will likely get the start on that end over Keller Chryst.
Costello: 68-114, 59.65% completion, 808 yards, 4 TDs, 1 INT
Chryst: 78-144, 54.17% completion, 962 yards, 8 TDs, 4 INTs
They haven't had to be the centerpiece of the offense, since the threat of Love is so great, but what they do have on offense is size, on the outside with wideouts Trent Irwin (6'2") and JJ Arcega-Whiteside (6'3"), along with big tight ends in Colby Parkinson (4 TDs on 9 receptions, 6'7"), Kaden Smith (6'5", over 17 yards a catch), and Dalton Schultz (17 catches for 2 TDs, 6'6"). It's a game where Cal's defensive backs have to play technically to prevent scores.
"Big boy guys, like to stutter on release, will box you out," Allensworth said on Irwin and Arcega-Whiteside, "the big thing is playing your technique. I've probably been playing against Trent since he was in the 8th grade, because he was doing the 7 on 7 circuit, so I've been playing against him for a long time. He's a talented kid, they're both talented kids and we've just gotta make sure we do what we've got to do technique wise and be able to play them."
Arcega-Whiteside has been targeted on fades a number of times in the red-zone, and that's expected to be the case again. Cam Bynum, Allensworth, and Elijah Hicks have their work cut out for them.
One player to watch as well is true freshman WR/RB Connor Wedington. He's been used in a variety of ways on the year, a lot of times on shorter stuff designed to get him in space, and he's 3rd on the team in receptions.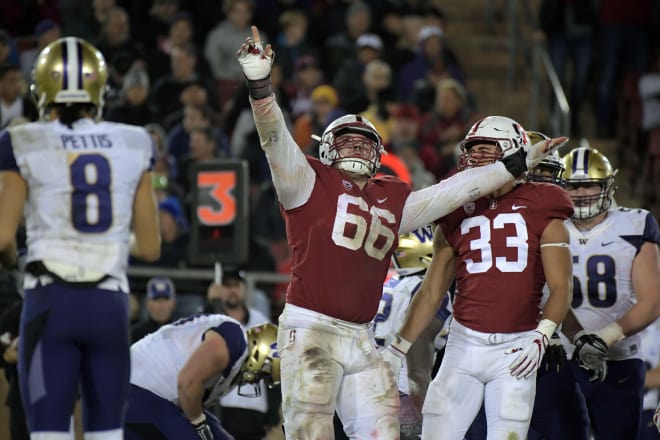 Phillips and Defense

Like much of the conference, the Cardinal have the injury bug as well, with a season ending injuries to cornerback Alijah Holder and linebacker Sean Barton. The Cardinal defense hasn't been as good against the run or the pass by a yards allowed total, but they've forced turnovers at a solid rate, with 20 in 10 games, Cal has 22 forced, along with 24 sacks (tied with Cal in that regard).
The standout for the Cardinal defense has been Harrison Phillips, the 6'4", 295 lb DT, who has a monster statline for an interior lineman (73 tackles, 12.5 TFLs, 5 sacks). He's a flexible player who can collapse pockets and run lanes, and goes from a 3-4 nose to a 4-2-5 DT.
"They're big and strong," running back Patrick Laird said about the Cardinal defense, "they shed blocks really well.
"Their nose tackle, number 66 (Phillips), I really like how he plays, physical. I mean all those guys are really physical, DBs are not afraid to hit and come inside the box, so we'll be prepared for that."
Justin Reid, a starter at safety, is also a player to watch, with 5 interceptions and is second on the team in tackles with 69.
For Cal, it's a week of figuring out how to combat the size of the Stanford defense as well, as the offense is likely going to be counted on to stack up drives, continue to be consistent, and keep Love off the field.