Fall Camp preview: Special Teams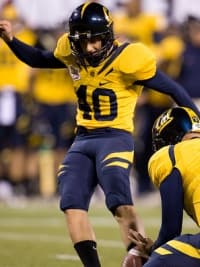 If Cal really is going to truly contend for a Pac-10 title this season, then special teams could mean the difference between going and not going to Pasadena at the end of the year. Virtually every championship team in every sport has had a moment or two of stress where things looked murky (UConn women's basketball team this past season might be the only exception) and uneasy.
No doubt the Bears will be faced with some tough times in games - especially in conference - this season so a big kick or big return during the course of a close contest might become the momentum swing Cal would need to finally get over the hump.
The Bears are very solid all-around in the special teams department this season. They boast arguably the top kick/punt returning duo in the country as well as arguably the top punter in the country. Where things are unsettled still resides in the kick coverage and placekicking areas.
Projected Placekicker: Giorgio Tavecchio
Rarely does placekicking take up a piece of the media and fan pie at the start of camp, but that will be the case this season. Tavecchio arrived at Fall Camp just days before school officially began last season and immediately found himself on the field against Michigan State in the season opener.
After starter David Seawright went down with a season-ending groin injury, Tavecchio took over the starting role and performed solidly. Tavecchio knocked in 9-of-13 field goal attempts, including a perfect mark inside of 30 yards. Where Tavecchio struggled a bit was with distance, both in field goals and in his kick off duties.
Because of his experience and the fact that he is essentially the returning starter, Tavecchio gets the slight nod as the projected starter for now. However, there will be tremendous competition for his job this fall. Seawright is almost, if not 100 percent and ready to compete. Before his injury, the San Diego native knocked in 5-of-7 field goals and looked to be a permanent starter in Cal's future. His peculiar injury however was a major setback for himself personally and the team.
Adding to the news this off-season was the signing of freshman Vince D'Amato this past recruiting campaign. Teams rarely hand out scholarships to kickers right out of high school and Cal is no different. So, there's no question that head coach Jeff Tedford must see something special in D'Amato to offer a full ride right away.
Whoever gets the starting nod though, the other question that needs to be answered surrounds kick-off duties. Even if Tavecchio for instance wins the starting nod, it is very possible that Seawright or D'Amato (who both have tremendous leg power) could still be the kick-off guy. The Bears struggled badly in this department last season and whether they stick with the directional kicking or not, kick-off coverage is a major area of concern that needs to be ironed out.
It will be very interesting to see how this battle plays out in camp.
Projected Punter: Bryan Anger
How often does a punter make a true impact on a game? Once in a while, maybe. For Anger though, you can make a case that he was a big reason why Cal won at least two games last season. Considering the fact that he's a punter, that is saying a whole lot.
The sophomore heads into the season as the clear-cut favorite to obtain first-team Pac-10 honors and maybe All-American honors as well. As this video put together by well-known Cal blogger
DanZig
shows, Anger is the epitome of a
super-sized punting talent
.
Anger will be the Cal starting punter as long as he stays healthy. He does need to be a little more consistent however but if he does and has two great seasons, could Anger become the first punter ever to declare early?
Projected Long Snapper: Matt Rios
While Tedford is not quick to hand out scholarships to kickers coming out of high school, the two-time Pac-10 coach of the year wastes no time finding a permanent long snapper. If fans ever get the chance to ask Tedford about special teams play, specifically long snapping, you'll see Cal's head man light up with joy and enthusiasm about the position.
Before Tedford arrived at Cal, L.P. Ladouceur had made a name as one of the top snappers in the country. Once Tedford arrived and Ladouceur moved on to the NFL, Nick Sundberg took the reigns and parlayed his talents into a very successful collegiate career as well.
Now it's
Matt Rios
who will step up to the forefront. The protégé of esteemed long-snapping coach
Ben Bernard
, who
BearTerritory
featured in this
article during Rios' recruitment
, becomes the latest scholarship snapper to hit the field for the Bears.
In the seven seasons that Tedford has been at Cal, the Bears have had only six punts that have been blocked combined. Four of which came in 2002 and two came last season. A major reason for that is the heavy emphasis that Tedford and special teams coach Pete Alamar puts on the long snapping position.
Projected Kick Returner: Jahvid Best
As if teams don't have to worry about Best enough in the running game, it appears that Best will be returning kicks as well this season. We'll see how long it lasts given how Best will be used this season both in terms of carries and possible injury, but if Best is back there then Cal has a major weapon to throw at opponents.
Best returned kicks last season before he injured his elbow and performed very well in the role. Best took back 16 kicks for a 26.3-yard average with a long of 54 yards. In comparison, wide receiver Jeremy Ross took back a team-high 17 kicks last year for an average of 19.8 yards. The difference is incredible and honestly it is not a knock on Ross but more evidence as to how explosive Best really is with the ball in his hands.
To put it in even more perspective, if he would've qualified Best's mark would have ranked him in the top-20 nationally. The return leader last season was Temple athlete Travis Shelton who boasted a 31.3 yard per return average.
If Best is not back there this season, then Ross is the likely candidate. Ross had some good returns and some average ones but a year of seasoning should do wonders. The darkhorse in this whole race is true freshman Isi Sofele, who is very explosive and quick. Tedford said on many occasions that Sofele is a specialty type player and kick returning is a role that he could certainly thrive in.
Projected Punt Returner: Syd'Quan Thompson
Thompson returns as Cal's sure-handed punt returner this season and should put up high numbers once again. The Sacramento native was an explosive two-way athlete in high school but he rarely received a chance to touch the ball in college, until last season.
Thompson averaged 12.2 yards per return last year, which was good for 21st in the country. What makes Thompson so valuable more than anything else however are his sure hands pulling in the ball. Thompson didn't fumble once last season.
It's almost a guarantee that Thompson will be Cal's punt returner but if Isi Sofele can show that he can protect the ball, it's possible he could get some returns this year as well.
** Note: This is a BearTerritory.net feature and is not necessarily reflective of Cal coaching staff opinion.
Chris Nguon is the lead football writer for BearTerritory. He's well known for his recruiting and game coverage in the star-studded Oakland Athletic League, plus his numerous contributions with The Daily Californian, UC Berkeley's only independent, student-run newspaper. Nguon is also a correspondent with the Oakland Tribune, and will cover Cal football and men's and women's basketball in 2009.