Cal Football Early Signing Day: Live Updates for the Class of 2019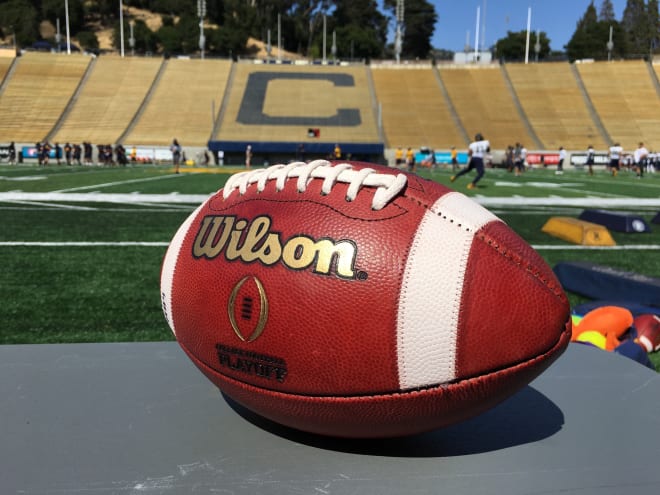 It's Early Signing Day, the start of the early signing period for every division 1 school in the nation. Cal is set to sign nearly their entire 2019 class today.
We're gonna have live updates here, on who's in and everything else you need to know.
Signee Number One: OLB Myles Jernigan, Grand Prairie, TX
When he committed: September 4th, 2018
Why he's important: Cal's outside linebacker position was not in the greatest shape depth-wise after Cam Goode went down. Jernigan's signing is part of an effort to turn that around. He's listed at 6'3" and 210 by Cal, with space to fill into his frame. He's capable of dropping into coverage and making plays out of that, while also showing some pass rush skills. He may not be an immediate impact guy, but he's someone who Tim DeRuyter feels he can develop.
Signee Number Two: Miles Williams, DB, Mansfield, TX
When He Committed: June 25th, 2018
Why he's important: Williams is the highest rated DB going into Gerald Alexander's secondary today. A rangier safety type, Williams has some hitting power along with the ability to make plays on the ball. He played in a strong district, playing through adversity this year as his head coach was diagnosed with cancer early in 2018.
Williams has been one of the most active Bears on social media and should mesh well with the personalities in the DB room.
Signee Number Three: DB Craig Woodson, Grand Prairie, TX
When he committed: December 16th, 2018
Why He's Important: Woodson helps to fill a gap at safety, and he'd been on the Bears radar since last spring. A teammate of Myles Jernigan, Woodson projects similarly to redshirt senior Quentin Tartabull, a solid hitter with good instincts to come down in the alley and make plays.
Signee Number Four: OL McKade Mettauer, The Woodlands, TX
When He Committed: June 24th, 2018
Why he's Important: Mettauer's a mauler of an interior lineman, something that the Bears could definitely use going forward. They picked him up off a summer official visit away from his likely landing spot in Arizona. He's someone who may not need as much physical development to see the field, as he's built up like a college player already.
Signee Number Five: OLB Curley Young, Pflugerville, TX
When he committed: July 27th, 2018
Why he's important: Tim DeRuyter saw Young at a Texas State camp back in June and really liked what he saw from Young, who won his district's defensive lineman of the year award. Young has a big wingspan for his listed 6'2" and has the speed to get out and cover in a zone. He's a pass rusher first and foremost at this point, a role he's expected to grow into in the near future.
Signee Number Six: DE Braxten Croteau, Peoria, AZ
Supplemental Reading: Croteau on Enrolling Early
When he Committed: April 15th, 2018
Why he's important: Big guys who can move are important everywhere, and Croteau has a frame to build on for the 3-4 defensive end spot. He's closer to 250 now, and will be getting a jump on putting on size as he gets on campus in about a month. That size will serve him well as he improves on his block shedding. He's going to be put into a similar role to what Tevin Paul did this year at Cal.
Signee Number Seven: OL Brayden Rohme, Gilbert, AZ
When he committed: August 21st, 2018
Why he's important: Tackle frame, lineman pedigree (dad played at UCLA), mobility and nastiness made Rohme the Frank Kush award winner for the best offensive lineman in the state of Arizona. Now Steve Greatwood will have him at Cal, as he'll look to put on weight early on before seeing the field, but the tools are there for Rohme to be a multi-year starter at one of the tackle spots.
Signee Number Eight: DeCarlos Brooks, Chandler, AZ
When he committed: July 3rd, 2018
Why he's important: Productivity. Brooks finished the year with a bang in the Arizona 6A state title game, with over 300 yards and 6 TDs to seal a title for Chandler HS, the alma mater of Cal great Cam Jordan. Brooks is exactly what Cal is looking for in a running back, strong cutback guy with speed off contact. Very strong young man with the potential to play early.
Signee Number Nine: DL Brett Johnson, Phoenix, AZ
When he committed: April 15th, 2018
Why he's important: Brett Johnson is somewhere between a bulldozer and Brock Lesnar on the football field. The heavyweight wrestler understands leverage incredibly well, and caused a number of Arizona football coaches to say that he's the best defensive lineman, if not the best player in the state of Arizona. It's why Arizona State tried to run the Herm train on in to flip him late, but thanks to a late home visit by the Cal staff, the Bears landed a guy with arguably the most potential of anyone in the class.
Signee Number Ten: ILB Ryan Puskas, Peoria, AZ
When he committed: April 15th, 2018
Why he's important: Every linebacker is a little different for the Bears in this class, Puskas is the rangiest of the three inside linebackers. Formerly at safety for Liberty, Puskas moved down to linebacker and adjusted well in being one of the leaders of the defense alongside Croteau. He's able to make plays from sideline to sideline, putting out fires if you will.
Signee Number Eleven: OLB Orin Patu, Seattle, WA
When he committed: June 24th, 2018
Why he's important: Cam Goode's eventual successor and another body type to add to the linebacker room. He's long, he has pass rushing moves already, and has a nose for the ball. He needs to put on weight, but he's one of the best players out of the state of Washington, and someone who the Bears held onto late as UCLA came calling.
Signee Number Twelve: OL Brian Driscoll, San Diego, CA
When he committed: June 12th, 2018
Why He's Important: Driscoll could play either guard or tackle spot at this point, more likely guard, and is apparently up to 303 lbs per Torrey Pines head coach Ron Gladnick. With playing in an option offense, Driscoll will need to work on his pass sets early on, but is a mauler in the run game and can get down field and cover ground to block.
Further Reading: OL BIG BREAKDOWN
Signee Number Thirteen: ILB Kyle Smith, Los Gatos, CA
When he committed: July 28th, 2018
Why he's important: He's your traditional inside linebacker, a gap patrolling hitter who makes plays in the box. A strong young man, coming back from a broken leg to finish out his senior year, he's also a local commit, something the Bears haven't had a lot of success with in this cycle. Either way, Smith has some NFL pedigree, his brother made the league out of San Jose State.
Signee Number Fourteen: ATH Makai Polk, El Cerrito, CA
When he committed: September 14th, 2018
Why he's important: Local athlete who fits the mold of what Cal's looking for in tall, outside receiver type. Polk was incredibly productive in-league for a very good El Cerrito team. He does have the potential to play either side, but offense seems like the biggest area where he could make an early impact. He looks very fluid with the ball in his hands as well.
Signee Number Fifteen: TE Elijah Mojarro, Orange, CA
When he committed: April 13th, 2018
Why he's important: Cal will need tight ends next year in some shape or form. McCallan Castles and Gavin Reinwald can't do it alone, and Mojarro is a big body who can move around as an H-Back or an in-line tight end. He's the only tight end in the class at the moment, something that'll likely be addressed in February, but Mojarro's going to be important moving forward as someone who can make plays in the middle of the field.
Signee Number Sixteen: Deshawn Collins, Sacramento, CA
When he committed: December 17th, 2018
Why he's important: Immediate impact at the running back position, Collins is a tough north south runner with strong pass protection skills in addition to his pass catching skills out of the backfield. One of the best stories out of the class, working a night job at San Francisco International Airport to make ends meet while earning scholarships to FBS schools. Has three years to play three, eligibility-wise.
Signee Number Seventeen: ILB Blake Antzoulatos, Simi Valley, CA
When he committed: June 1, 2018
Why he's important: Great mix of high academics and high amounts of causing havoc. Antzoulatos may be Jordan Kunaszyk's heir apparent with how he plays, zooming around the field to make plays in the backfield. He piled up 100+ tackles two years straight against some of southern California's most talented players, and he's about as perfect a fit as you're going to get for a 3-4 inside linebacker in this defensive package.
Signee Number Eighteen: Spencer Brasch, Gilbert, AZ
When he committed: June 12th, 2018
Why he's important: QB who had a strong senior year in leading Higley to the 5A semi-finals, Brasch comes to a Cal team that desperately needs QB depth. He has a strong arm and the ability to run out of the pocket as well. He got a pretty big boost in the Rivals ratings as well, from a 5.5 to a 5.7 and up to the 14th best dual-threat QB in the country.
Signee Number Nineteen: DL Ben Coleman, Murrieta, CA
When he committed: June 14th, 2018
Why he's important: He may be the emotional center for this class, just because he's talkative and personable, but Coleman fills a big need in the middle of the defensive line. With Chris Palmer gone after this year, Coleman doesn't quite occupy the same nose role, but could grow into it in the future.
Signee number twenty: Jawaun Johnson, Harlem, NY
When he committed: December 17th, 2018
Why he's important: Speed kills, and Johnson has it. While he's not enrolling until June, the Fullerton College standout comes to the Bears with some solid straight-line speed. He ran a 10.87 100m as a senior in high school, along with a 22.32 200m. He's an immediate contributor in the slot, which is what the Cal staff was aiming for to fill out the wide receiver group in this class.
Signee Number 21: WR Kekoa Crawford, Santa Margarita, CA
When he committed: December 18th, 2018
Why he's important: Speed and immediate impact. Crawford was a four star coming out of high school, running a 4.45 40, and a change of location may be just what he needs to have more of an impact.
Signee Number 22: CB Jaylen Martin, Corona, CA
When he committed: About 15 minutes ago
Why he's important: Length at Corner has been a priority, so when Zahran Manley absconded to Stanford unexpectedly, the Bears went into action, pursuing Colorado commit Jaylen Martin. They got him, and will use his length as someone to build off of in the next few years. He has the tools to be a solid cover corner.
Signee Number 23: OLB Kuony Deng, Aldie, VA
When he committed: November 23rd, 2018
Why he's important: A true unicorn of a player who comes into the program with the ability to play either linebacker spot. He can immediately slot into where Alex Funches was at outside linebacker, with the ability to drop into coverage. Either way, a guy who pumps immediate interest into the program from Last Chance U.
Signee Number 24: Devon Modster
When he committed: December 15th, 2018
Why he's important: He beat up Cal at the end of 2017 to keep them from bowl eligibility. He also adds immediate depth and competition to the quarterback room.
Signee Number 25: WR Trevon Clark, Victorville, CA
When he committed: Today
Why he's important: Truly someone that the Bears don't have on their roster, immediate threat on the outside, solid pass catcher with size. Someone that Cal has been lacking for a while.