Dykes tries to turn 1-4 into 8-4... again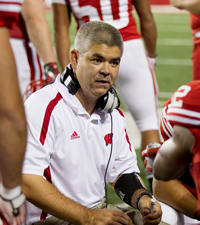 Sonny Dykes walks into his office, sits in a recline-friendly leather chair and taps the space bar on the computer to his right.
He watches half of a play from UCLA's 34-27 win against Utah last week, taps the space bar again, and turns his attention to the recorder now sitting square in the middle of his desk.
He's been here before, in a similar office, with a similar recorder on his desk, and a very, very similar 1-4 football team.
In both of the Cal football head coach's first two seasons with Louisiana Tech, Dykes started the season with an identical 1-4 record -- he went 4-3 after the one-win start in 2010, and then in 2011...
"We were 1-4 and had lost some tough ball games in year two, and felt like we had a good team, and we certainly felt like, that during that 1-4 start, I felt like the train got on the tracks," Dykes told GoldenBearReport this week in a 1-on-1 interview. "You know, we lost a couple of close ball games, the result wasn't necessarily there on Saturday, but I had a feeling, ok look, this thing is headed in the right direction. We win seven in a row after that, five of those on the road, then we go on to win 16 of the next 17 regular season games."
"We did it because we kind of worried more about the process than the result, and that's painful sometimes to do, but I think that's how you do it. You don't make any short term sacrifices that hurt you for the long term. You make some tough decisions, whether it's dismissing a player, whether it's demoting players, whatever the case may be. This may hurt us in the short term, but I have enough faith in what we're doing that it's going to pay off in the long term."
Sonny leans back in his chair, leg now crossed, straddling the line between optimism and realism.
"Sometimes all the stuff falls into place quickly, sometimes you inherit a team that has a lot of leadership, that has a lot of seniors, that stays healthy, that's got some playmakers, and it becomes easy and the stuff happens really fast and the guys jump on board and you never miss a beat."
2013 has not been one of those sometimes.
Already the second youngest team in the country, Cal has been hit hard by injuries through the first five games. Seven players have already been lost for the season, and of those FOUR were expected to be starters -- center Chris Adcock (knee), defensive tackle Mustafa Jalil (knee), cornerback Stefan McClure (knee), and safety Avery Sebastian (achilles). Of Cal's 11 projected starters on the defensive side of the ball post-Spring, eight have missed time with injuries, one was dismissed (defensive end Chris McCain), and one retired (safety Alex Logan). Through the first five games of the season, the Bears have yet to start the same four in the defensive backfield.
"I think in some ways, going through what we're going through will make our program stronger in the long run. And I think it forces us as coaches to examine everything we do and as a result we build a little better mouse trap. I think it forces our players to do the same thing and continue to invest and realize they have to work harder," Dykes said. "When everything happens easy for you, sometimes that doesn't last. Because as coaches and as players you think it's easy, and it's not. College football, football in general is a grind. And the teams that grind it out and build their program the right way are the teams that remember."
Teams like Sonny's across-the-Bay rival.
"Shane Skov and those guys remember when they were 4-8. It's not that long ago. They've gotten better and better and better every year, but they're better because the thing was built the right way. They did it without taking a bunch of shortcuts."
Dykes is trying to do the same, despite plenty of opportunities to take them.
"We could blitz every play, and just try to confuse people and just scheme 'em, and what happens when you do that is there's no improvement, because all guys are doing is learning blitzes. You spend all day learning blitzes for this week and there's no carry over to next week. So what we're doing is building a foundation. We're teaching play entry, teaching how to get off blocks, teaching technique, all those are things that allow you to become a better defense, as opposed to just lining up and running a bunch of elaborate blitzes and hoping you blitz into a run, or hoping you blitz into a pass play, or hoping you blitz into a protection they called where you can hurt them. I don't think that's how you build a defense. What you do is you build a defense by learning how to play. You teach your players how to trigger, how to open field tackle, you teach them how to have the right play entry, you teach them how to have the right angles, you do all those kinda things, that's the foundation, and once the foundation gets established, now you can try to trick it up a little bit. And that's how a defense is built."
"The good thing that Andy (Buh) has done is he understands that. I believe in him, I believe in the staff, believe in our players. (Buh) came to me a couple weeks ago and said, 'Hey look, I can go this way, and it may look a little better, but it's going to look the same at the end of the year'. We had those discussions and said hey, let's build this the right way."
Andy Buh's office is one door down. The lights are off as we pass by it and into Dykes' football cave, which doubles as an art gallery for his two little girls. A half-Pacman, half-fish paper plate masterpiece is hung proudly behind him, along with a picture of a real-life sturdy Golden Bear.
It's the scene that almost every single one of Cal's 11 commits have seen, some right before making their commitment. Dykes says not a single one of Cal's commits have had any negative reactions to Cal's start, and virtually all of the official visits they've gone on were ones they were planning before the Bears started 1-4.
"We knew we were going to have some hard times. Certainly in my discussions with some of these recruits from day one, you know, I just said 'Hey look, we're going to go through some growing pains just understand what we're going through'. And the kids are smart kids, that's why they're coming to Cal, so I think they recognize it."
"Now we've gotta show those recruits some hope."
Dykes says he's insulated from the outside world -- he doesn't get on the internet, or read newspapers, or even read Twitter ("I don't do that stuff") -- but that doesn't mean he's oblivious to what recruits are hearing, or the key to getting them to stop listening: winning.
"I've made an allusion to it in front of our players once," Dykes says of what his LaTech teams were able to do following 1-4 starts. "I don't think it's something they need to concern themselves with -- different teams, different circumstances. But I think as coaches we certainly draw from it. I think that's the deal, having gone through it, we do have a sense of, 'hey look, we've been through this before, let's not panic. Let's keep working, keep improving'. Certainly the guys who've been with us at Louisiana Tech have been through that. And same thing with Andy and his staff defensively. Those guys have been there, they've built programs, built defenses, where they weren't necessarily good before, they had some growing pains, and got good. That's football."
That getting good thing is something -- despite the start -- Dykes feels the Bears are on the verge of doing. Dykes says in just the last week -- as in his second season at LaTech, just before the Bulldogs reeled off 16-of-17 regular season wins -- the Cal train is on the tracks.
"It took us a year longer at Louisiana Tech to get that feeling. Now can we keep it there? We'll see. Is it going to show up on Saturday? We'll see. But I do get that sense here that I kinda like what I'm starting to see from our players in terms of their attitude, their effort, their commitment, their focus on details, something I wasn't necessarily seeing before," he said. "There's an accountability they're starting to accept. That if I get beat on something, you know what, it's not somebody else's fault, it's my fault. I gotta prepare better and work harder and compete harder.
"Before there was a lot of, you know, 'I don't know if I like this technique', 'I don't know if I like this scheme', and I'm not getting a sense of that anymore, I'm getting a sense of 'hey, I gotta get better'. I think when that starts to happen, that's when you say, look we're gonna improve. What's the end result gonna be on Saturday? We'll see. I hope it's great. I want it to be great. I want it to be great yesterday. For a team that hasn't played very well, I feel like we're starting to get in a place that's gonna give us a chance to win some games and to be competitive."
"You know, we'll see."
And with that, Dykes is back to his space bar.
Back to watching film.
Back to building.
Back to trying to turn more 1-4s into 8-4s.