DeWayne Walker talks Cal, USC defensive coordinator interest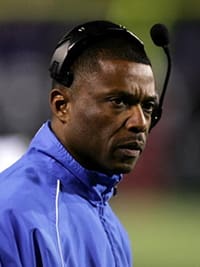 Walker -- who is widely considered one of the game's top defensive minds following successful stints as an assistant with three different NFL teams (the Washington Redskins, New England Patriots, and New York Giants) and several college programs (including both the Bears from 1996-97 and Trojans in 2001) -- knows his name is out there.
"As far as I'm concerned, I'm on the all-rumor team," he said Monday night. "It's flattering to see my name associated with those schools, even though I'm a head coach. But I haven't been contacted by either place."
So why all the rumored interest?
"Well, I think I'm a good guy for one," Walker joked. "I know my recruiting ties, especially on the West Coast, that's attractive. I know during my time out at UCLA, people felt I did a good enough job to warrant being considered for a head coaching position. At the same time though, I'm a head coach know. If anything pops up in the near future, if there are any conversations, that's something I'll deal with in the near future."
Walker has coached against Cal head coach
Sonny Dykes
the last three years, and with USC head coach
Lane Kiffin
back in 2001, but says only he and Dykes really have any relationship to speak of.
"I have the utmost respect for him. He's one of those coaches, he has the halo effect," Walker said of Dykes. "I just like him, not just as a football coach, but he's a good guy. But I haven't had any contact with him regarding this.
"Lane, Steve Sarkisian, those guys were young guys when we were at SC. To see both guys take off with their careers, personally, I think they've done a great job. I probably talk to Sark more, we have probably more of a relationship, but again, you have to respect what both have done."

]
Another coach Walker respects immensely? Cincinnati Bengals assistant Hue Jackson, who was also on Steve Mariucci's staff in 1996. Jackson was one of three finalists for the Cal job, and there were rumors he would bring Walker as his defensive coordinator, were he hired.
"Yeah, Hue and I, we're friends," Walker said. "Obviously he respected that I'm a sitting head coach. Our conversations were probably more general than anything else, but Hue's a great coach. Hopefully one of these ADs will figure out this guy's a good head coach. I think he was involved with the Cincy job, the Cal job. I'm a little bummed for him, from the standpoint that I know he's a good football coach. Hopefully he'll get a shot."
Through the years, Walker says he has actually kept pretty well connected to the Cal program.
"Yeah, I talk to guys like Ron Gould, Todd Howard, guys that kinda are still a part of the program," he said. "Ron and I talked the other night, we stay in touch periodically. I think Ron's an awesome coach. He's like the roach in the office, been there for years, and deservedly so. As good a coach and recruiter he is, he's a better person."

]
Walker marvels at where the program is today compared to 16 years ago.
"The money put into the program, where they are, it's unbelievable," he said. "The AD Sandy (Barbour) has done a great job it sounds like of getting Cal to a level where they can compete at a high level."
As for New Mexico State, Walker admits they're knee deep in rebuilding.
"Yeah, it's tough. We're battling through some things, trying to correct where I'm at," he said. "This is going to be a long process where we're at, have an independent schedule coming up... It is what it is."