Defense Reigns and Key Players Rest at Cal's Spring Game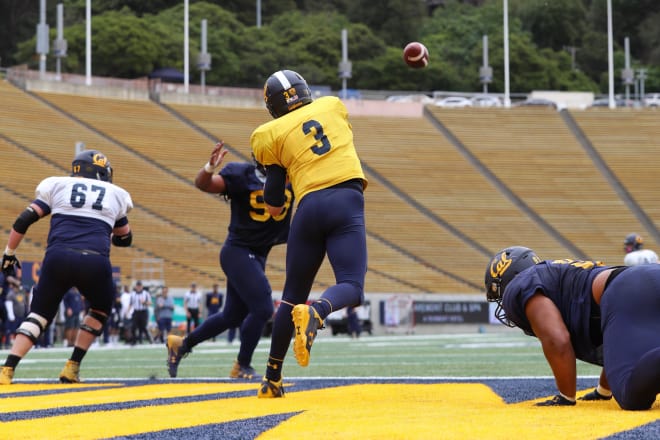 The old adage is that teams take on the identity of their coach. The final session of Cal spring football practice may have been emblematic of the identity of head coach Justin Wilcox. The Bears, with a number of players banged up, had to be adaptable. They limited big plays, the defense took care of their business, and did it in an under-the-radar fashion. By that, there was one turnover overall, a handful of tackles for loss and sacks, and a handful of well earned touchdowns.
"What you want to see in these situations is good football," Wilcox said, "you want it to be an earned play, not a bust by the defense. And vice-versa, when the defense makes a good play, it's a good play all around. I wouldn't necessarily say we're there yet, but there was some of that and the guys were competing."
That's how it felt, earned plays over everything. It's all execution with this coaching staff, with productivity being the main focus for the group. From that, no one stood out more from a production standpoint then Cameron Goode
Goode is Great
Cam Goode had a sack, another tackle for loss on top of that, and forced a fumble on Brandon McIlwain during one of the live periods. He was a threat, putting on weight to bump up to 225 in the offseason, and his ability around the ball is there.
"He's made a significant jump from the fall," Tim DeRuyter said, "He's really become a fantastic edge rusher for us, he good in coverage, and he just makes plays. This defense, as an edge guy, he's got to be highly productive, and he is for us."
Goode, who had a memorable interception return TD to put the bow on a win against Ole Miss in 2017, was called the most consistent player in the front seven by DeRuyter in the spring. He was in the backfield on multiple occasions as he's looking to be a cornerstone of the defense for years to come (as a redshirt sophomore currently), and his pass rush skills are what he's been trying to hone in the offseason.
"My pass rush, that's what I've really been trying to work on," said Goode, "since I only had sack last year."
Becker Produces
Half the line was out today, but that didn't stop Rusty Becker from being productive, racking up a couple of TFLs and a big sack as Brandon McIlwain couldn't get away from the twist stunt that confused the offensive line.
"It's fun to see a guy, a year ago when we first got in here," DeRuyter noted, "to be frank, I didn't know he was going to be productive for us. But he's really become inspired, he's really worked hard training wise in the offseason, he's changed his body, and I think he feels great about himself."
Becker, who's a redshirt senior this year, can often be seen hitting the sled as post-practice interviews roll on, and a lot of that work has paid off. His hands are more violent, and it showed today. By the unofficial count, he led the squad in tackles, with 7 and 2 sacks.
Injuries and Guys Sitting Out
Here's who officially sat the day out
- RB Patrick Laird
- WRs Melquise Stovall, Demetris Robertson, Kanawai Noa
- OL Gentle Williams
- DL Lone Toailoa, Tevin Paul, Gabe Cherry, Chris Palmer
- LB Malik Psalms, Gerran Brown, Jordan Kunaszyk
- DB Josh Drayden, Elijah Hicks, Evan Rambo
That's about half the team right there, with a number of older players sitting as the coaches wanted to see the younger guys (Laird and Kunaszyk being the main examples here).
Ali-Walsh
Biaggio Ali-Walsh led the Bears in rushing yards on the day, with 6 carries for 46 yards to go along with this 19 yard TD.
He looked to have tweaked his ankle later on in the day, but this clip shows his explosiveness off a cut. Also, after he celebrated his TD, Ali-Walsh got reprimanded and was sent to take a lap.
QB Play
Ross Bowers was the only one of the group to throw a TD pass in the 11 on 11 work, hitting Jordan Duncan on a fade, checking to that route after seeing the safety blitz coming from Trey Turner.

He finished 6-11 for 66 yards and a score. Chase Garbers finished 8-11 for 35 yards, Brandon McIlwain went 2-3 for 35 yards, and Chase Forrest went 2-6 for 3 yards.
Bowers looked to have some of the most command among the group, leading the team to a score in the 2 minute drill period. McIlwain did the same in a :45 second, 'get a field goal while down 2' possession, starting from their own 40. He hit Ray Hudson with a couple of bullets of crossing routes to get Chris Landgrebe an easy 30 yard field goal try, which went straight through.
McIlwain had some issues in the zone read game, as he could have pulled on a couple of occasions and given on others to avoid negative plays, and he fumbled for the only turnover of the day. Garbers missed on what would've been a touchdown to Jake Ashton on a scramble where he lofted the ball too much. While the competition heads into the summer, it wouldn't be far-fetched to say Ross Bowers has the lead among the group right now.
Notable Stats and Thoughts
- Ben Moos had a sack, as the former tight end makes his transition to outside linebacker. He looks more comfortable on the defensive side of the ball than he did at tight end, as he played DE in HS
- Lots of different offensive line configurations this afternoon as Steve Greatwood experimented with the group. Mike Saffell played every interior spot. Pat Mekari played left tackle and left guard. Kam Bennett did the same. Valentino Daltoso had a stint at left tackle. It's all about being prepared for a potential injury with Greatwood, something they dealt with in Mekari going down and Bennett sliding over. They seem to be set with their main configuration being (from left to right) Mekari, Bennett, Ooms, Daltoso, Curhan
- Ray Hudson caught 2 passes from McIlwain in the two minute drill stuff, abssolute darts where he got in between the two Cover 2 safeties and made the catch. Those are the types of catches that were missing a year ago, and Hudson provides that underneath game that's absolutely necessary for opening up the outside.
- Liked how Derrick Clark ran, even it didn't translate statistically. 14 carries for 45 yards doesn't sound great, but Clark shouldered a ton of the load with Laird resting and Ali-Walsh hurting in the later periods. He's patient and has improved his burst through the hole.
- Evan Weaver looked way more comfortable at inside backer, as he played with the enthusiasm of a Labrador retriever chasing down the ball. He was in on a ton of tackles throughout the live period, along with forcing a few QB hurries. Alex Funches did some of the same, getting a sack along with 5 tackles.
- Colt Doughty had a propensity to stop his feet before making tackles early in camp. That didn't happen today. His follow-through on tackles has improved.
- Cal ran a 22 personnel package with Kyle Wells and Ray Hudson at TE, and Malik McMorris at FB in the I-formation. A couple runs went to McMorris in short yardage, and he paid them off, with 2 carries for 4 yards and a score.
It was admittedly a day where you wish they'd had a full spring game. That's not Justin Wilcox's MO. He just wants his team to take the next step. Today was just another piece in the plan for the Cal staff, as they spring into recruiting.