Crawfords Commentary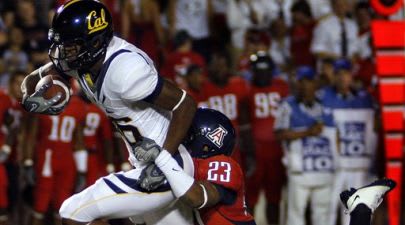 In the first installment of Crawford's Commentary this fall, staff writer Ken Crawford catches up with senior receiver Verran Tucker.
In this interview, Tucker talks about the day's practice, the heated one-on-one blocking drills and other topics. Crawford also includes his take on Tuesday's practice as well as quotes from head coach Jeff Tedford.
List of quotes in order:
Tedford on the first day in pads
Tedford on WR's and DB's getting a little chippy
Tedford on newcomers who are standing out
Tedford on Isi Sofele
Tedford on JC transfers
Tedford on Cheadle seeing some 1st team snaps
Tedford on Tucker being behind after missing spring
Tedford on not talking about a depth chart
Tedford on kickers and potentially splitting duties
Tedford on fullback play
Tedford on how they evaluate players
Tucker on missing most of spring practice
Tucker on playing with the 2's and 3's
Tucker on good plays today
Tucker on big catch versus USC in 2008
Tucker on fall 2008 versus fall 2009
Tucker on this year's leaders
Tucker on who is surprising him on the field
Tucker on what needs to be worked on
Tucker on heated drill between WR's and DB's
Tucker on his senior season
Ken Crawford is a staff writer for BearTerritory. A lifelong Cal football observer, Crawford covered the Bears during the 2007 and 2008 seasons, which included the memorable 31-24 victory over Oregon at Autzen Stadium in Eugene. Crawford will continue to handle Cal football assignments during the 2009 season.