Coleman Breaks Down His Commitment, Relationship with Mojarro and Manley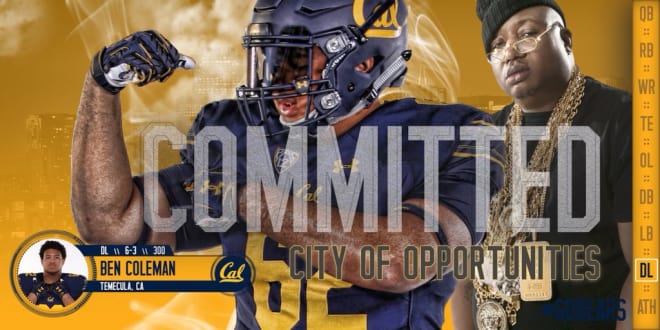 Cal's made a splash this week in adding three commitments, and Ben Coleman became the latest in making his call Thursday afternoon. The Linfield Christian lineman had said in the past that his recruiting process could take a while, but he decided on shutting it down a little earlier.
"That's where my heart is, that's where I was," Coleman told GoldenBearReport Friday morning, "Especially at this time, I knew it was time to shut it down and come on home. I know this is where I want to go, and like my dad said in another article, there's no decommitting, I won't be decommitting, this is where I want to go."

Coleman was originally recruited by the Bears as an offensive lineman, but the Bears are bringing him in with the intention to start with the defensive line with the possibility to be moved to offense.
"It's them asking me which side I'd prefer, that's what brought that up," Coleman said about starting on the defensive side of the ball. "I just want to make an impact, I want to make teams fear me and make teams have to gameplan for me. Playing the D-Line, you can make a very big impact by yourself and open things up for your teammates. In this 2019 class, I'm surrounded by some great defensive teammates and in the 2018 class, I know there's some great defensive players too. That's what I'm looking forward to, being a problem as well as them, because if there's multiple problems on the field, you can't stop them all at the same time."
With that, Tony Tuioti is set to be Coleman's coach in the early going, and Coleman's going to be someone who can play anywhere on the defensive line for the Bears. That said, it's more than likely that with the Bears' depth chart, he starts out learning the nose guard spot.
"Coach Tuioti knows I'm versatile," Coleman said, "he said I move very well for my size, so I could play that end spot, but he said he would love for me to bring all that power inside to really clog up the middle. When I visited (back in February), we were able to talk shop, and since then we've been able to get on the phone and talk again. When I called to let him know I was committed, he was super excited. I look forward to making (the relationship) better, and talking more with him."
Another factor in Coleman making the call for Cal was the influence of two of Cal's southern California commits, Upland CB Zahran Manley and Orange Lutheran TE Elijah Mojarro. Coleman had approached them via Twitter to talk about Cal, and it went forward from there.
"It really started with, we're all in southern California," Coleman explained, "so anytime you come from the same area, and you go somewhere else not by that area, you already have that bond. We've just been texting, and when you're committed, it automatically turns family, so that's what it is. (I got to know them) just on Twitter, I've just talked with them, let them know my thoughts about Cal, they were already committed when I started talking to them and they're trying to create the best 2019 class that they can. I just approached them (initially), telling them what I'm all about, that I'm thinking about Cal and everything, introduced myself, and we stayed in contact from there. They kept telling me, 'you're supposed to come to Cal,' so it's all fun."
As far as staff reaction to his commitment, DB coach and area recruiter Gerald Alexander's reaction was most memorable to Coleman.
"I don't know if you saw the video coach Alexander posted," Coleman said, "but that was his reaction, everyone was super excited."
Along with Tuioti, Steve Greatwood, and ST quality control coach Miguel Reveles (who was the initial point of contact for Coleman), Alexander's been one of the coaches talking with Coleman, part of the 'cross-pollination' between coaches who may not necessarily coach the recruits position and recruits that Justin Wilcox wants to promote.
"We talk all the time," Coleman said, "and I'm looking for that father away from home. I see that in a lot of the Cal coaches and GA is one of them."
With that, Wilcox has made sure to make time to take any of Coleman's questions.
"I called him about 45 minutes before I committed, and he was excited as well," Coleman said, "We've been on the phone multiple times, every time I've had questions, I text him and tell him I'd want to call. He'd give me his time and we'd talk, having 25 minute talks, just asking questions and learning about every bit of detail. The thing about coach Wilcox, he's gonna tell you the truth, he's not going to sugar-coat anything."
Now the route forward is a little clearer for Coleman, who's looking to sign with the Bears in December. Two more unofficials and an official visit to Cal, then once he gets on campus, he's looking to go down the business route, but is open to anything.
"I know that Cal degree has so many routes," Coleman said, "it can be anything, from any type of tech degree or anything of that sort."