Chuck Muncie interview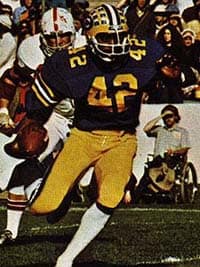 One of the greatest to ever suit up for the Cal football program, Chuck Muncie was a college sensation. He ended his college career being named College Player of the Year and runner-up for the Heisman Trophy, among many accolades.
In 1975 he was the first, and continues to be the only football player in the University of California history, to be on the cover of Sports Illustrated, plus he was on the cover 3 times during his pro career.
In the NFL, Muncie was selected to numerous Pro Bowls, including 4 in 5 years with San Diego, and was the MVP of the 1980 Pro Bowl. He finished his outstanding 9-year career with 6,702 rushing yards, 263 receptions for 2,323 yards, 20 kickoff returns for 432 yards, and 74 touchdowns.
Chuck was honored in 1998 by the NCAA College Hall Of Fame and by the Pac-10 by being named to the All-Time Pacific Coast Conference Team, and in 2000 was named to the All-Time San Diego Charger Team. He ranks in the top 25 rushers of all time in the National Football League and in the top 25 in scoring touchdowns.
Since his retirement from professional sports, Chuck Muncie has been working in the child development field as the Founder and President of the Chuck Muncie Youth Foundation. This nationally recognized and honored organization provides free medical and mental heath services, youth employment and job training programs, as well as mentoring programs. The Foundation's clients come from communities across the United States. The Chuck Muncie Youth Foundation provides mentor programs for the University of California Berkeley, University of Southern California and Boys and Girls Clubs of Oakland and San Diego. In addition, Chuck's foundation also provides a Divisionary Mentor Program designed to help student athletes and youth make the right choices and to be held accountable to those decisions.
Muncie is also a partner with MSL Sports, and helps run recruiting combines as well as the selection of the athletes for the "East Meets West" all-star football game.
Follow the link below to listen to Muncie's interview with Rivals radio this morning;