Chandler RB DeCarlos Brooks Commits to Cal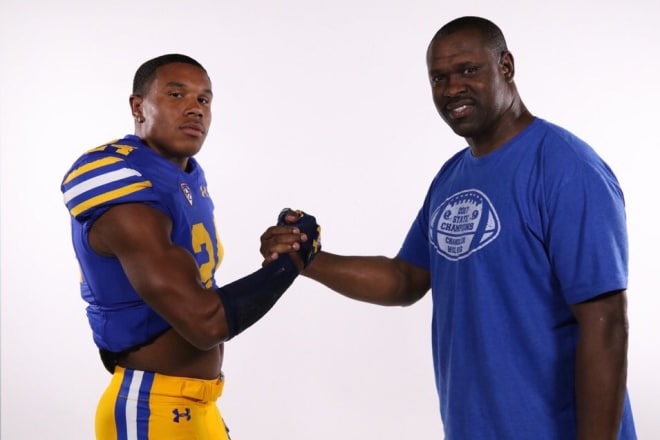 The state of Arizona is hot for everybody. But in the class of 2019, it's hot for Cal as they made another run into the Grand Canyon State. DeCarlos Brooks, a running back out of Chandler HS, made the call for Cal this evening. He picked the Bears over offers from Oregon State, Memphis, and Army. Burl Toler was his primary recruiter, and Brooks is the fifth player from the state of Arizona to pledge to Cal in this cycle.
Brooks visited the Bears right before the end of the dead period, coming in for an official visit on June 22nd. He's the seventh commit on the offensive side of the ball for the Bears, the second from Arizona, as he joins QB Spencer Brasch in that regard.
What are the Bears getting in Brooks? Someone who's played in a zone scheme like what Cal runs, someone who can catch the ball out of the backfield, and someone who has produced at a high level. As a backup in 2017, Brooks ran for over 1400 yards (the guy ahead of him ran for 2000), and he looks poised to break the 2k mark this year as well.
"They've told me that I have good character and that I'm coachable," Brooks told GoldenBearReport back after his offer in May, "They'd only seen my film, and from my film they thought I fit the system. I can catch the ball out of the backfield, I can run the ball, I've got a gear in the secondary, I can run people over."
Brooks also noted in May that he wanted a school that'd give him the best of both worlds.
"I just want a school that gives me the best of both worlds," Brooks said, "and I think Cal definitely is one of those schools. Academically, I want to have a high standard and at football as well. My family is really high on academics, we compete at a very high level for football and I know Cal offers that. Just a school that feels like home and is close to Arizona so I don't feel like I'm too far away."
He'll come into that with the class of 2019, as he becomes the 15th member of the group. With Brooks' commitment, Cal now has a player committed at every position group on offense and defense.