Cal snags five-star hoops commit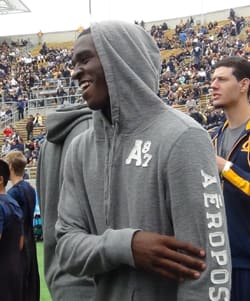 "I'm going to commit to Cal tomorrow," Bird told BearTerritory.net on Tuesday, after informing the coaching staff. "I let them know today. They were pretty ecstatic about it."
And well they should be. Bird becomes the first five-star prospect to commit to the Bears since Leon Powe pulled the trigger on July 8, 2003. He's a candidate to be a McDonald's All-American. He participated in the Under Armour Elite 24 two weeks ago -- an assemblage of some of the best of the best players from the AAU circuit this summer -- and scored 20 points while dishing out three assists.

]
Bird has been considered a heavy Bears lean now for quite some time, to the point where coaches of other Pac-12 institutions conceded his recruitment as far back as January. However, his official visit last Saturday proved to be the one last push he needed to make his decision final.

]
"It was just hanging out with the team," Bird said. "It was getting to know them a little bit better. I got to be on campus a lot more. I just knew that Cal was the place for me to be."
Bird was set to take three more official visits this month -- including one to
Washington
with fellow five-star and Elite 24 player
Aaron Gordon
. Those plans are now out the window. This Bird is a Bear.
"I'm not going on any more visits; I'm committed," Bird said.

]
Bird had originally planned to wait until the spring to sign, but it had been rumored that if he and other top-flight prospects had a meeting of the minds earlier, those plans could change.

]
Given the fact that he brought other local five-stars Gordon and
Marcus Lee
along with him last week, there could very well be something special brewing.
Stay tuned for more from Bird on his future as a grassroots recruiter, exclusively from Ryan Gorcey, the publisher of BearTerritory.net!