Cal Rivals Spring Practice Awards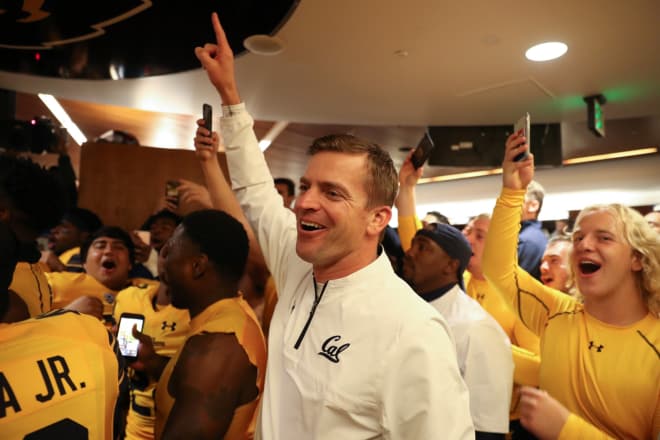 The results are in.
The first ever Cal Rivals spring practice awards are here, with fifteen practices in the books, multiple days of watching the open practices, and plenty of interviews throughout the spring to compile the data. So let's jump right into it.
Most Improved, Offense
Redshirt Freshman WR Taariq Johnson
Both Beau Baldwin and Justin Wilcox surmised that Taariq has been the player that's changed his body the most in the past year or so.
"Taariq's been one of those guys, if you have to name some guys, who've changed the most in the six or twelve months," Beau Baldwin said, "he's taken to a whole other level from where he was."
With multiple receivers out during the spring, Johnson benefited from a mountain of reps, playing on the outside, and getting really fluid going in and out of his routes.
"I feel comfortable now," Johnson told GoldenBearReport, "at first there was a bit of a learning curve, coming in as a freshman. There's things you don't necessarily comprehend, but that's where you look toward older guys for guidance and you learn from them."
Johnson did, and used his size memorably, mainly on RPOs throughout the spring, though he made a one handed catch on a fade during the final Wednesday practice of the spring. His skillset lends itself to running the 'bang-8' posts (eight yards and cut to the post) on RPOs and the red zone fade, and having another pass catcher, especially a big target like Johnson, can't hurt whoever ends up as the starting quarterback.
Honorable Mention: Redshirt Sophomore RB Derrick Clark
Most Improved, Defense
Redshirt freshman NG Siu Fuimaono
One of the most consistent performers this spring, Fuimaono has made a massive jump from a year ago. The 6'4" 305 lb nose guard from Okinawa has come a long way, both literally and figuratively.
"He's still got a ways to go," Tim DeRuyter said, "but from when he got here in the summer time, coming from Japan where he played at a very rudimentary level over there, this has been a big adjustment for him, but he's attacked it everyday with a good attitude. The big thing for him is he's getting confidence, and the more he's having success, the more confidence he gets and he's going to play better."
Fuimaono has most notably become a more aggressive player, which stems from learning, understanding where to be a what time, and realizing that he's a massive player who can move people around. Last October, you could see how tentative Fuimaono was while hitting the bag, and now it's like night and day. Considering that he got thrown into the fire with the injury to NG Chris Palmer, Fuimaono acquitted himself well playing with the first group on defense.
Honorable Mention: Redshirt senior Rusty Becker
Most Flashes of Brilliance
Redshirt junior DE Lone Toaioa
The Mt. SAC transfer made a massive difference on defense this spring before tweaking his knee late in the spring. He made a play almost every open practice that made you double take, including one where he batted down a pass to himself while engaged with a blocker with one hand.
"The guy who has flashed is Lone," DeRuyter said, "He's got a lot of juice, he's got a lot of ability. He's a little bit of a hit and miss, but I think the more reps he gets, the more productive he's going to be and the more natural he's going to be."
Toailoa has said he's living his dream getting to do this, and he's a rare player, at least from the defensive line spot, that you can see the passion that he has for the game. He sticks out, and Cal fans better thank his brother for picking up a copy of Madden 07, as playing that got Toailoa into football.
Proved Something
QB Ross Bowers
Raise your hand if you thought Bowers was going to get beat for the job. (Raises hand)
Bowers showed a lot of people that experience matters in a QB competition. The twelve games that he played last year added up, and there's the added motivation of hearing multiple times in the off-season that the play at the QB position needs to improve.
"It was really good for me to have a wake-up call last season," Bowers noted, "nothing like a 5-7 slap in the face and having a million turnovers, it's a lot of extra motivation for getting better."
Bowers did a lot of the small things this spring, adjusting routes and protections, making checks at the line more accurately, and it led to results, most notably checking to a fade to Jordan Duncan (for a 14 yard score) after seeing a safety blitz coming his way.
He hasn't been named the starter yet, Beau Baldwin noted that they want to keep the competition going, but it's more and more likely that Bowers at least starts the opener against North Carolina on September 1st
Biggest Surprise
Redshirt Freshman OLB Ben Moos
Technically you could put Lone, Siu, or Rusty Becker here, but Moos is here because it's a genuine surprise how free he looked at OLB compared to how he looked at tight end. He looks quick, he's a bit bigger than some of the other OLBs, and the fit could be there as he figures out the defense.
Moos had a sack as well in the spring game, going up against the 1st team offensive line, so he may have a chance to play there in the fall and going forward. There's a lot of youth coming in soon, so Moos will have to step up his game to stay in the mix.
Best in Returning from Injury
Sixth-year TE Ray Hudson
There was a somewhat limited field in this category, but Hudson's proving that he would have made a big difference in the offense a year ago. He made plays to get the Brandon McIlwain-led offense into field goal range in their 2 minute drill period, with two big catches, finding the hole in the cover two zone on both occasions.
"On that, you've gotta wrap around and know the ball's gonna be there," Hudson said about his catches, "the biggest thing on those is you know the opposite safety's just sitting there waiting to crack you, it hurts the same, but you've got to catch it, if you drop it it hurts a lot more."
A big over-the-middle threat like Hudson opens up space for the outside receivers to work with, and his presence is a safety valve for QBs. At 6'3" and 245, he's big enough to block opposing DEs. He can be a massive asset for the offense.
Patrick Laird Award for Excellence Among Walk-Ons
Redshirt Junior RB Alex Netherda
The running back spot was thin going into camp, and Netherda popped up at the spot the week before camp started. His play on the scout team at RB had convinced the coaches to move him there.
"It goes back to last year and scout team," Wilcox said, "he showed up during the week, preparing for whoever we were playing and doing some good things, catching the ball, running the ball, he's got good size, it's nice to see him competing. He is an extremely positive guy, his teammates really respect him and enjoy him, and he appreciates being out here and being a part of the team. I think the more guys you have like that, it's infectious for your team."
The former Maria Carillo RB has moved positions a number of times, and did more than just make up the depth at running back. He showed nice burst through holes, caught swings out of the backfield, and did everything you want your running back to do. He'll see field time in the fall, on special teams or otherwise, he's earned it.
Runner Up: Junior WR Hiroaki Endo
Solidified Their Spot
Senior LT Patrick Mekari, redshirt senior C Addison Ooms and redshirt sophomore RT Jake Curhan
There isn't much to say about this group other than they were remarkably consistent. Mekari and Curhan both played multiple spots on the line as they looked to be adaptable, while Ooms didn't have a single bad snap throughout the open practices this spring. The offensive line last fall was a work in progress at best. Now it's a strength. These guys are why.
Leadership Despite Injury
Sophomore CB Elijah Hicks
On the sidelines throughout the spring, Elijah Hicks has been with the DBs. During open practices, you could see Hicks talking to early enrollee Chigozie Anusiem, as Anusiem is in the same situation Hicks was in a year ago, and he handled it in a similar fashion. A lot of what Anusiem did, and the confidence he played with, is what Hicks did a year ago, and the guidance of Hicks has to help.
You could also see Hicks on the sidelines during the spring game, hyping his group up, and the defense delivered, so credit has to be given there as well.
Runner up: redshirt junior ILB Gerran Brown
Most Valuable Player
Redshirt sophomore DB Cam Bynum
This wasn't a hard pick. Bynum could be the best corner the Bears have had since Syd'Quan Thompson. He's productive, he's confident, and he's capable of locking down a receiver in front of him. His technique on jams is spectacular and his speed has improved.
"At the end of our scrimmage, it was a fourth down play," DeRuyter said on Friday, April 20th, "we've got to make a play, we're down there in the redzone and he gets the interception. He's that kind of a player for us, he seems to always be around the ball, he's got that knack, and we need that this year."
Bynum had two interceptions a year ago, and was the most productive DB in fall camp last year, and it seems that he took the UCLA game to heart as motivation, as Jordan Lasley took it to him. Bynum put in a ton of work in the offseason to make sure that never happens again, and he played like it this spring.