Cal makes the Final Five for 2018 5-star wing Aquira DeCosta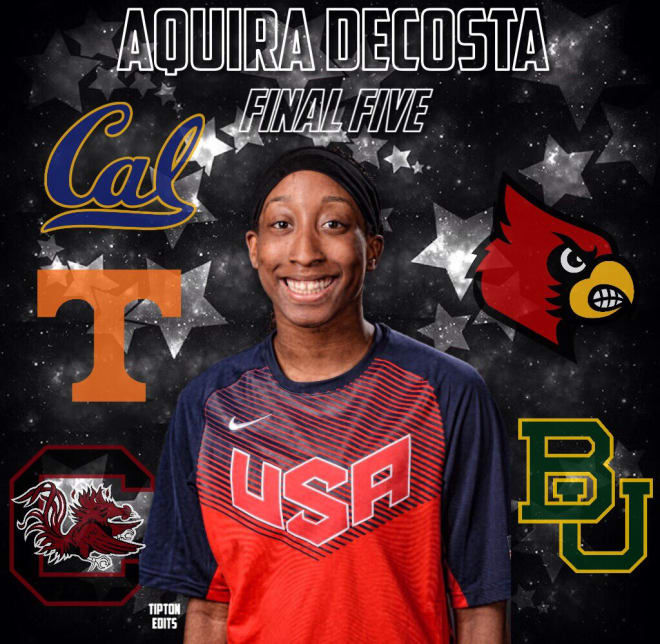 In late April, 2018 5-star wing Aquira DeCosta announced her final five schools and Cal was among them along with Tennessee, South Carolina, Louisville, and Baylor. DeCosta talked with GoldenBearReport.com about why Cal made her list and when she hopes to make her decision.
A major reason for why Cal made the cut has to do with their proximity to home and the long relationship that they have developed with DeCosta, with Cal being a consistent presence during her middle school and high school career.
"Well Cal is basically home for me since it's around my area so I thought that they deserved to be on my list," DeCosta said.
"They've been watching me since the 6th grade so it was only right if they were on there. I took an unofficial there once and the campus is beautiful, the people are amazing, and just the community in general is very unique in their own way. I was impressed by their players and the staff of course, because they were just so welcoming to me."
As far as when she plans to make a final decision, DeCosta said she hopes to take her official visits in the fall and make a decision around November:
"I plan on taking my officials in the beginning of the fall sometime and then maybe having a decision made by the early-bird signings in November."
While she doesn't yet know what decision she'll make, DeCosta is working to develop her game, priding herself on her work ethic and willingness to make those around her better.
"I want to bring a lot of focus, intensity, energy, and just giving 100% every time I step on the floor of whatever program I choose," DeCosta said. "I want to develop my outside shot as in mid-range and 3-pointers the most so it can expand my game even more."
As far as her senior year is concerned, DeCosta has her eye on the state tournament and hopes to help her team make a deep run.
"I want to make my mark for my senior year," DeCosta said. "Like absolutely stand out. I want to be a full on leader and lead the pack for my team and to help us go through any obstacles we have to go through. I hope to accomplish as much as I can especially when it comes to state championships. You can never set your standards too high so that would for sure be something I would hope to accomplish."