Cal Football Countdown: Three Days, Looking Through Game Notes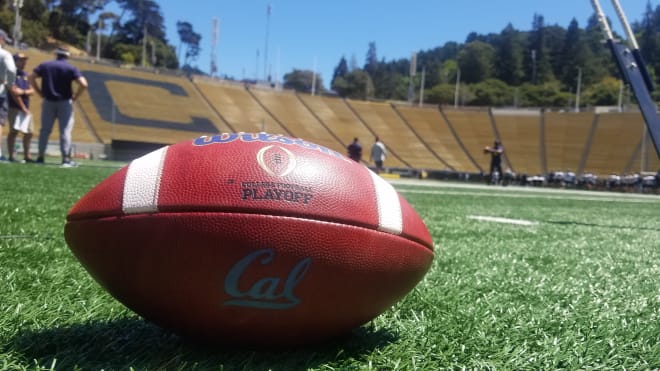 There are three days remaining for Cal before they face UC Davis, and with that, we're taking a look at the game notes for both squads.
Davis Depth Chart
The UC Davis Depth Chart is not really a depth chart. It's a list of names, alphabetized under the positions that they play.
That said, it doesn't take much to know who's starting. Jake Maier and Ulonzo Gilliam have been mentioned several times as FCS award candidates, with Maier nominated for the Walter Payton award (the FCS Heisman).
Four offensive linemen return to start from a year ago, as Lamson, Pettek, Parks, and Richardson all have multiple starts under their belt at their respective positions. Will Martin was the starting center heading into 2018 (he went down in the season opener a year ago), and he should be the starter at left guard for game one.
Wes Preece and Jared Harrell return as receiving threats and as starters. Darius Livingston and Khris Vaughn have reportedly made jumps in camp, while Carson Crawford is a versatile threat out of the slot.
Davis runs a lot of what Cal runs, 11 personnel with shifts, jet sweeps and motion (thanks to RB coach Mark Speckman), stuff to mess with the eyes of the defense.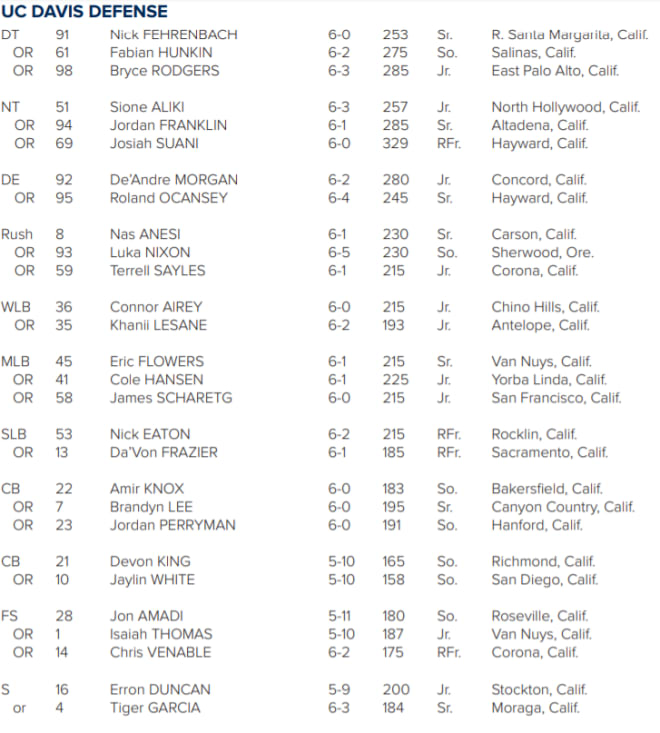 Defensively, the most telling thing is the absence of sophomore Montell Bland, who was the top returning tackler for Davis. He will not play in this contest.
In his stead, Davis will run both odd and even fronts, and they return a few guys who started games a year ago.
DL: Roland Ocansey (13 games), Jordan Franklin (13 games), Bryce Rodgers (1 game), Josiah Suani (1 game)
LB: Nas Anesi (9 games), Eric Flowers (10 games)
DB: Devon King (11 games), Erron Duncan (13 games)
This is a defense that put up 37 sacks in 2018 (though they lost their top sack guy in Mason Moe (10.5 sacks)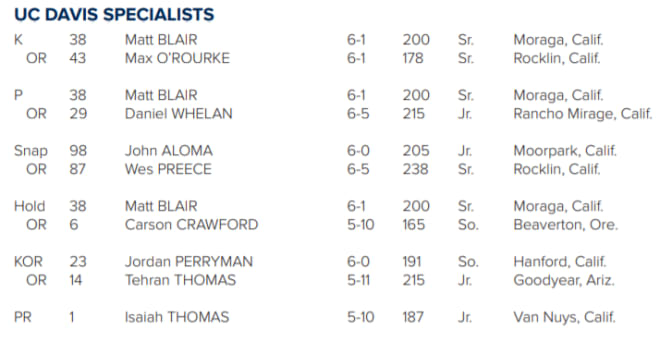 The only position where there's one player listed? Punt return.
Davis, like Cal, will have different kickers for kickoff and place kicking. O'Rourke is the placekicker, Blair is the kickoff specialist. And Whelan is up for FCS Punter of the Year, as he's the program's all time leader in yards per punt.
Aloma will handle long snapping duties, while both Perryman and Tehran Thomas will be back deep for kickoffs.
Other Game Notes
From the Cal side:
- Cal is 26-0 against current Big Sky conference teams
- Evan Weaver is 29 tackles away from cracking the top 10 in all time tackles (He's at 230, Mychal Kendricks is his next target with 259). David Ortega tops the list with 525 and will likely hold that record forever.
- Prior to the 2010 matchup between Cal and Davis, the UC brethren hadn't squared off since 1939.
- Like in 2018, the season opener also will have a section of kids who completed the Patrick Laird Reading Challenge, as offensive lineman Mike Saffell became the face of the Challenge, along with offensive lineman Henry Bazakas.
- Best broadcast profile fact goes to Cal Rivals favorite Brett Johnson, "Into pottery, has a pottery wheel at home."
- Second is DL Braxten Croteau, who is "An extremely talented magician"
- Cal returns 81 starts on offense, 165 on defense
From the Davis Side
- Davis rebranded their logo, moving to something similar to the Chicago Bears 'C' with a capital 'A' in the middle. This had originally been the logo beginning in 1958.
- QB Jake Maier has had 15 games of 300+ yards passing
- RB Ulonzo Gilliam has had two 100 yard rushing games, backup Tehran Thomas has had three
- Dan Hawkins is one of three Davis alums as head coaches in Division I, joining Chris Petersen (UW) and Demario Warren (Southern Utah).
- Davis has beaten two FBS schools since moving up to what's known as FCS now, beating Stanford 20-17 in 2005 and San Jose State in a 44-38 win a year ago.
- Last year marked Davis's first appearance in the FCS playoff
- Davis returns 57 players who saw action from a year ago, losing 16