Cal continues baseball program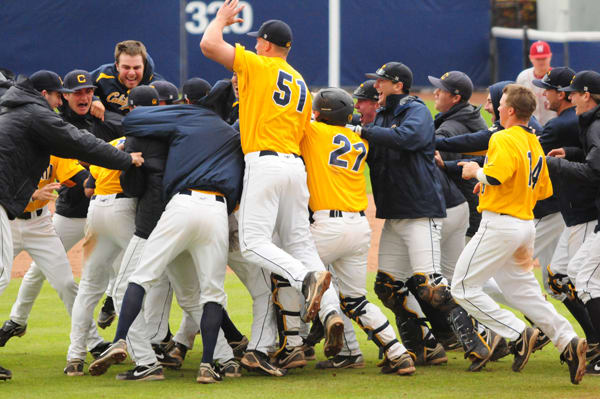 BERKELEY
-- After over six months of waiting, hand-wringing, negotiating and pounding the pavement to raise funds, the University of
California
today announced that the 119-year-old baseball program will continue to represent the campus as an Intercollegiate Athletics sport, now and into the future, as the result of a successful and ongoing fundraising effort on the part of alumni, former players, parents of current players and other team supporters.
The Save Cal Baseball effort has kicked into overdrive over the past month along with the No. 13 Bears on the field, totaling over $9 million in commitments that were presented to Chancellor Robert Birgeneau yesterday by former Cal pitcher and current San Francisco attorney Stu Gordon. Gordon came on after the first set of fundraising efforts were rebuffed by the University, when three of the five sports originally cut were brought back - rugby, women's lacrosse and women's gymnastics - but not baseball or men's gymnastics. Gordon has lent an air of respectability and credibility to the efforts, and has worked in close concert with the Chancellor. In light of the fact that the funds raised still remain about 10 percent short of the $10 million goal, donors and campus administrators have agreed that the team's formal reinstatement will be announced once the $10 million target is met through continued fundraising.
For now, though, there is a good-faith agreement that, since the effort came so close in such a short period of time, the program would be allowed to remain on campus for the foreseeable future, with the understanding that the remainder of the $10 million will be raised and beyond that, a permanent endowment for the sport will be established to fund the sport in perpetuity.
Birgeneau said that he is encouraged by and appreciative of the tremendous outpouring of support for the continuation of the venerable program at Cal.
"The baseball team's preservation is yet another example of how our alumni are stepping up to support their alma mater during a time of unprecedented financial challenges," he said. "I am grateful, on behalf of the campus community, for what our alumni and supporters have accomplished, and pleased that Cal baseball will continue to represent the university in intercollegiate competition. Most especially, I want to thank Stu Gordon for his inspired leadership of this fundraising effort. It would not have happened without him. I have faith in the community's ability not only to meet, but to exceed, the $10 million target in the near future."
UC Berkeley officials announced that the team's supporters have not only raised significant one-time funding, but are also working closely with the university to develop a strategic plan to raise significant additional annual resources, beginning with the 2011-12 season.
That business plan, presented several weeks ago to the Chancellor, will focus on improved game-day revenues, as well as additional annual gift and special event revenue. The plan being developed also calls for a substantial increase in the sport's permanent endowment, seeded by some of the gifts already raised.
BearTerritory has also exclusively learned that the large contingent of former Bears in the Major Leagues have developed a plan of their own to help promote the school and the program. St. Louis Cardinals outfielder and friend of the site Allen Craig has invited BearTerritory to the series finale on Sunday against the San Francisco Giants at AT&T Park to discuss those measures, so stay tuned.
Last September, UC Berkeley officials announced that, due to pressure on the University's budget as a result of dwindling state support for higher education, four sports -- baseball, men's gymnastics, women's gymnastics and women's lacrosse -- would be eliminated, and rugby would be reassigned to a newly created sports tier at the end of the 2010-11 academic year. In February, the campus reported that separate fundraising efforts had ensured the continued intercollegiate status of rugby, women's gymnastics and women's lacrosse.
The substantial philanthropic commitments raised in the past six months, in combination with expected ongoing fundraising efforts, will fully support the costs, both direct and indirect, of baseball, women's lacrosse, rugby and women's gymnastics. This will enable the Department of Intercollegiate Athletics to remain on its path to financial sustainability and honor the campus's decision to cap institutional support for athletics at $5 million a year by 2014.
"I have been so impressed with the combined efforts of the alumni, parents, volunteers, friends and coaches who have not only expanded the Cal Baseball family, but who have also strengthened it," said Gordon. "We are thankful that the chancellor has been supportive of our efforts to save Cal Baseball through our fundraising efforts, and that the Cal athletic department has been working with us to support those efforts. I am confident that we will meet our fundraising goal of $10 million very shortly and am ecstatic that we can continue the storied Cal Baseball tradition in the future."
Gordon also praised the baseball players, saying that "their passion, poise and never-say-die attitude have been a constant source of inspiration for all of us."
On the field, Cal is 19-7 overall with a 5-1 mark in the Pac-10. The Bears head into Tucson tonight at 6 PM to face No. 20
Arizona
(20-10, 2-4).
"This is truly an exciting day for Cal baseball," head baseball coach David Esquer said. "I'm especially happy for our players who have endured a difficult six months of uncertainty. They have shown an absolute resolve to focus on their season and have demonstrated a tremendous amount of character throughout this process.
"Our supporters stuck with us and wouldn't take no for an answer. The passion and loyalty that define Cal certainly came through in this process. While we recognize the dedicated members of the committee who led the effort, we also owe a debt of thanks to every single donor who made this possible. Their contributions will ensure the continuation of a great tradition."
This has been a challenging time for the Cal Athletics community, said Cal Director of Athletics Sandy Barbour, but through collaboration between many different groups, a difficult process has produced successful outcomes.
"This is a good day for the Cal Athletics family. By confronting adversity through cooperation, we are now in a much better position going forward," she said. "We have all learned important lessons that will serve us well in the future. Many alumni learned how serious the campus's financial challenges actually are, the extent to which Cal Athletics had already moved to control costs and increase revenue, and the degree to which we need to rely on private philanthropy.
"For our part, while we have always known about the commitment and generosity of our alumni community, over the last few months we have seen an unprecedented response to unprecedented challenges. The willingness and ability of our alumni to come forward with new philanthropy to this extent, in such a short period of time, will not be forgotten. On behalf of our student-athletes, coaches and staff, I want to express the utmost appreciation and respect for our alumni and supporters."
While men's gymnastics remains short of its fundraising goals, the team's supporters, organized as "Cal Gymnastics Forever," continue to raise the funds necessary to support the team's continuation or reinstatement. To date, philanthropic pledges have been reported to amount to just under half of the $4 million required to support the team's net expenses over the next 7-10 years.
"We will continue to support the fundraising activities of men's gymnastics," said Barbour. "I am certain that baseball's success will add new momentum to the efforts, and I hope that there will be a successful outcome."