Cal Commit Tracker: Weekend of October 21st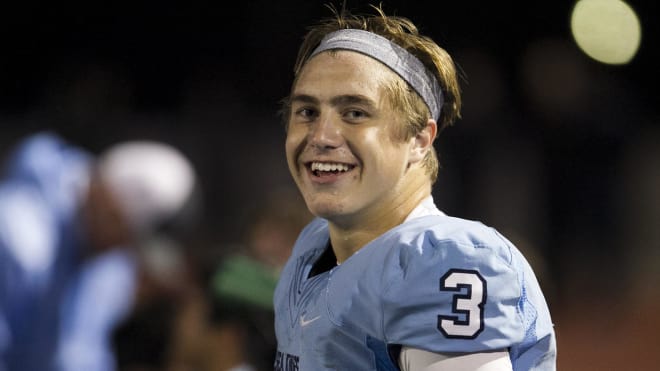 With some of Cal staff going to see some of their So Cal commits after the USC game on Thursday, it would be prudent to take a look at the performances of the Cal commits so far this season and give a rundown of their film.
The Corona del Mar quarterback had another excellent week, recording 316 yards, five touchdowns, and one interception, along with 98 yards on nine carries in a 47-7 victory over University. Garbers currently ranks fifth among Orange County quarterbacks in total yards, passing for 2218 yards, with 29 touchdowns and only two interceptions to his name. Garbers is doing that while completing over 70% of his passes.
Something he's showing more of in his film is the ability and willingness to tuck the ball and run with it if his receivers aren't open. He's not going to win too many sprinting competitions, but he doesn't need to. That kind of decisiveness comes more with time, and it gives him another dimension for defenses to worry about.
Otherwise, not much has changed about Garbers. Corona del Mar runs a couple of wheel routes that Cal has run this year, one of them with motion reminiscent of Demetris Robertson's TD against Utah, and Garbers puts it right on target.
Garbers is still chief among the 2017 class in trying to recruit other player to join him at Cal as well as keeping in contact with his future teammates.
He also has opposing coaches saying this about him, which is never a bad thing.
The grandson of the Greatest, Ali-Walsh, a key cog for national powerhouse Bishop Gorman, helped his team to a 9-0 record after a 71-0 victory over Desert Oasis. He had eight carries for 55 yards and a touchdown, along with a 20 yard reception. Over the six games he's played this year, Ali-Walsh has recorded 72 carries for 690 yards and 7 touchdowns on the year. He also had the game winning two point conversion against Florida school and national power St. Thomas Aquinas
Ali-Walsh is a back with 4.4 speed and tremendous balance, and is willing to take a shot to make it into the endzone. Running backs coach Garret Chachere went to see him during the bye, so he seems pretty solidified.
Taariq Johnson and Jeremiah Hawkins
Johnson and Hawkins helped their Buena Park squad pick up another victory, helping to snap the 47 game conference winning streak of La Habra in a 27-13 win. Buena Park currently sits at 7-1. Johnson and Hawkins didn't have standout performances in that game, with 15 and 4 total yards respectively, but both have struggled with injuries, each playing in only five of Buena Park's eight games so far. Johnson has recorded 18 receptions for 295 yards and two touchdowns on the year. Hawkins has recorded 18 receptions for 279 yards and four touchdowns, along with 22 carries for 307 yards and three touchdowns.
Johnson is a big reliable receiver in the mold of a Darius Powe, someone who can go up and make plays against smaller defensive backs. He did make an official visit to Nebraska last weekend, something Hawkins did earlier in the season. While he did say the experience was "mind-boggling," he remains a Golden Bear. He also retweeted this:
On the Hawkins front, his nephew Jaylinn is looking forward to playing against his uncle, who he considers to be his younger brother.
It looks like Hawkins has gotten faster since his junior year, with a new gear that wasn't there before. Hawkins will be in the slot, sliding into the role that Bug Rivera will leave after this year. With him and Melquise Stovall in the slot, there's a ton of speed for the Bears in 2017.
For all the focus on the offense, there's only five offensive players in the class of 2017 so far for the Bears and Saffell is the most recent one of them. Saffell's Edison squad is currently 7-1.
Saffell is a technically sound as they come, while having the sort of nasty disposition that coaches love to see in linemen. One thought on him is how focused he gets on blocking his man. It's good in most scenarios, but in others, he'll have to get used to getting off a single punch an moving to block downfield. He certainly has the brains to get to that point though.
Cherry, the first commit of the 2017 class, is part of a Centennial (Bakersfield) squad that's only 2-6, but Cherry is certainly a standout.
Looking at his film above, he's the recipient of a number of double teams and does a solid job of fighting through them.
The move he makes at 1:35 is telling of his improvement. A punch to the shoulder of the lineman then a rip through move, and Cherry is in the backfield. Defensive Line coach Fred Tate will talk about using hands, and this is a prime example of that. Cherry may see the field sooner than expected at this point.
Alex Funches and Da'Quan Patton
Funches and Patton, the duo from Trinity Valley CC in Athens, Texas, are a part of a 7-1 squad. Funches, the defensive end, has recorded 48 tackles, seven tackles for loss, five sacks, and two forced fumbles. Patton has 59 tackles, eight tackles for loss, 2.5 sacks, and two forced fumbles.
Starting with Funches, you can see how he sets the edge, playing down the line, staying low in his pad level, and closing down the hole in the first two reps. The rest of this game's tape is just of his pass rushing moves, which admittedly aren't too diverse, but it's a short tape. He shows a nice counter-move on one, showing the awareness to spin back when the left tackle gets too deep. He's mostly a speed rusher though, so seeing his rip through move working so fluidly on the final rep is good to see. He also has the ability to get out in pass coverage, as he plays a hybrid spot at TVCC.
With Patton, he's a true linebacker. He closes well in coverage, blitzes well off the edge, makes good reads, and can strip the ball out. I'd like to see him getting a bit lower and driving his feet more while tackling. One part at 1:15 that I like is that he doesn't give up on a play, getting his feet taken out, but getting back up and eventually making the tackle. He can come in and make an impact much like Jordan Kunaszyk has.
The most recent Cal commit, Scott has helped McClymonds to a 6-1 record on the season. Scott is still an interesting case. He plays both outside and inside linebacker spots, but he will need a bit more size when he gets to Cal. Other than that, he has some more speed off the edge and a willingness to make big hits (cleanly).
One of the things that stood out in Scott's junior tape was his ability to strip the ball. He does it again in a clip at 1:07 and again in the clip after. While you can teach technique on that, doing it as often as he does is something that you really can't teach.
Godfrey has helped to lead his Bishop O'Dowd team to a 7-1 record at this point, as the Oakland corner has turned a corner in his play, developing into a shutdown player at the position. In his second year of playing football, Godfrey only has one interception, but teams are not throwing his way as often.
Looking at the first clip, Godfrey locks his man up in press, something that there wasn't much of in last year's footage. He gets turned around on the second clip, but takes the right pursuit angle and turns on the jets to get to the back who got loose. The final play of the clip has him running with the receiver, turning when the ball is in the air, and making the play. All of these are fundamental things that are learned with more and more reps, and Godfrey is progressing very well. He also has two catches for 134 yards and two touchdowns this season, so that's more proof of his athleticism.
Onyemaobi, who will play cornerback at Cal, is a part of Chaparral team that has not had a great season, going 1-7 to this point. Onyemaobi has received interest from a number of schools, taking an official visit to Iowa State recently, but appears to be firmly committed to Cal for the moment being.
Onyemaobi is another rangy athlete at the corner position, a focus in recruiting recently with the addition of Malik Psalms and Evan Rambo, who have both moved to safety.
At :15, you can see how he closes from his zone, playing downhill to make a tackle in the open field. Admittedly, it'd have been better for him to wrap on the tackle, but he got the guy down. He has the speed to stay with guys as well, though there's a lot more receiver footage on his tape.
Hardimon, set to play safety at Cal, is a part of a 6-2 Lassiter team in Georgia, coming off a 13-7 win over Walton where Hardimon had a key interception from the safety spot.
On said interception, Hardimon stays in his zone, reads the eyes of the quarterback, and jumps the route. It's a fundamental play, and it'll help Cal's depth issues to have more true safeties back there, like Hardimon. On the second play of this tape, Hardimon comes down to fill the alley on a screen, something easily transferable to stopping the run. He needs to work on hitting lower, but Hardimon is solid at this point.
Genmark-Heath, the do it all player for his Central Catholic squad in San Diego, has helped his team to an 8-0 record this season, recording 36 tackles, two interceptions, and four pass breakups. Genmark-Health also has six offensive touchdowns, recording four rushing and two receiving. He's set to play in the defensive backfield for the Bears, possibly moving down to linebacker at some point.
Looking at :19 in, Genmark-Heath slow plays a run, accelerates quickly, and makes the hit. He's a fantastic athlete, as Nam wrote about in the scouting report of Genmark-Heath. He's still raw, but the coachable kind of raw, and he's progressing quickly, if the above highlights are anything to go on.