Breaking: Cal DB Alex Logan retires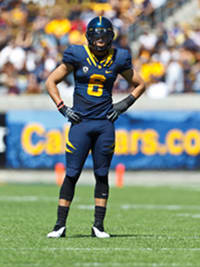 GoldenBearReport has learned that Cal defensive back Alex Logan has retried from football, effective immediately.
In a letter obtained by
GoldenBearReport
(
which you can see in full here
), Logan said "Although it has been an arduous and sometimes painful experience I would not change it for anything. Cal is a great place to study and be an athlete."
The 6'2", 210-pound senior cited injuries as one of the main reasons for his retirement.
"The injuries I've incurred over the last year have greatly impacted my ability to play at a high level. The last four injuries to my wrist, knee, foot and head have become a recurring nuisance and reminder that our bodies can only take so much before breaking down. While I did not reach all the goals I set for football, I am happy to have contributed as I did and I am in position to graduate immediately."
Logan played in 26 games primarily on special teams but also with four starts at safety and in a reserve role at the position from 2009-12. Logan started three of the four games for Cal this season at safety and had 11 tackles, one interception, and one tackle for loss.
Already without Avery Sebastian who's out for the season with a leg injury, the Cal defensive backfield is expected to start true freshman Cameron Walker at safety on Saturday, with Jason Gibson -- who was converted from linebacker to safety during Fall camp -- serving as one of his primary backups along with redshirt freshman Damariay Drew.