Bigelow makes waves in debut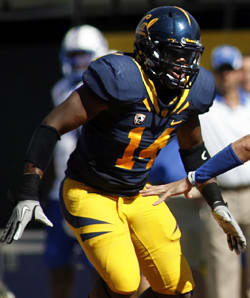 "I was really happy to finally get to do something, after not being able to play for about a year and a half," Bigelow said. "That was pretty special, and to get out there and really show what I can do, it was pretty fun."
"I like running the rock," Bigelow said. "It's my favorite thing. Kickoff return is probably my second-best."
Tedford said that Cal fans would likely see the dynamic athlete again in kickoff return situations, to take advantage of his speed.
"He ran hard, we threw him a couple balls out in the flat, he held onto the football and made some guys miss, so a lot of positives there, for him," Tedford said. "He returned a couple kickoffs, and obviously the one that he returned for a touchdown, I don't even think he got touched. Any time you don't touch someone with that kind of speed, you can predict the results. He'll be in there, doing that, now."
There were several forehead-slapping moments -- like two, 15-yard penalties on Cal's first offensive drive and 89 first-half penalty yards, a pick six and a blocked punt returned for a touchdown by the Blue Hose -- but thanks to Bigelow, the Bears' home opener in front of 33,952 was a satisfactory -- if far from perfect -- opening act.
"It was odd," Tedford said. "I hope next time we come here it's a little more like home field advantage, because it was very quiet out there. We're used to having our student section right behind us, where it really creates a buzz and an energy. It felt really dead out there, today, to tell you the truth, so I hope we're able to fill it up, get going and create a buzz in there and put the pressure on opponents with home field advantage. Today, it just seemed kind of weird."
Aside from a displaced student section, Tedford was also displeased with the amount of penalties that Cal accumulated, particularly in the first half.
"We had way too many penalties; one is too many," he said. "We've just got to clean it up and play the football we know how to play."
The Bears finished the day with 10 penalties for 94 yards, which included one of the Blue Hose' three first downs.
Sofele finished with 17 carries for a career-high 105 yards and a touchdown, his first-ever 100-yard performance. In all, Anderson, Sofele, DeBoskie-Johnson and Yarnway each recorded rushing touchdowns, but it was Bigelow that was the most exciting.
Bigelow toted in an organized game for the first time in nearly two years when he took a catch just under seven minutes left in the first quarter. After Sofele gained five yards from first-and-10 at midfield, Bigelow hauled in a screen pass on the right side and skittered up field for an 11-yard gain.
After two anterior cruciate ligament tears in his right knee within the course of a year, Bigelow got some butterflies.
"I was a little nervous, but as the game went on, I got pretty comfortable," Bigelow said.
Sofele gained a hard-won 10 yards on the next play over left tackle, and once again, Anderson took an inside-zone handoff up the middle for the first score of the game. Anderson set career highs with seven carries for 50 yards.
"He helps me stay fresh, definitely," Sofele said of Anderson. "He's a great running back."
Sofele found paydirt twice on Cal's next two possessions, before Maynard struck for a score through the air.
"It was a nice play by us to come off the ball that we had missed before that play, so we decided to reconnect and get back into the phase of the game," Maynard said. "Marv ran a great route, got on top of his guy and had great leverage. He came across the middle, and he almost ran into Keenan, but I guess Keenan thought I was going to throw it back-shoulder to him, but luckily, he got out of the way just in time and Marv turned it into a great play."
Tedford wasn't shy about lightly reprimanding his young star on the sidelines afterwards, and there were no ill feelings between Allen and Jones.
"Actually, that was going to Marvin, and Keenan tried to slow up and make it his," Tedford smiled. "When he got to the side, I said, 'Not every ball is intended for you.' He was supposed to run a clearing route and then he comes off of him, and any ball in Keenan's area, he wants it, so he's got to understand that sometimes he needs to be the sponge and not always the guy who's the intended target."
Jones tallied the sixth 100-yard receiving game of his career, and second of the season, hauling in a game-high seven passes for 123 yards.
Right behind him was Allen, who caught six balls for 85 yards and a score.
After dropping an easy catch on first-and-10 from the Cal 39 with 8:33 left in the first half, Hagan redeemed himself on the very next Bears possession. To finish off a drive sparked by Bigelow -- who took his first kickoff return of his career up the left sideline for 23 yards -- Maynard found Hagan wide open over the middle in the back of the end zone to make it 35-6. That was Hagan's first career reception and his first career touchdown.
"You've just got to get the ball to the guys that are capable of making great plays and getting a touchdown," Maynard said. "We have a lot of weapons, a lot of skilled guys. They all have different attributes to go to during the course of a game. Hagan, he has a lot of control over his body, and he turned around nicely, and I felt like I almost overthrew him. I slipped as I stepped into the ball, and he turned around, jumped in the air and grabbed it. It was a great catch by him."
"We did a good job today, but the offense as a whole, we still have a lot of mental errors that we need to work on," Maynard said. "We need to shake that off in practice, get in there this week, watch film and see what we did wrong to get ready for next week."
"That blocked punt for a touchdown, we need to get better with certain things," Tedford said. "The extra-point thing, I think, we have figured out, and I think we're in good shape there, but absolutely, the kicking game, we cannot allow that. It's something we need to get fixed, because it's concerning."
With 2:59 left before halftime, Bethel struck for his pick six.
Bridgford's first completion on his first series came to Jones, who he hit on an inside slant route over the middle for a 33-yard gain, after coming up empty on his first two tries.
"He did alright," Tedford said of Bridgford. "He did a couple things -- for a young guy -- that he'll learn from. But, I thought he threw a nice ball down the middle, and it was good to get him in there and get his feet wet a little bit. That was really important."
"That doesn't happen every day," said an emotional Tedford after the game.
The Bears defense held the Blue Hose to just three first downs, 48 total offensive yards and no touchdowns.
"Well, with all due respect, that's not a group that we're going to see every week," Tedford said. "Yes, it's great and I don't want to take anything away from our defense, either. They really played hard and rallied hard to the ball and things like that, and it was nice for them to bounce back from a game like that, but next week is a different test, obviously."
"Instead of letting him continue to run on it, for precautionary reasons, we put him in a boot, and he was on crutches," Tedford said.
-- Cal's 51-point margin of victory is the third-largest in the Tedford era, and the Bears 63 total points are the third-highest point total under Tedford.