Bears ready to travel to Colorado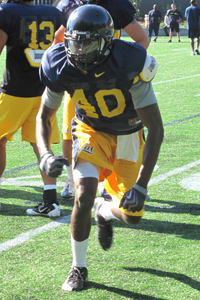 "Kaelin is not making this trip. He didn't practice today. He's trying to take care of his academic issue," Tedford said on Thursday morning.

"It is, especially after he got hurt the first day of camp, so he's been on the rehab thing the whole time, and we just found out about an academic issue this week," Tedford said. "We've got to get that clarified and rectified, hopefully."
"We wwant to see those outside linebackers play, and along the defensive line, we've got some young guys that, I think can come in and contribute, and in the secondary, as well. I've never been afraid to play younger players, and if these guys can show they can help us win football games, they're going to get an opportunity to play."
Whiteside -- along with several others -- will be progressively played more and more as he and the rest of the youngsters get their feet wet.
"Cecil's a developing player, and I think the strength of his game is probably his athleticism, in terms of rushing the passer, and I think he exhibited some of that last week," Pendergast said. "We're excited about some of the progress he's made, but he needs to continue to be a little bit more consistent in some of the things we're asking him to do."
McCain will see time in obvious passing downs.
"He'll be rolling in there," Pendergast said. "He's another guy that's got tremendous upside and he'll be out there in more obvious-type passing situations and he's going to be able to continue to rush the passer."
Another player who will see a lot of development time in the field will be Moala.
"I think every week he's going to play more," Pendergast said. "He played last week on field goal block and then we got him in there a few reps, but he's a guy that we've talked about, and every week we're just going to kind of -- I don't know if 'spoon-feed' is a good way to put it -- but we're going to use a little bigger spoon and let him play a little more every week."
"He's doing well," Pendergast said. "He's going to continue to play a little bit more. I like the things I see out of him. He's a big, physical guy that gives us a presence out there. He's definitely another guy that we've targeted that we want to get on the field a little bit more. The biggest concern with him is his consistency, and we've had conversations about that. He's made a lot of strides this last year, but he still needs to continue climbing that mountain."
"He's going to get checked today and tomorrow and we'll see," Tedford said.
-- The punters, kickers and longsnappers worked out on grass during practice, as they have during the week to prepare for the tight turf at Folsom Field in Boulder.
"They kick on grass every day," Tedford said. "They go to Evans [Diamond], they may go to Golden Bear [Field], there's different places, depending on what the schedule's like. Just find grass anywhere we can find it."
"No. If it were to continue, then we would put him down," Tedford said. "Couldn't really tell what happened in the end zone down there at the beginning. I think he wwas trying to get back out of the end zone and looked like he jumped to get out. It was hard to tell, really, what happened down there. There was a whole bunch of things going on, but, yeah, if putting the ball on the ground continues to be an issue, then that's unacceptable. That can't happen."
-- Standouts during practice were Hinder - who came out firing very well - as well as McGovern and Harris, who each showed good snap in change of direction.
"Good focus, a lot of energy today," Tedford said. "Thursdays are typically like that. As you draw closer to the game, Thursdays are always up-tempo, take the pads off, get ready to go, a lot of energy type thing."